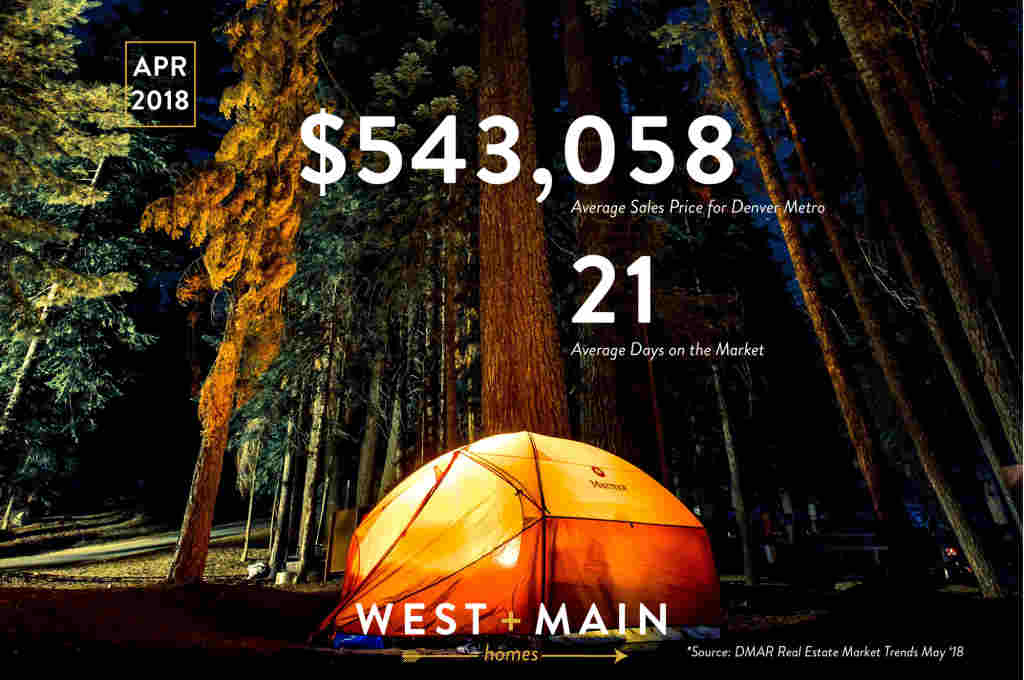 The Average and Median Single-family Home Prices in Metro-denver Both Continue to Set New Record Highs, Reaching $543,058 and $455,000 Respectively.
Furthermore, in April, new listings surged, up 4.88 percent from last year, with homes being placed under contract up an equally healthy 5.58 percent.

"This demonstrates homebuyer demand remains robust," said Steve Danyliw, Chairman of the DMAR Market Trends Committee and Denver REALTOR®. "As new listings poured into the market, buyers that were waiting for them quickly gobbled them up, driving the average days on market down to 20 days. Housing activity remains strong, but increasing interest rates, increasing housing prices, low inventory and now increasing gas prices, will have an eventual impact."

According to Danyliw, while overall inventory is seasonally up, it's down compared to April of last year with the single-family segment being the primary contributor. The condo market is hitting its stride, as more homebuyers look for affordable options.

By the numbers, active listings in the residential market (single family and condos) were at 5,160 total units in April. The number of sold listings decreased by 4.88 percent compared to the previous month and dropped 8.97 percent year over year. Year to date, 15,387 homes have sold, down 4.27 percent from 2017. The condo market continues to see a steady drop in days on market, decreasing to 18 days compared to 19 year over year. I don't think this demonstrates a weakoning market, but more that the tight inventory is holding back sales numbers. The most active price segment for the single-family market was the $500,000 to $749,999, and $200,000 to $299,999 for condos.

In the single-family home segment, there are more listings now available between $500,000 to $750,000 than all of the price ranges below $500,000 combined. Which is great news for Buyers who have been waiting for more homes to come on the market!

Our monthly report also includes statistics and analyses in its supplemental "Luxury Market Report" (properties sold for $1 million or greater), "Signature Market Report" (properties sold between $750,000 and $999,999) and "Premier Market Report" (properties sold between $500,000 and $749,999). In April, 196 homes sold and closed for $1 million or greater, up 14.62 percent month over month and up 33.33 percent year over year. The closed dollar volume in April for all luxury residential was $303,258,060, up 15.69 percent month over month and up 36.65 percent year over year.

Year to date, a record number of 586 homes priced over $1 million have sold, up 36.28 percent over last year, with a combined sales volume of nearly $892 million, up 37 percent over 2017. For comparison, at this point in 2014, only 200 homes priced over $1 million had sold.

"Ding, ding, ding! The winner is the Luxury Market," stated Jill Schafer, DMAR Market Trends Committee member and metro Denver REALTOR®. "There was a nearly 15 percent increase in luxury home sales from March to April alone."

Schafer adds, "Luxury condos were the only place in this price segment for which homebuyers had the advantage with 8.33 months of inventory. For comparison, we had 4.53 months of inventory of single-family luxury homes in April. Additionally, when looking at the whole residential market, the close-to-list price was 100.88 percent. Despite the skyrocketing number of luxury home sales and dwindling inventory, there still seems to be some room for negotiation. The close-to-list price in this luxury segment of the market averaged 97.79 percent."

If you're curious how these changes in the Denver real estate market are impacting your home values Click HERE or let's get togetherfor a more customized assessment.

Source: Thanks to our partners at the Denver Metro Association of Realtors for compiling this information.