In today's landscape of escalating housing costs, an increasing number of prospective homebuyers are actively exploring innovative solutions to fulfill their homeownership dreams. One particular solution gaining prominence is the concept of multi-generational living.
Multi-generational living involves the cohabitation of two or more adult generations within a single household, encompassing siblings, parents, or even grandparents. Delving deeper into why an ever-growing cohort of buyers is embracing this housing option today, let's examine some compelling reasons, helping you determine if it could be a suitable choice for your own circumstances.
Motivations for Choosing a Multi-Generational Home
In accordance with a recent study conducted by the National Association of Realtors (NAR), the primary drivers behind the surge in multi-generational home preferences predominantly revolve around financial considerations (as illustrated in the accompanying graph):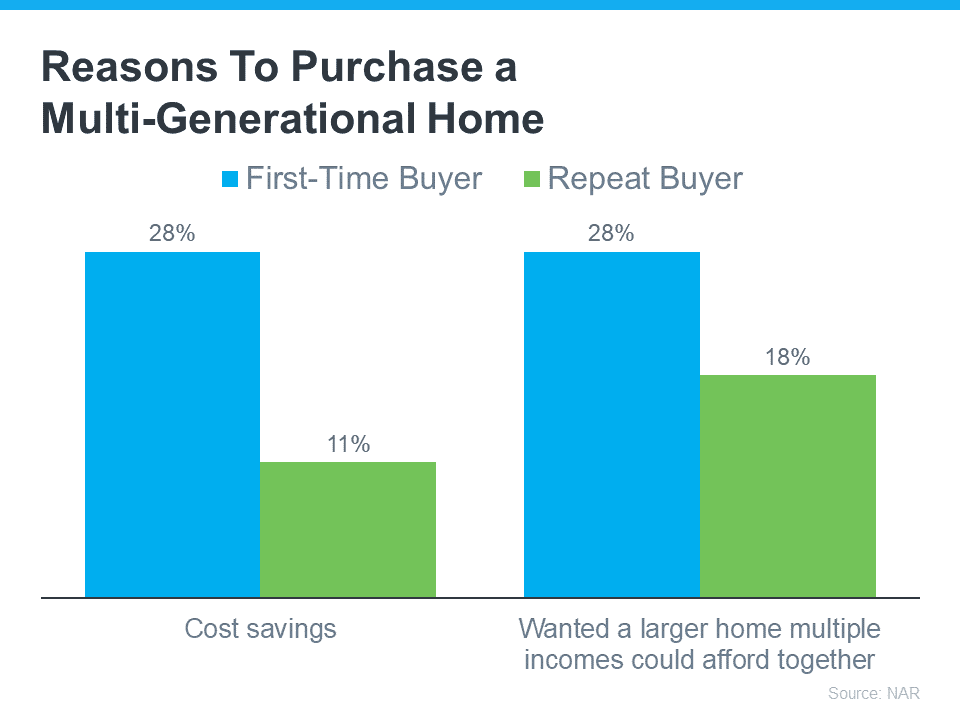 Cost Savings: Approximately 28% of first-time homebuyers and 11% of repeat buyers opt for multi-generational living as a means of cost-efficiency. By consolidating their financial resources, households can collectively shoulder the financial obligations, such as mortgage payments, utilities, property taxes, and maintenance, thus rendering homeownership a more financially attractive option. This proves especially advantageous for first-time buyers, who may grapple with the challenge of securing a home in today's competitive real estate market. Also, we see many young families choose this situation as it's true it takes a village to raise those little ones!

Increased Space: Another significant factor driving this trend is the pursuit of more extensive living spaces. Around 28% of first-time buyers and 18% of repeat buyers are motivated by the desire for a larger home that may have been unattainable on an individual basis. For some repeat buyers, this aspiration arises from the dual role of caring for aging parents while accommodating the return of young adults to the family fold. By combining their financial resources, these households can suddenly realize the dream of a spacious home with ample room for everyone. As articulated by the Triangle Business Journal, multi-generational living empowers individuals to invest in a larger home by harnessing the combined income, credit, and down payment of those who will inhabit the residence.
Rely on Expert Guidance
If you're interested in exploring multi generational living, let's collaborate so I can advise you on how we can best find homes where the layout works for this setup. We'll chat about a lot of things like main floor master needs, stairs, walkout basement, additional dwelling unit, etc.
A successful multi-generational living arrangement entails ensuring that every member of the household has their designated space, devising areas for communal activities, and potentially incorporating adaptable features for older family members. It's akin to solving a puzzle, where the pieces must align seamlessly. Your real estate agent possesses the specialized knowledge and local insights needed to assist you in finding a home where everyone can reside comfortably without straining your finances, as emphasized by MoneyGeek.com:
"Acquiring a well-suited multi-generational property can significantly enhance the prospects of harmonious cohabitation with loved ones. Such a home should cater to the specific needs of all family members, regardless of their age or health status. Engaging with a real estate agent can offer clarity and lead you to a compatible choice."
In Conclusion
Purchasing a multi-generational home is a pragmatic response to the affordability challenges that confront today's homebuyers. By collaboratively managing expenses, you can bring your homeownership aspirations within closer reach. If this housing option resonates with you and your family, don't hesitate to connect with me; I am here to guide you in finding a home that perfectly aligns with your needs and aspirations.