When quarantine began, interior designers started hearing from past clients with a one of a kind of problem: They needed help making their home workspaces more efficient, but they also wanted to know how to make them look better on camera. Now that many of our homes have become our permanent work space and remote work or partial remote work is here to stay, it's smart to consider your home's Zoom Room.
Revealing home decor to clients and coworkers can feel personal. So, I wanted to see what the best advice is that interior designers have to give on designing or sprucing up your Zoom Room. For me, an entrepreneur your Zoom Room says so a lot about me and my brand. So, not only is it about getting myself ready for a zoom call but creating a space in my office that show some personality with items that have meaning to me, and also represent my A Fresh Take on Real Estate brand which is centered around being clean, efficient, tech-savvy, with some fun and levity added on the side!
Que the designer's advice...
Kiera Kushlan and Jessica Centella, founders of DC interior design firm Residents Understood started hearing from past clients... They needed help making their home workspaces more efficient, but they also wanted to know how to make them look better on camera.
The designers say bad lighting and problematic backgrounds—for instance, direct views into bathrooms—are among the most common issues they've encountered. They shared the following tips to help you remedy your own Zoom Room's shortcomings.
Lighting is everything. The most ideal setup is facing a window. Natural light enhances both your mental wellbeing, and your appearance on camera. Whether or not you have access to natural light, layering in secondary lighting is an important part of any room design. Adding a table or floor lamp that has a soft diffused light (think: linen lamp shade vs. desk lamp) will create a better ambience in your workspace and soften any harsh overhead lighting.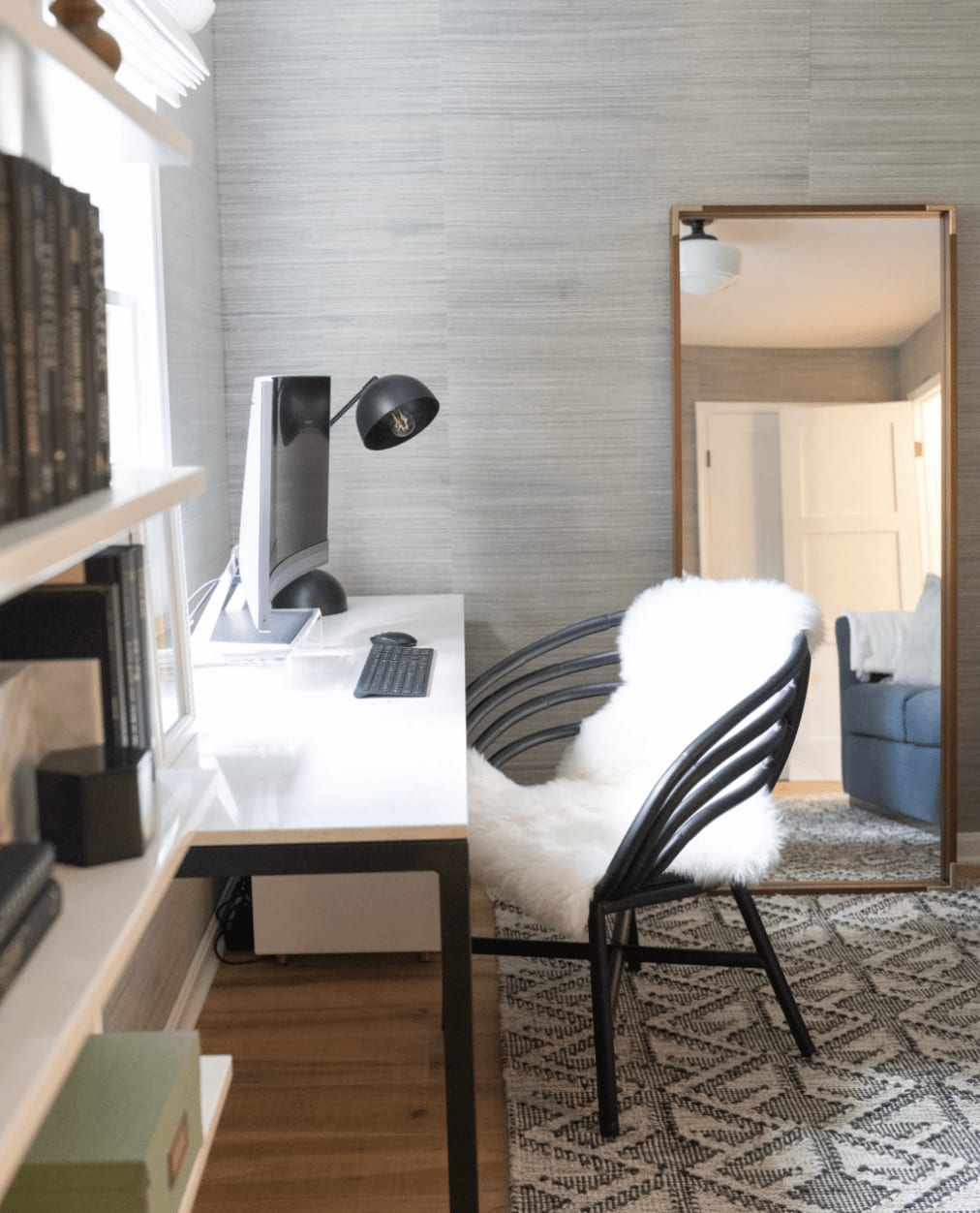 Color is key. Painting is the quickest and most budget-friendly way to instantly change the way a room looks and feels. Get some larger paint sample sheets (samplize.com is a great resource) and put them on the wall, then take a look at them from your computer camera to make sure the color looks good both in real life and onscreen.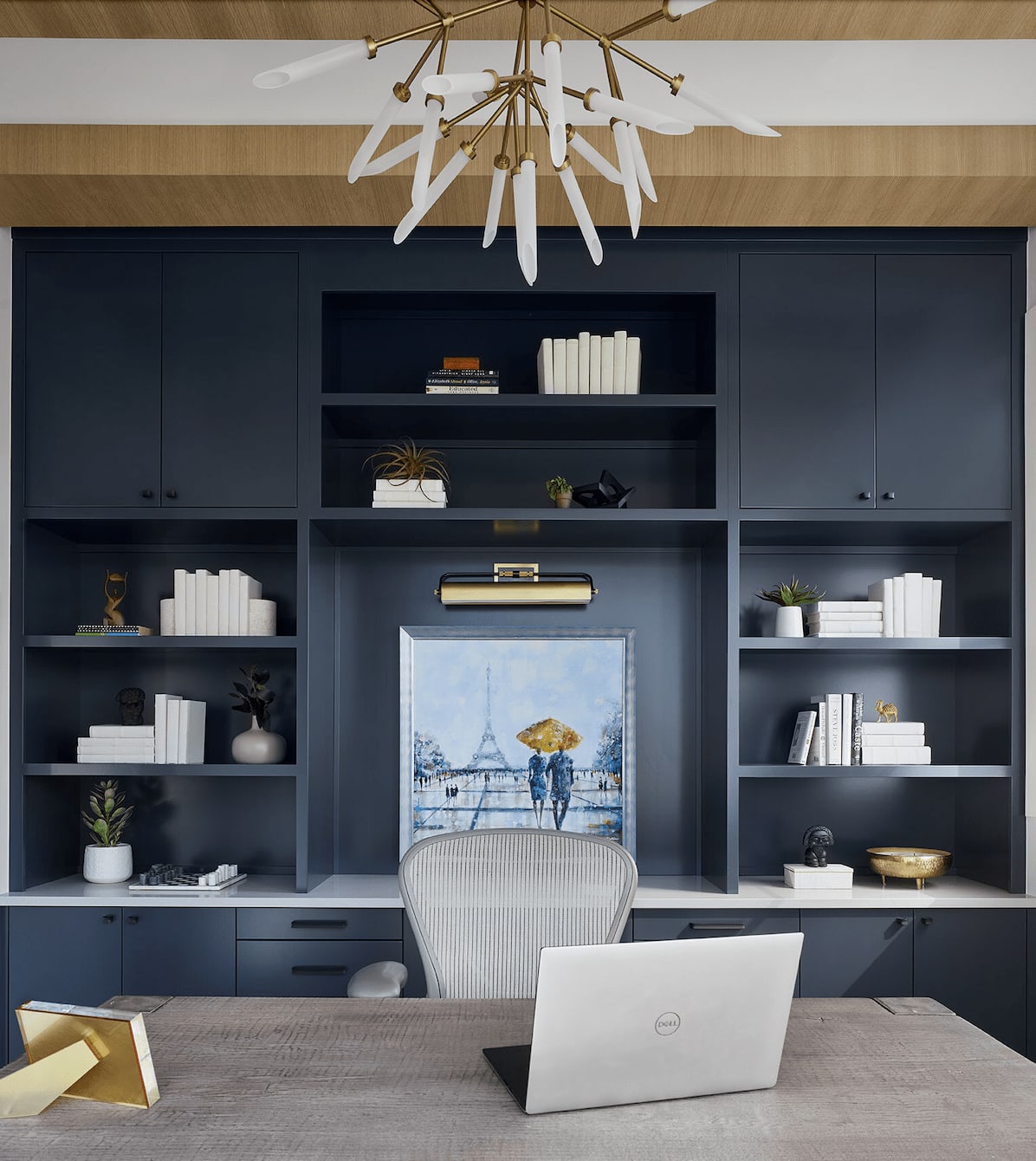 Less is more. Declutter your bookshelves, donate those tattered paperbacks you read on vacation 7 years ago, and toss those random tchotchkes you don't even remember buying. Having less stuff around you will make you feel better, and also make you look much more professional and put-together on camera.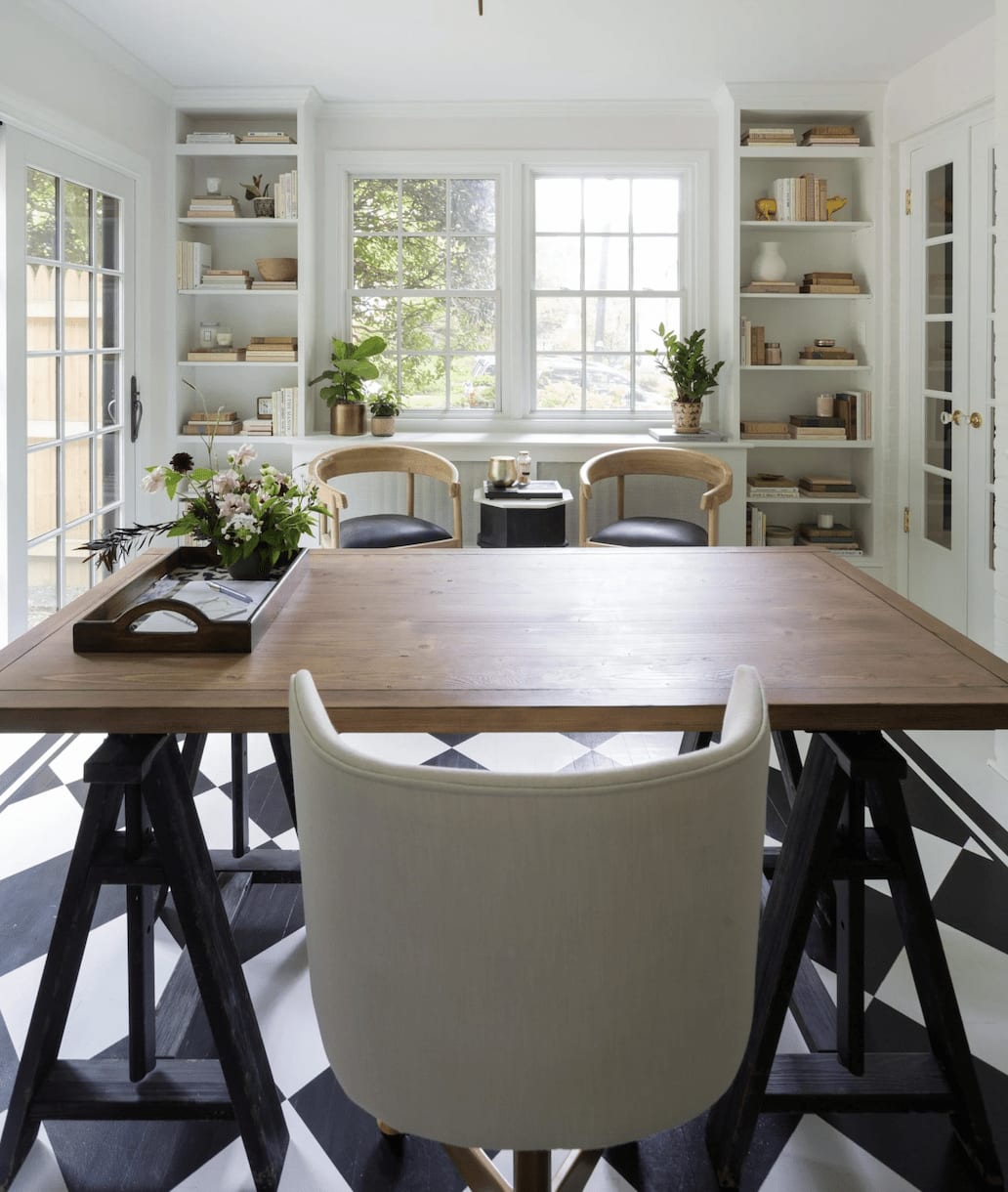 Dampen sound. Layering in some soft surfaces like area rugs, throw pillows, or window treatments can go a long way to dampen outside noises that might interrupt your work calls.
Create an interesting background. Consider what your clients and coworkers will be looking at while on video calls. If you have a blank wall behind you, try creating something a little more visually interesting with wallpaper or artwork. Opt for a grouping of pieces over one large piece— a singular piece of artwork can be more distracting if not done correctly.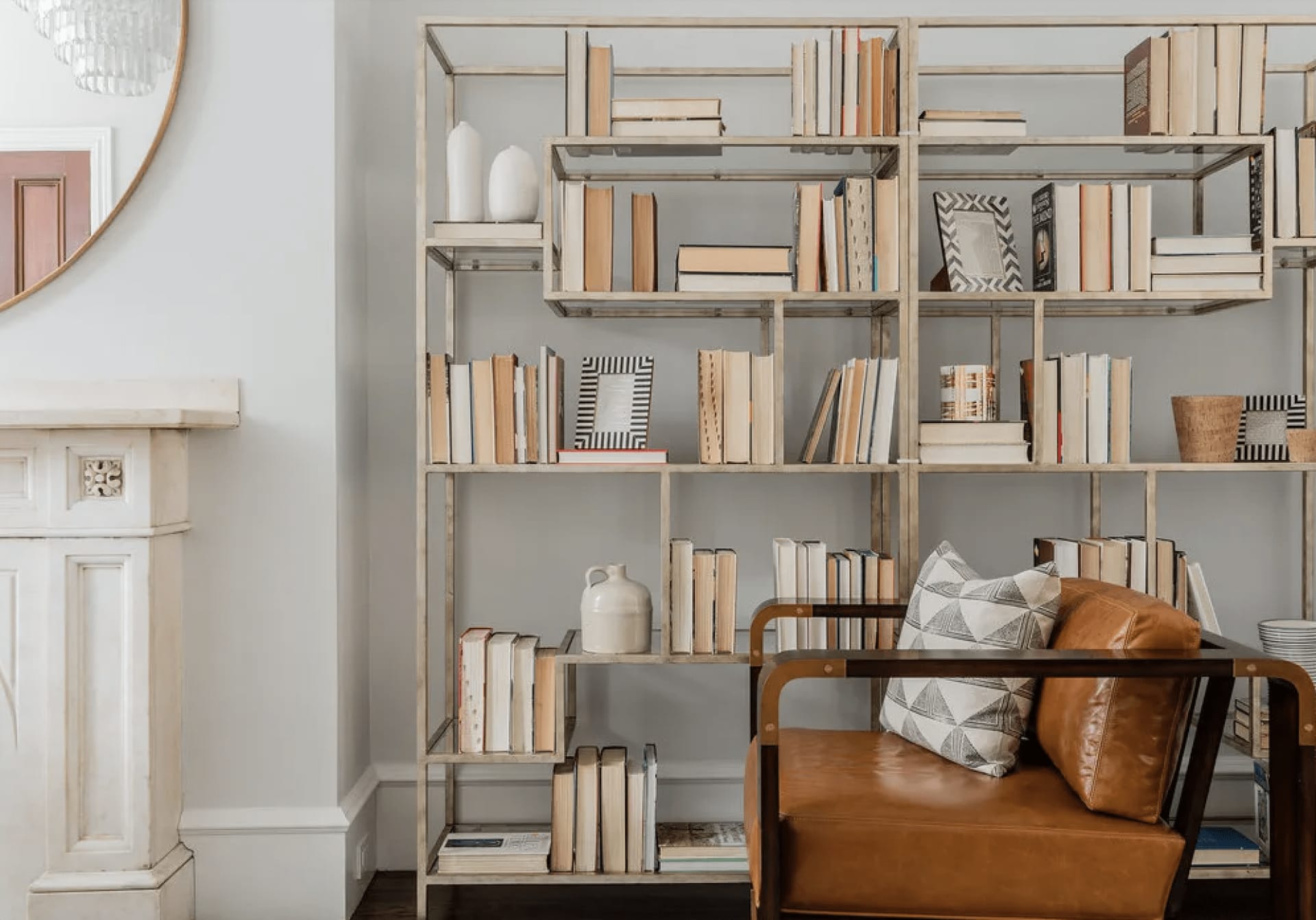 Invest in a great chair. If you're not keen on the look of an ergonomic office chair, consider an upholstered dining chair. They can be just as comfy, and pull double duty as extra seating elsewhere in your home when not being used for work.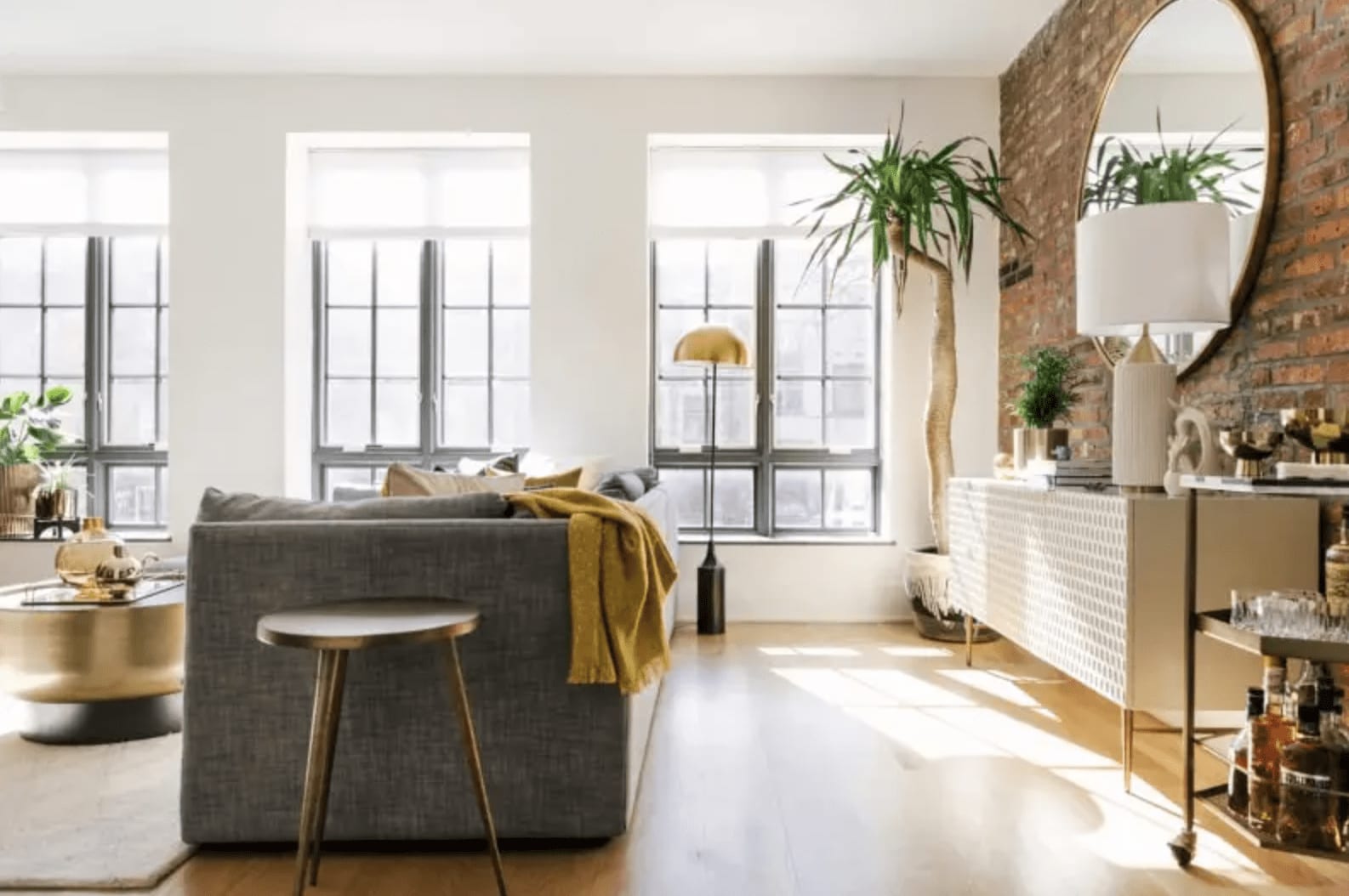 Get organized. If organizational features like built-in shelving don't already exist in your chosen workspace, a freestanding bookcase with some good-looking lidded boxes can go a long way in bringing order and sanity back into your life.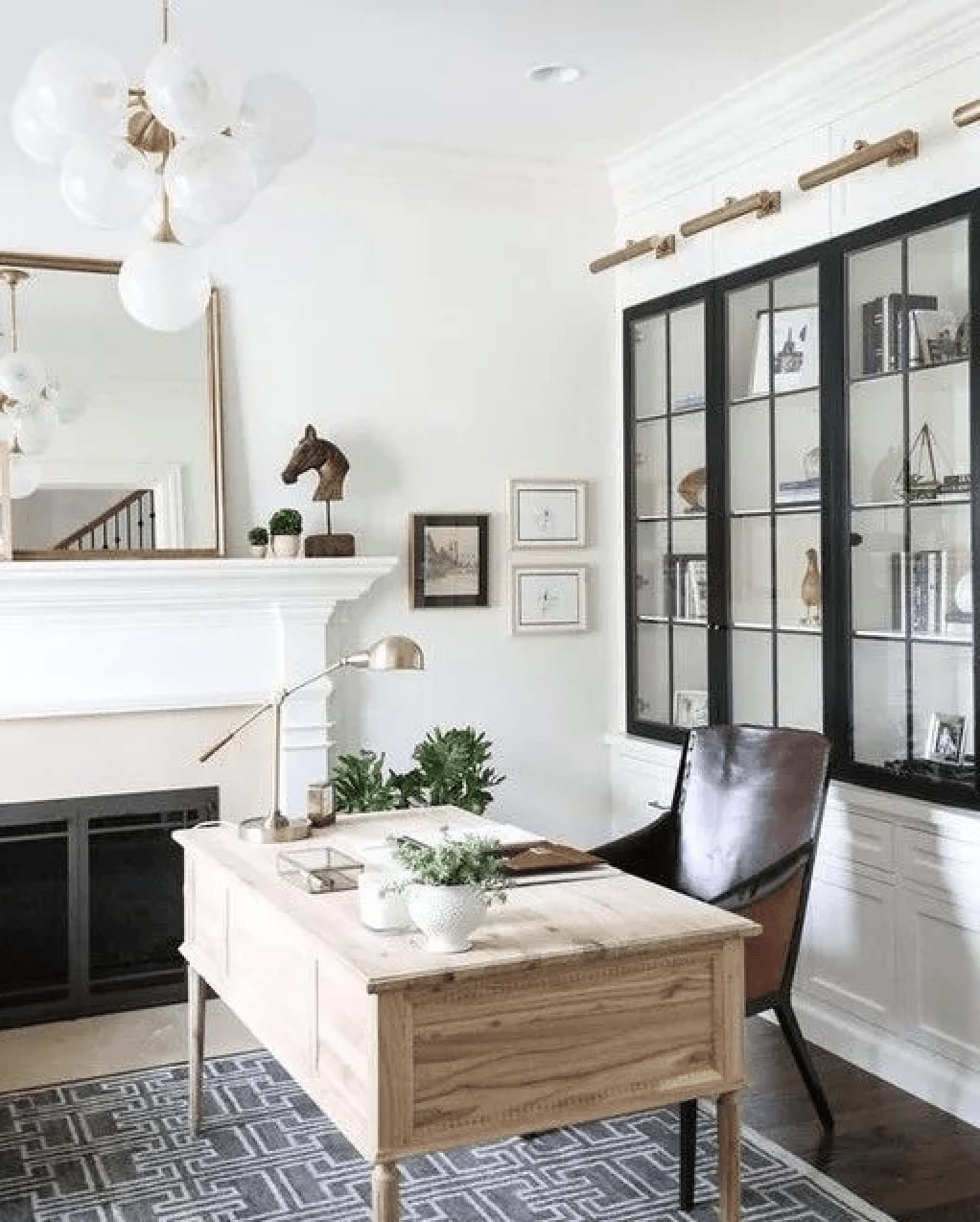 Make your surroundings match your brand. Is your brand personality clean and modern? Then, your zoom room space should match your brand personality.
Add personality. Bringing in art and background items that show your personality is a plus. I like how there is abstract record player art in the zoom background here in this room that shows some personality but still keeps it professional.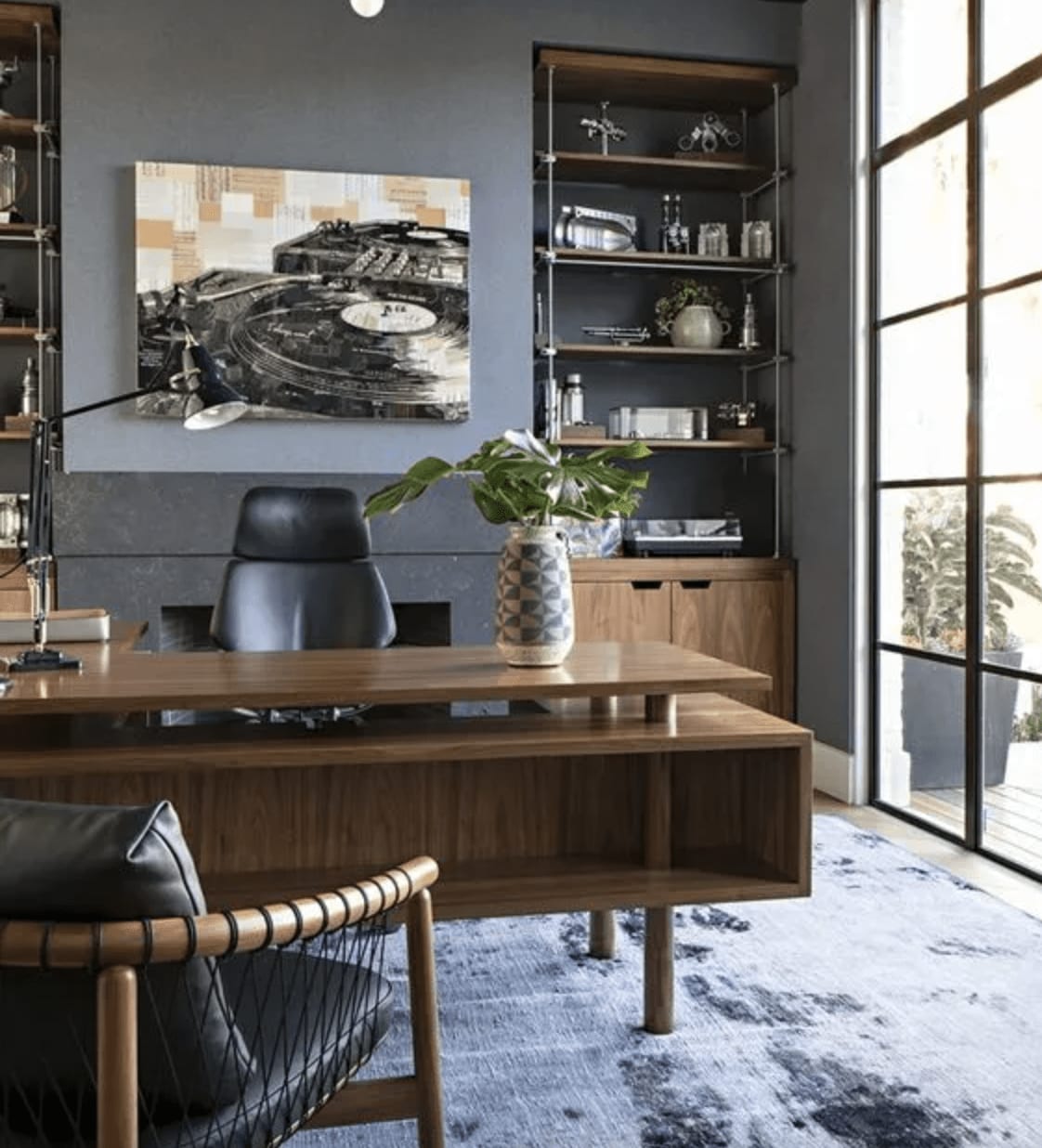 Create a space that is always set up. It would be laborious to set your zoom room up every time you're ready to take an at home call. So, have your chargers organized, technology plugged in and papers in their appropriate folders. Having your camera in place or a laptop riser in place is helpful to know you're getting the best angle, light, and don't need to be playing around with your setup.
Last but not least, design is supposed to be fun and your work environment should inspire you. So, make it a place you take a breath of fresh air and are excited to sit down at everyday. Simple things like having a tea station and live plants in my space make it feel like where I want to walk into every morning. When it comes to real estate value we know that home offices are one of the most in demand requests we get as Realtors, maybe the curated zoom room is going to be the next listing highlight.
Sources:
These DC Interior Designers Are Making Over People's Zoom Rooms