This California bungalow inspired me so much I wanted to share it with you all! It's so perfectly imperfect which is just the way I like things. I love how owner and designer Katie Hammond made things look pulled together, respected the architecture of the home and also made room for personal touches. Also, I felt like it would inspire many of you as this style home can be found in several Colorado neighborhoods. Some of the neighborhoods that come to mind as having the most brick bungalows are Highlands, North City Park, Park Hill, and Englewood. Likely what this home looked like before the remodel is one you've likely cruised by on the internet before, like this.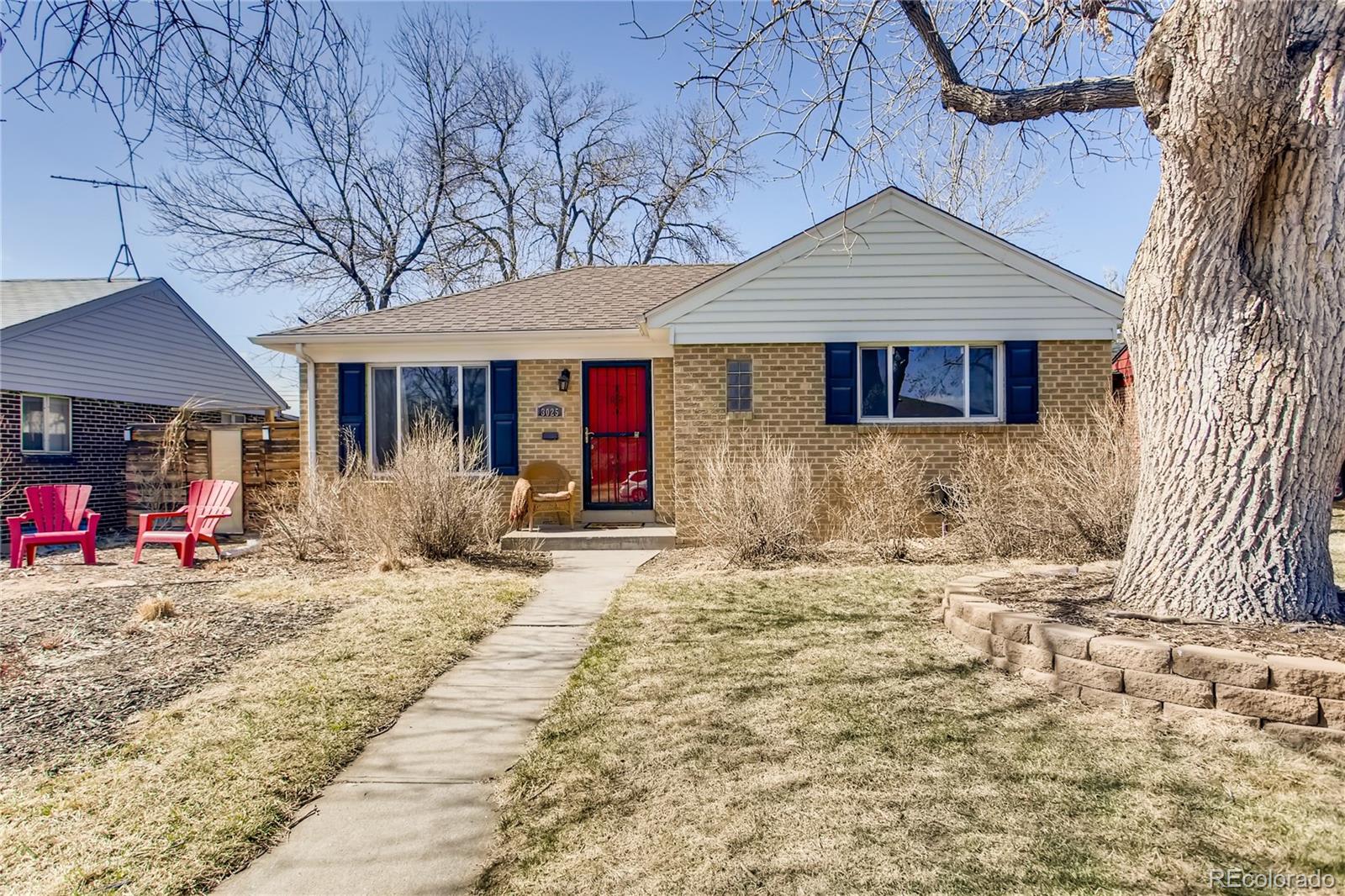 Then, when you see it has the opportunity to be transformed into this gorgeous home you really start to see how great the bones are in the first place!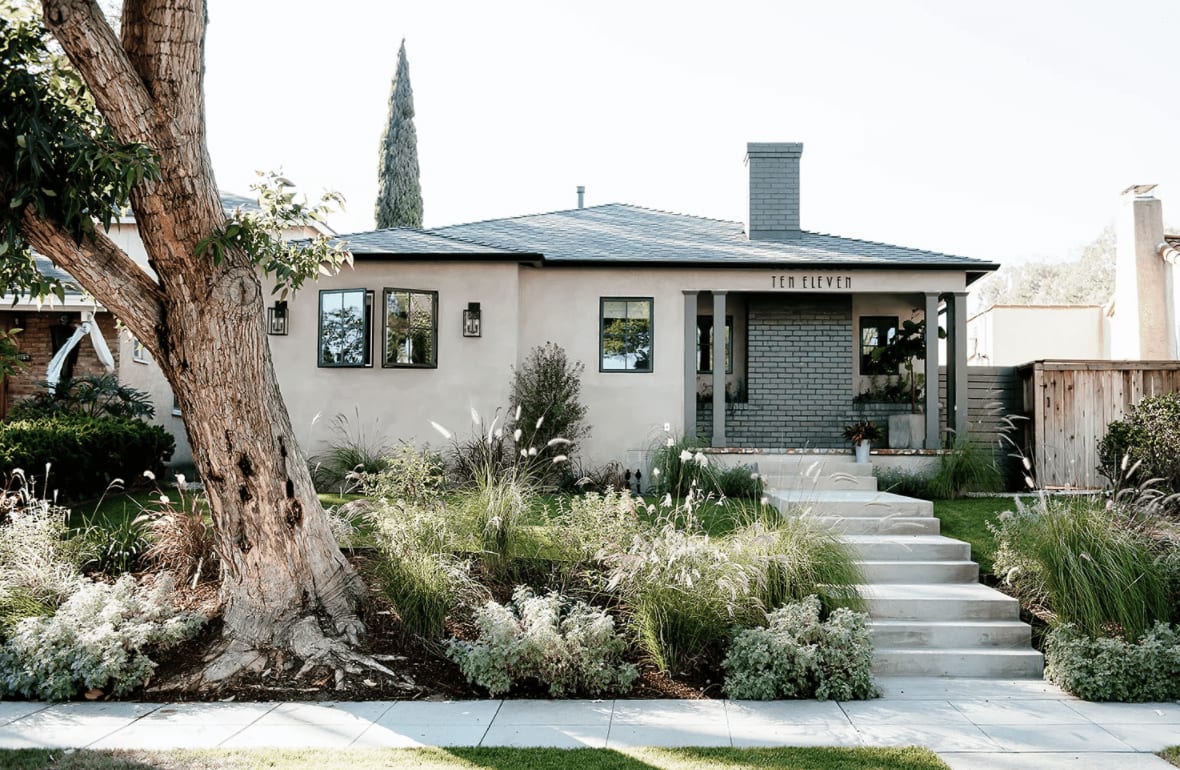 Katie Hammond grew up in Manhattan Beach, California and spent her childhood bouncing back and forth from her and her grandparents' house in nearby Torrance. As an adult, she would pop by on the weekends to check in on her grandmother, who had lived in her home for over sixty years. After she passed away a few years ago, the 1100 square foot house stayed in the family untouched, until a lightbulb went on in Hammond's head.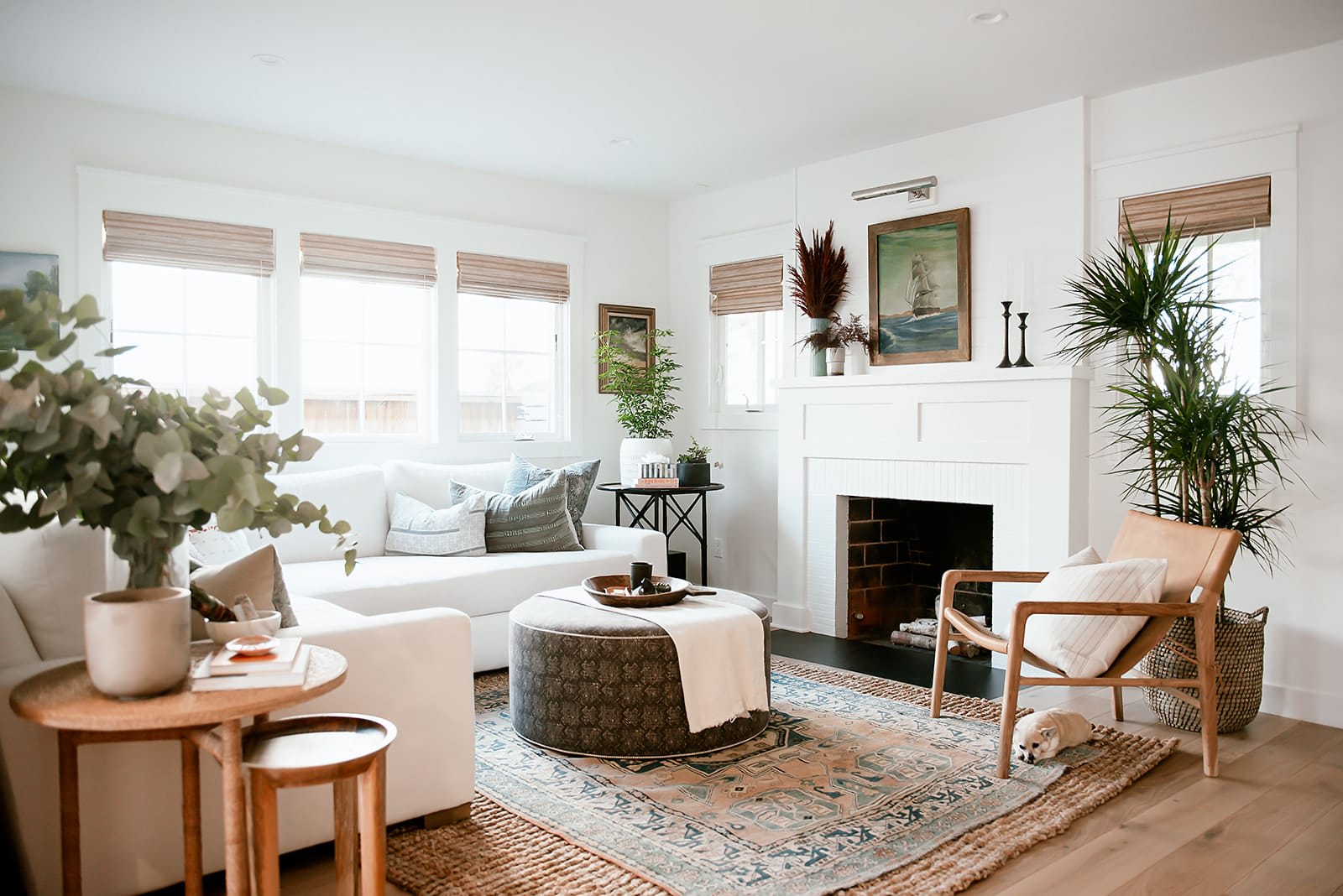 "Why am I not renovating this house?" she asked herself. "I've always had a passion for interior design and this house really means something to me." So the PR company founder-Hammond started lifestyle firm 9SPR in 2011-hired a contractor and took on the project herself-turning the humble abode into a bohemian sanctuary fit for a homebody and three feisty chihuahuas.
Here's how she renovated: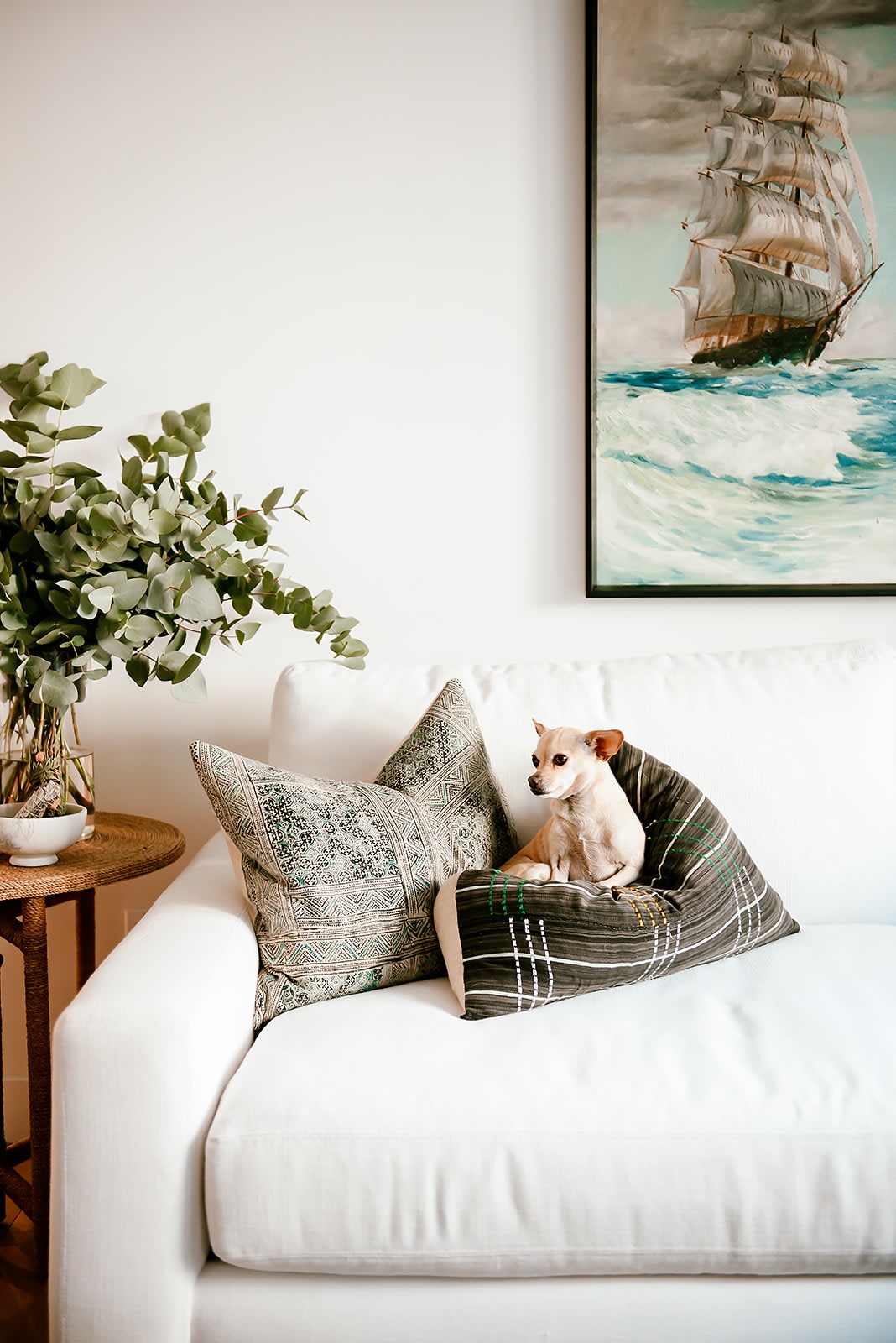 The house, built in the 1940s, needed major updates. Hammond basically redid the entire place, including taking down the wall between the kitchen and the dining room and opening up all the walls in the living room. She also added a master suite and laundry room. The process took nine months to complete. And while it was an overhaul, the 33-year-old kept little nods to her grandparents around the home. Much of the art, like the
James Peter Cost
sailboat painting above the couch, is from them. Hammond says now she gravitates toward vintage ocean paintings.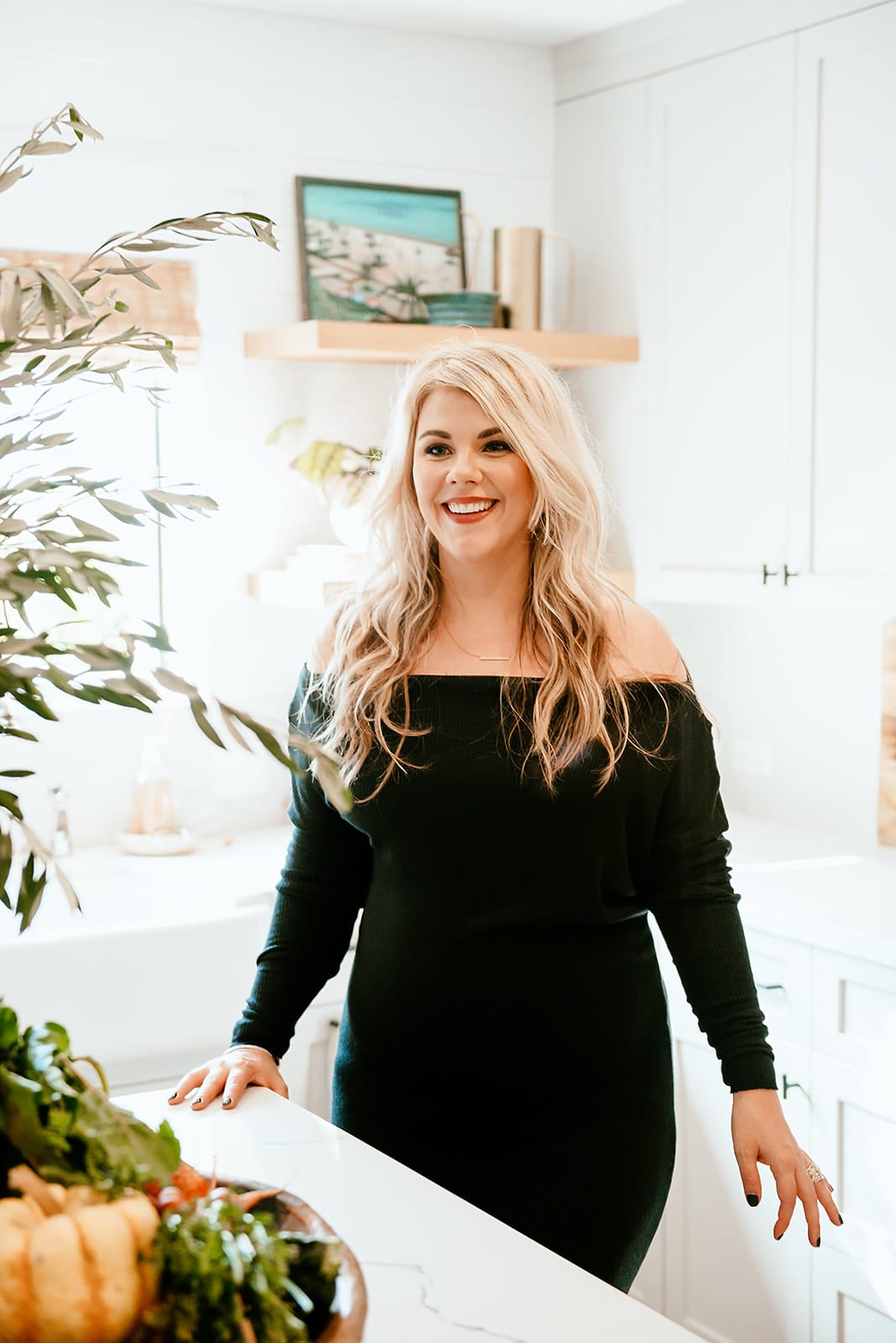 "The best compliment that anyone has given me, is saying the house has good energy," she says. "I feel like this place has my grandmother's blessing."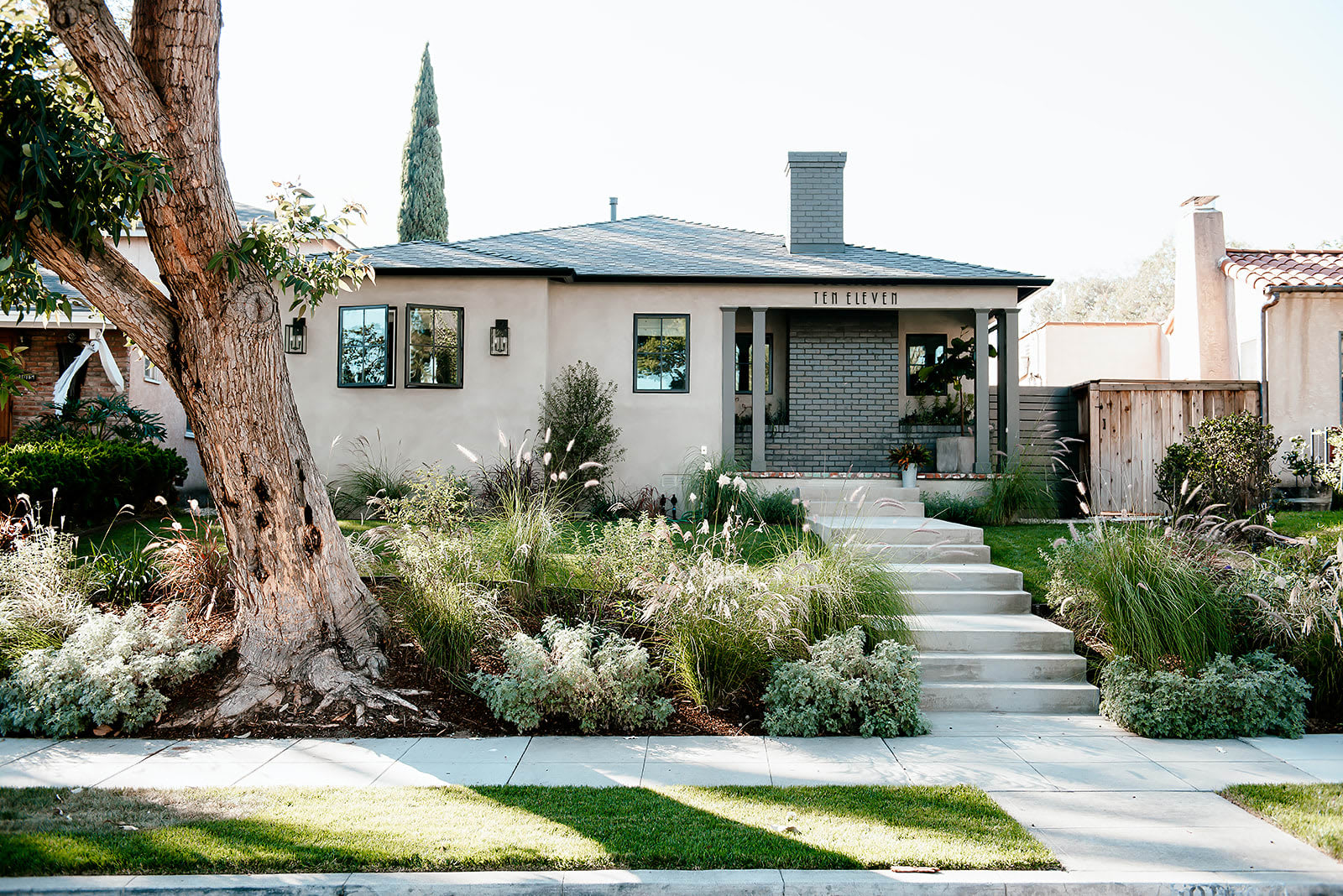 Dark Details
Hammond made sure to keep the old school mail drop in the entryway. "I don't think they even let you use those anymore, but I wanted it since it was my grandma's," she says. "We even painted it black to make it stand out more."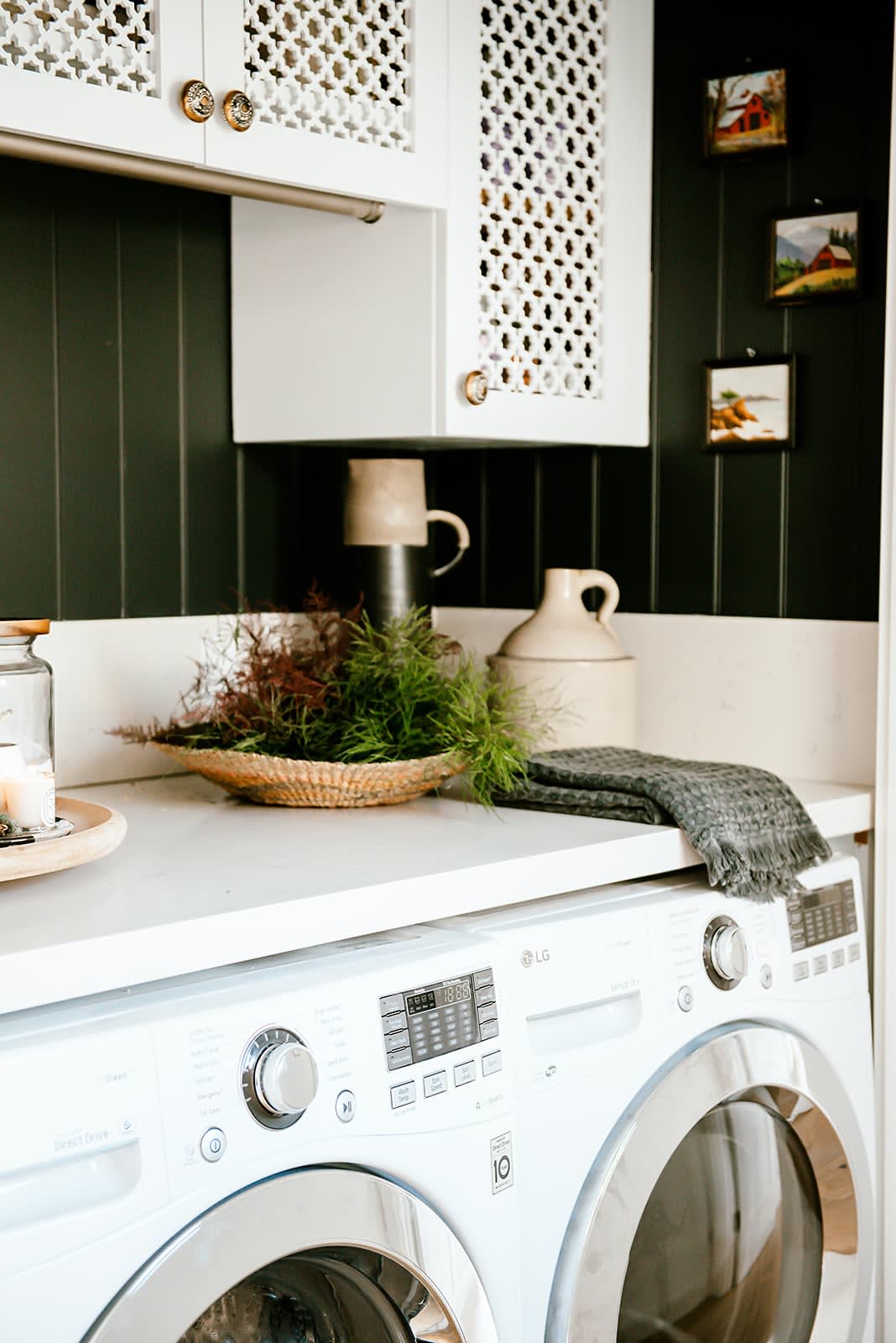 More black details are woven throughout the house, from the front door to the light fixtures. Hammond gravitates toward deep-colored homes, but she knew a dark exterior wasn't right for a beachtown, so painting the outside window frames black was her compromise. "I almost did black windows on the inside, but it would have been way too stark against the white walls," she says. "So incorporating dark accents in other places was a way to get that in."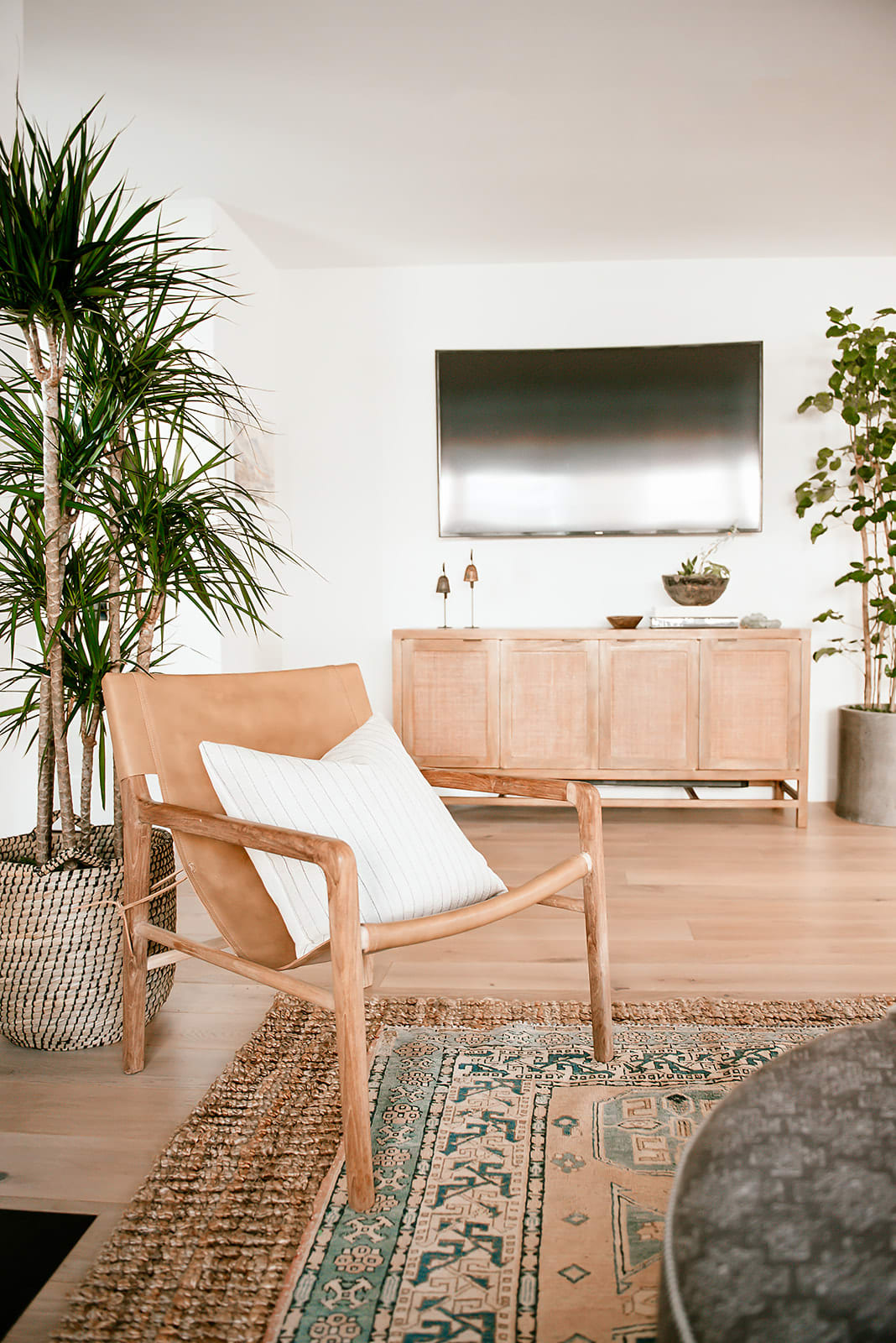 Au Natural
From the reclaimed wood dining table to the oak kitchen shelves to the jute rugs and bamboo blinds, Hammond has a myriad of natural woods and woven textiles throughout the house.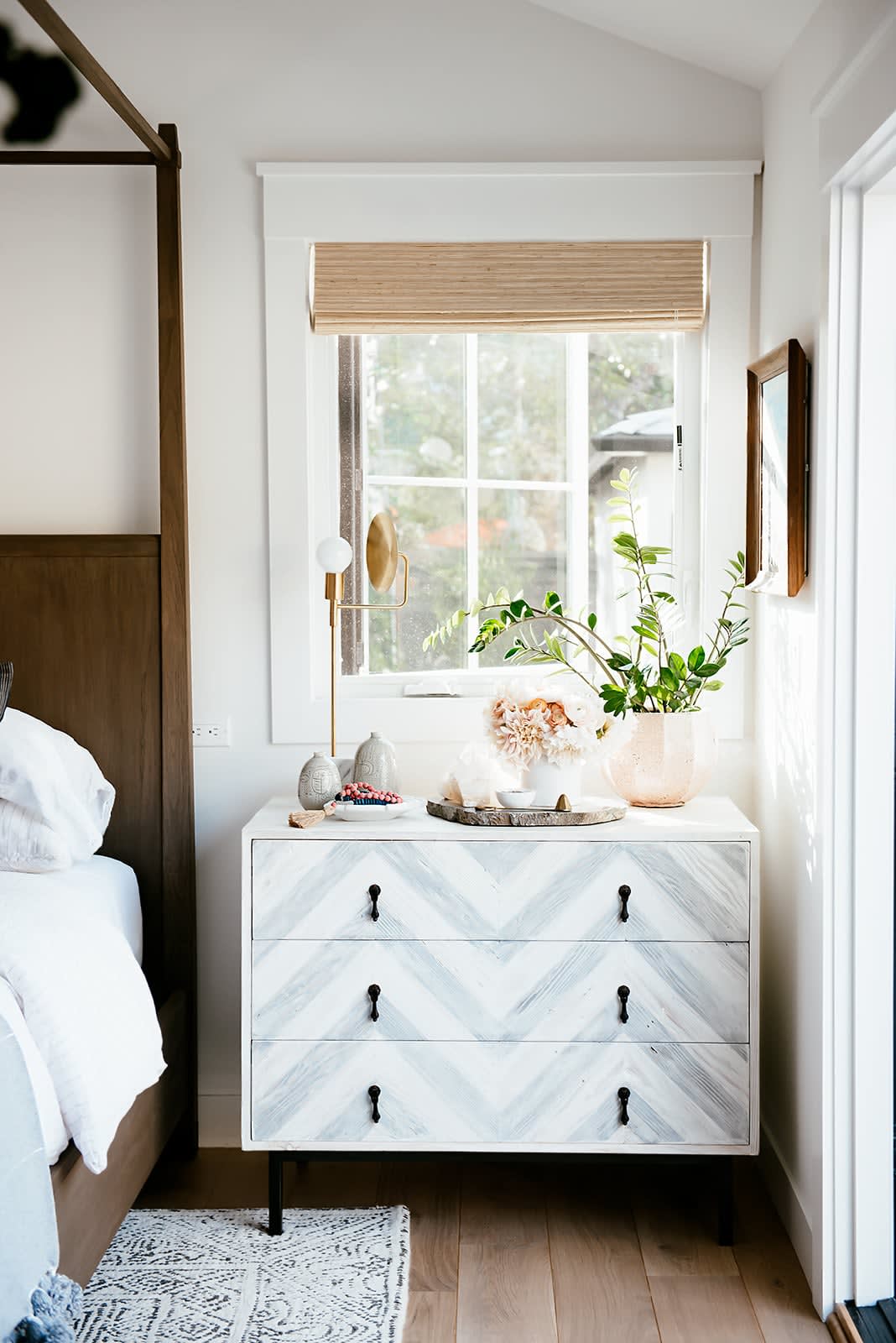 She went with these materials because she wanted a simple backdrop. "If I got fabric curtains with a paisley print instead of wood blinds, I know I'd be sick of it in five years," she says. Another savvy design move: Hammond used dressers instead of side tables in the master bedroom. "Dressers mean more shelf space for styling, and bigger drawers to store clothes," she says about the reclaimed wood Chevron Dresser by CFC.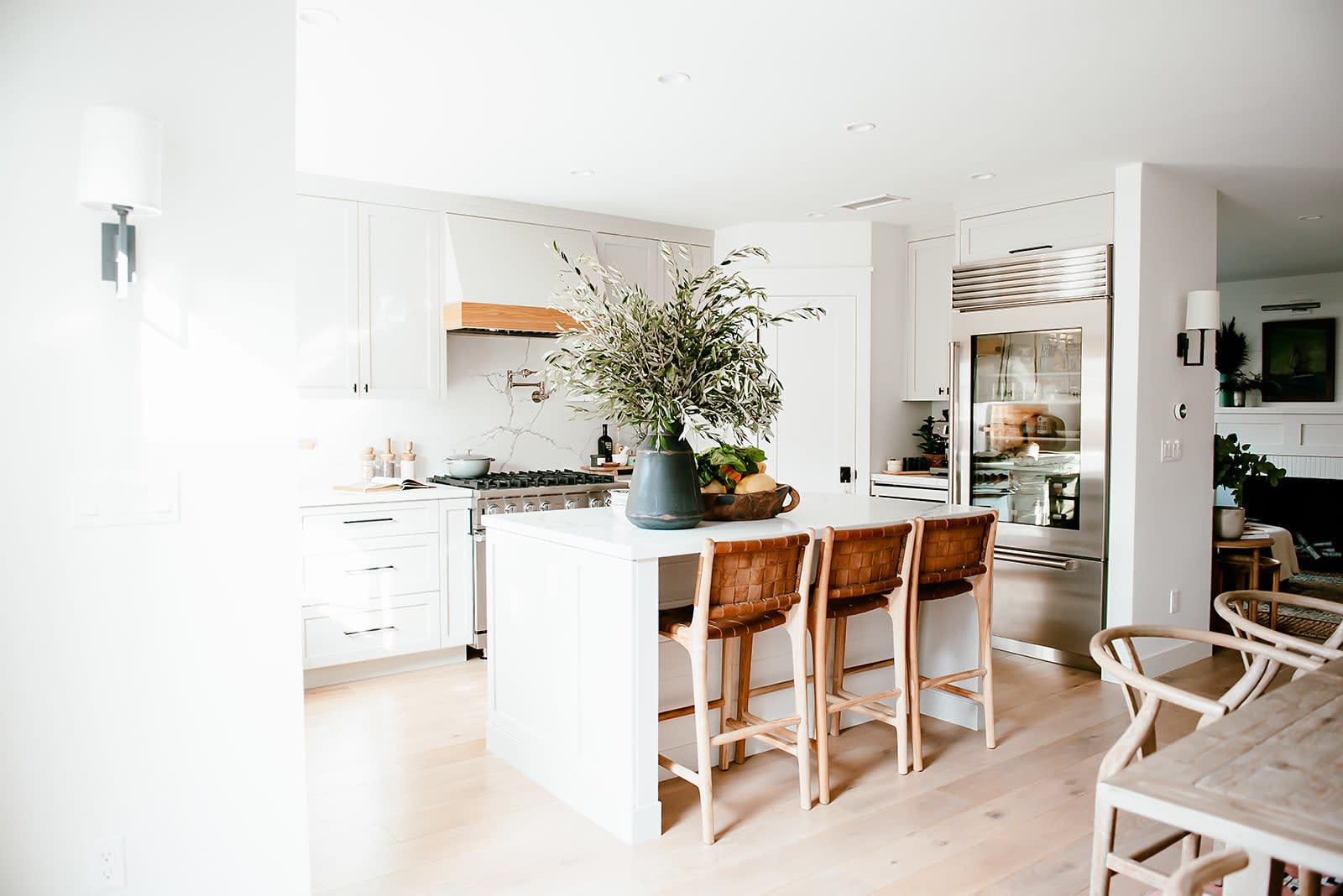 Create a Canvas
At first, Hammond wanted to go with a lot of wallpaper around the house and brass in the kitchen. But like with the natural wood, she ended up choosing materials that offered a more clean and classic backdrop.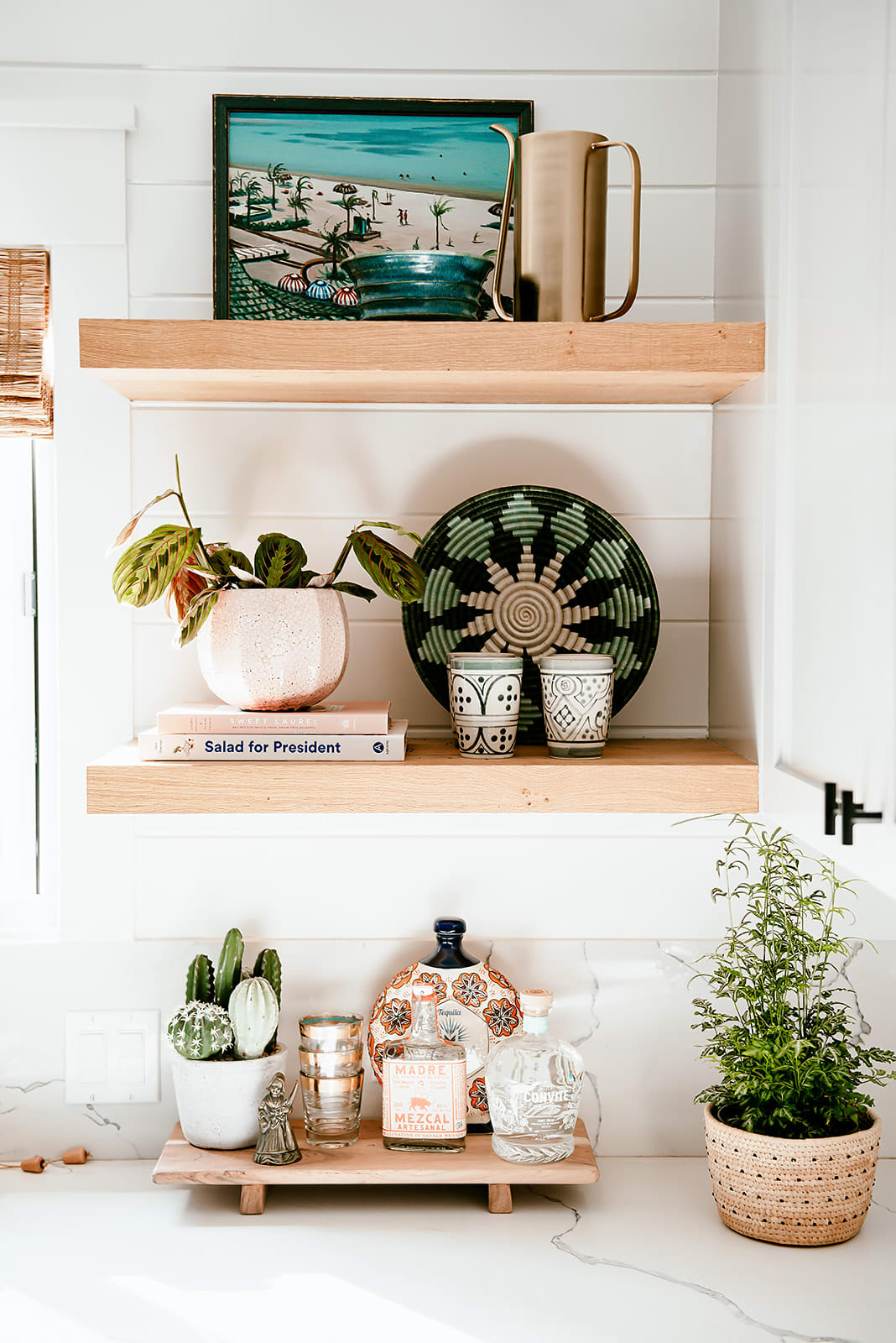 She went with beige walls in the kitchen (and Benjamin Moore Decorator's White throughout the rest of the house) and added open shelving to provide a place to decorate with more of-the-moment pieces that can be switched out during the holidays or on a whim. "Instead of having a tile print backsplash or a navy blue island, this is a way to incorporate on-trend items in the kitchen," says Hammond.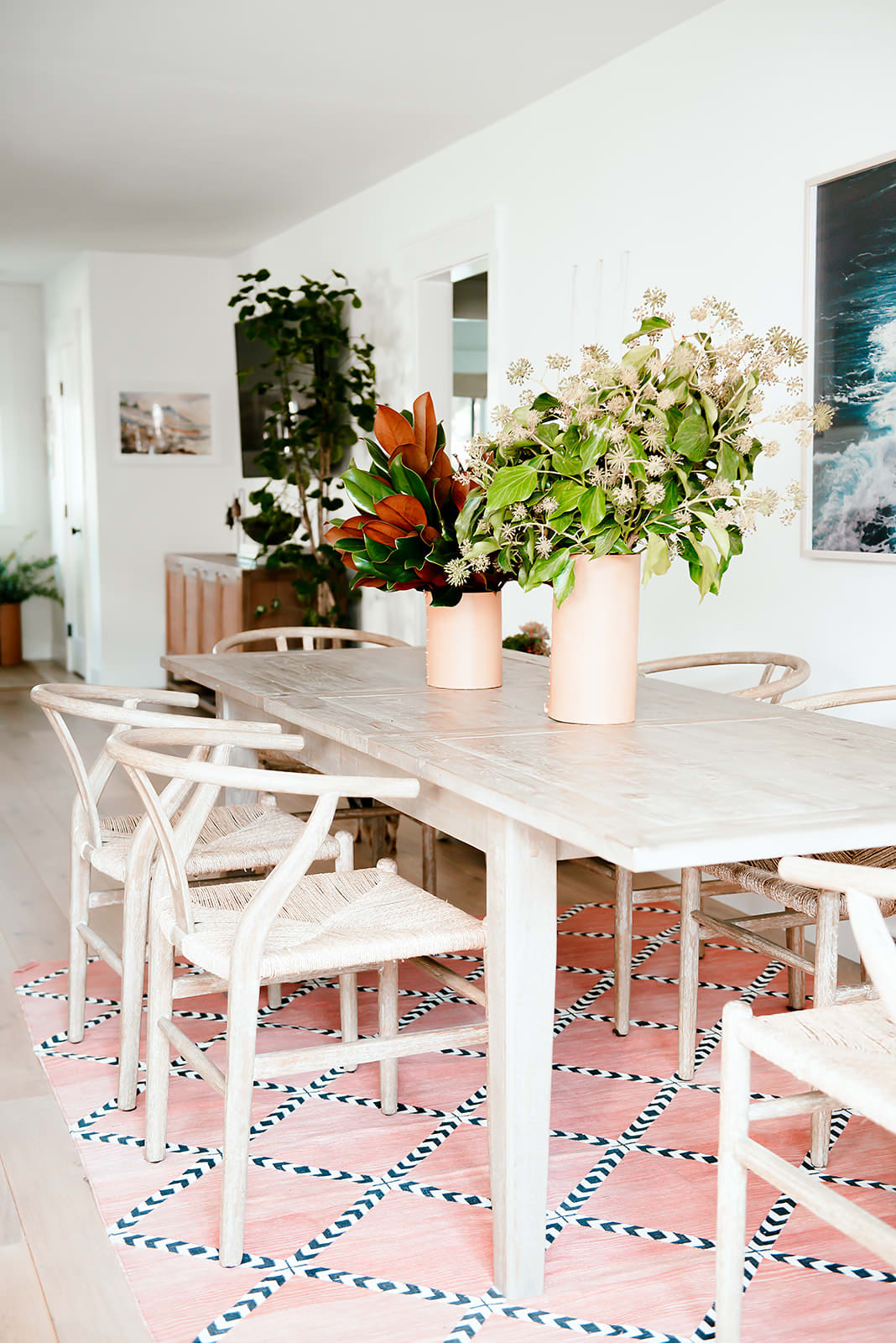 Go Green
Hammond prefers to decorate with greenery rather than cut flowers. "It has that earthy, just-hanging-out-in-Ojai-or-Italy vibe," she says.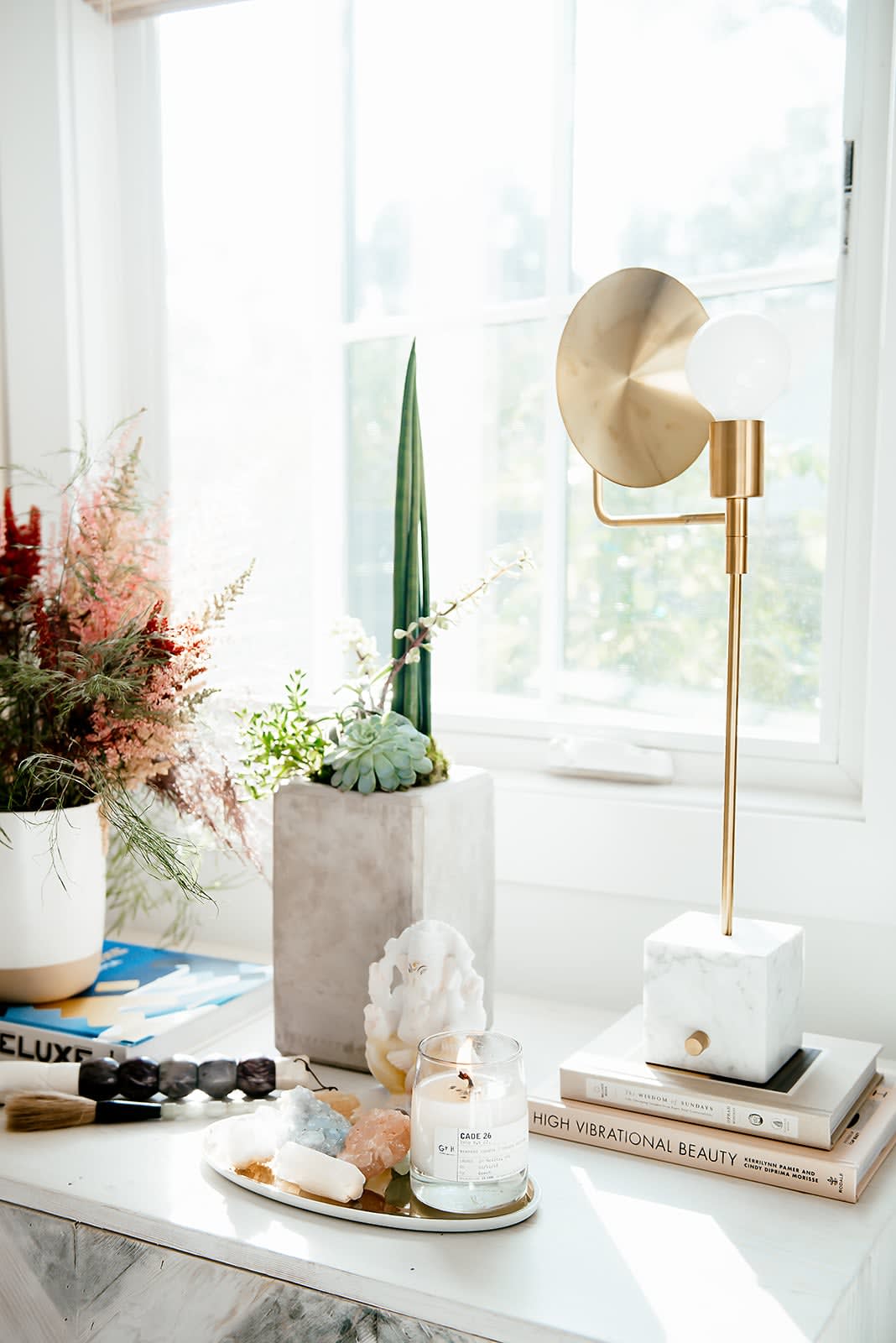 Candles Make a Room
The design buff loves candles and each room has a designated scent. Some favorites include: Le Labo Cade 26 or Santal 26 in the living area; Le Feu Violet in the bathrooms ("I am always giving them as gifts-no one has ever not loved this smell!"); and Norden Big Sur or Diptyque Baies for the bedrooms.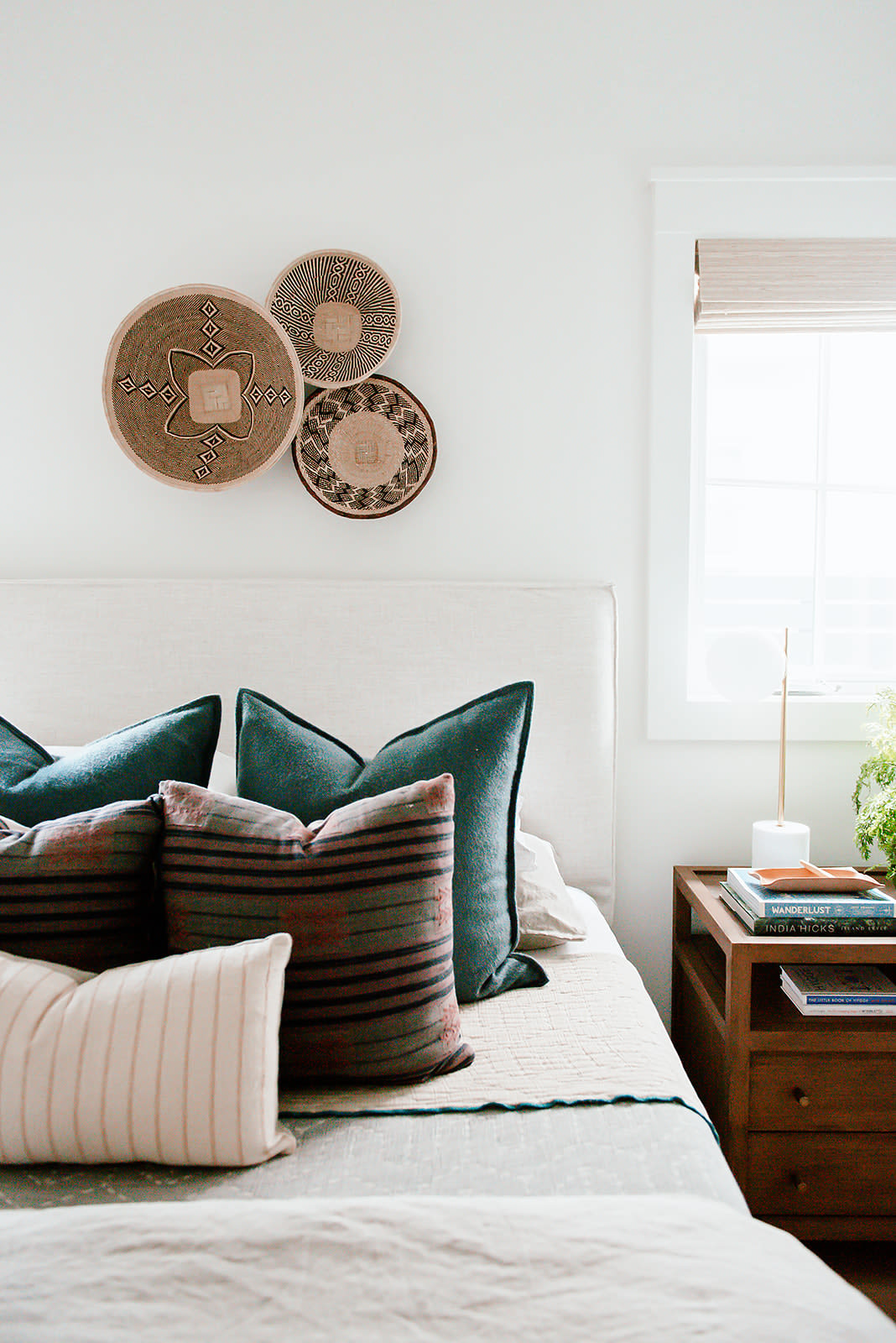 Surround Yourself with What You Love
When picking out items for her home, Hammond doesn't have a plan, she just buys what she loves and pieces it together. Another reason for starting with natural woods and a simple white wall canvas!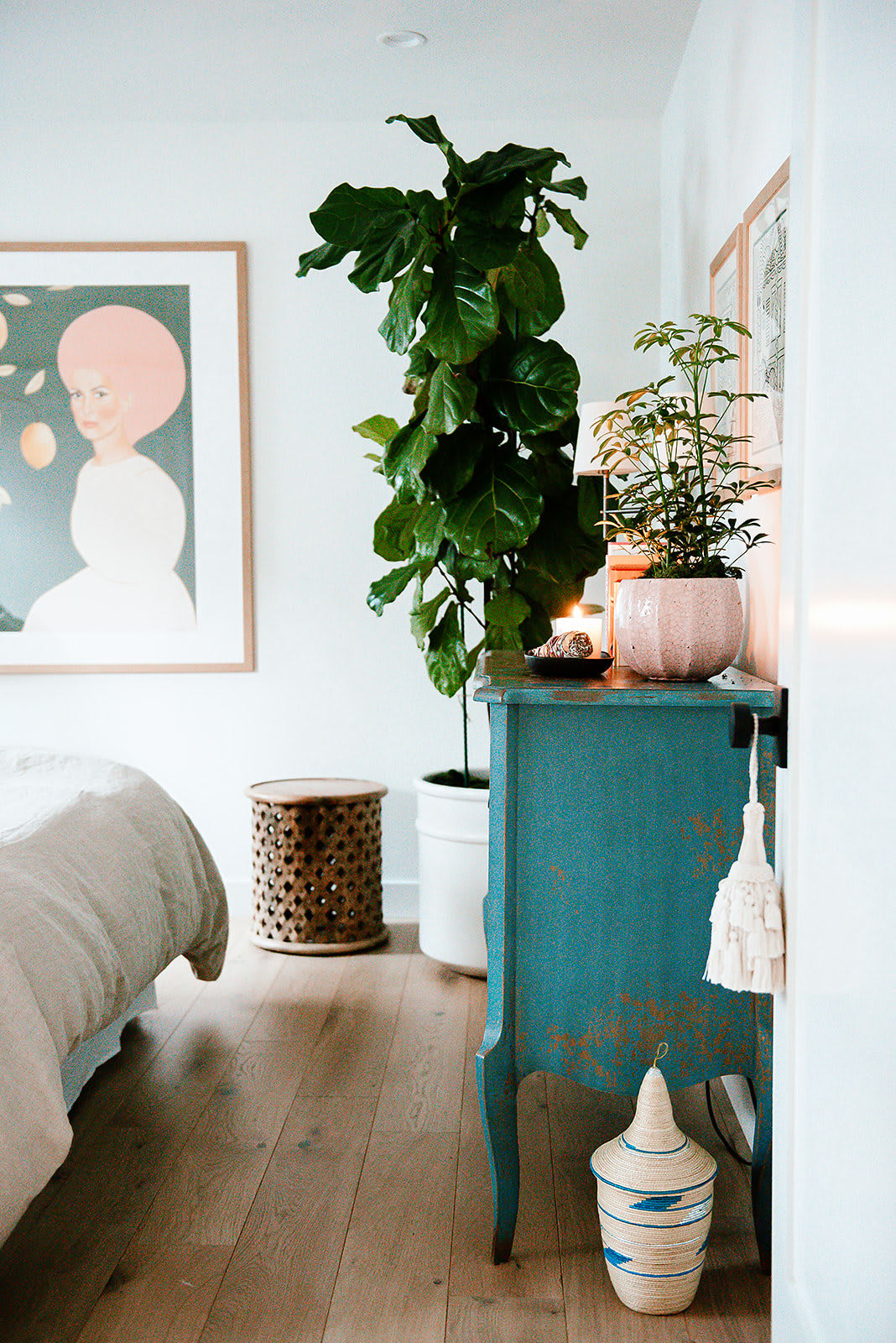 Hammond has been collecting pieces for her home over the years. The vintage blue dresser in the guest bedroom was used as a TV stand in her old apartment. She loved the Turkish rug underneath the bed so much, even though it is too small, she made it work by layering it over a jute rug.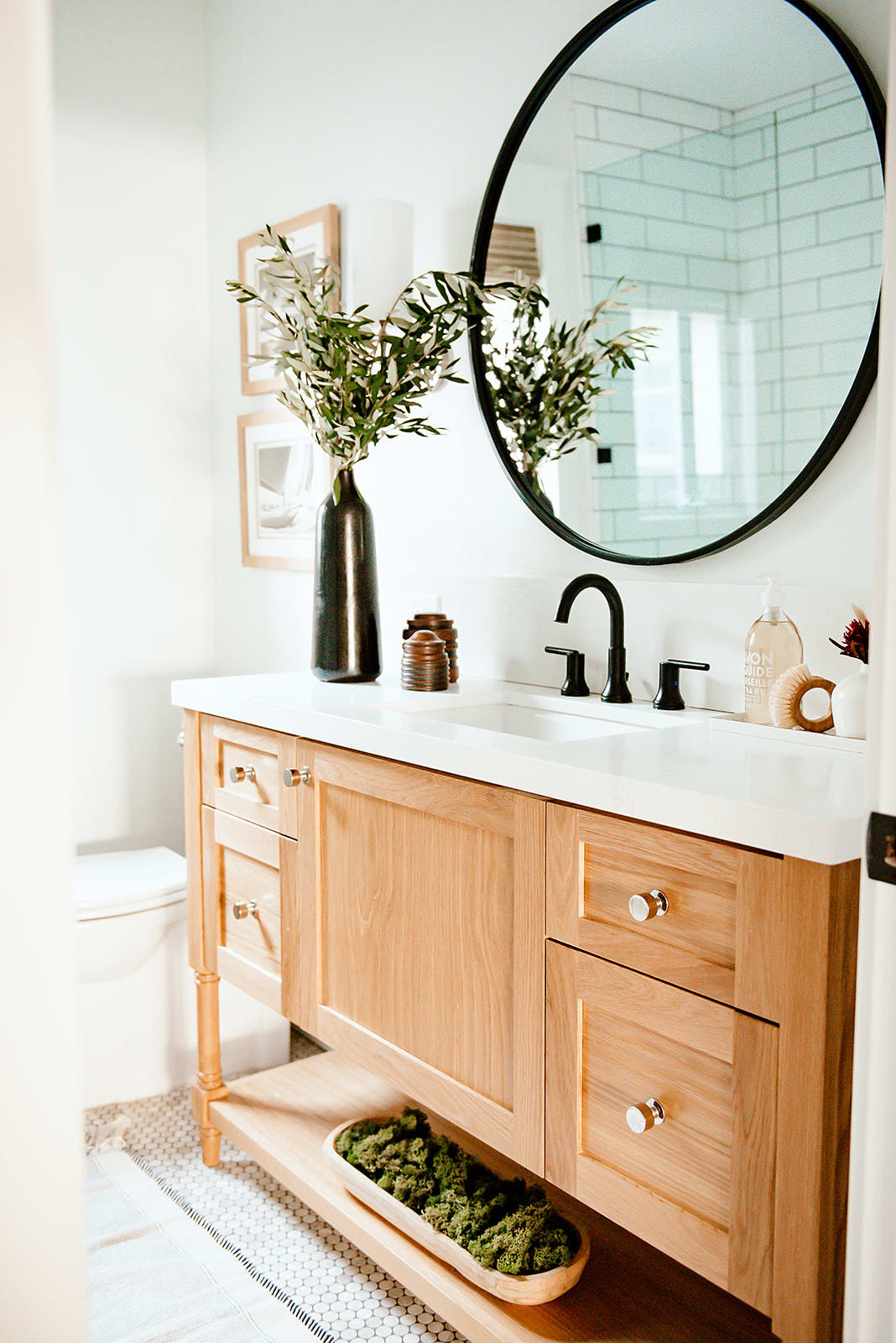 Save Online
The custom cabinetry throughout the house was a real splurge for Hammond. She went all out on the bathrooms as well, but was able to find ways to save. "With with internet, you can get things direct to consumer," she says. "I found places that get marble from the same places as tile stores, but they don't have the markup." However, she stresses you have to read reviews and order samples first.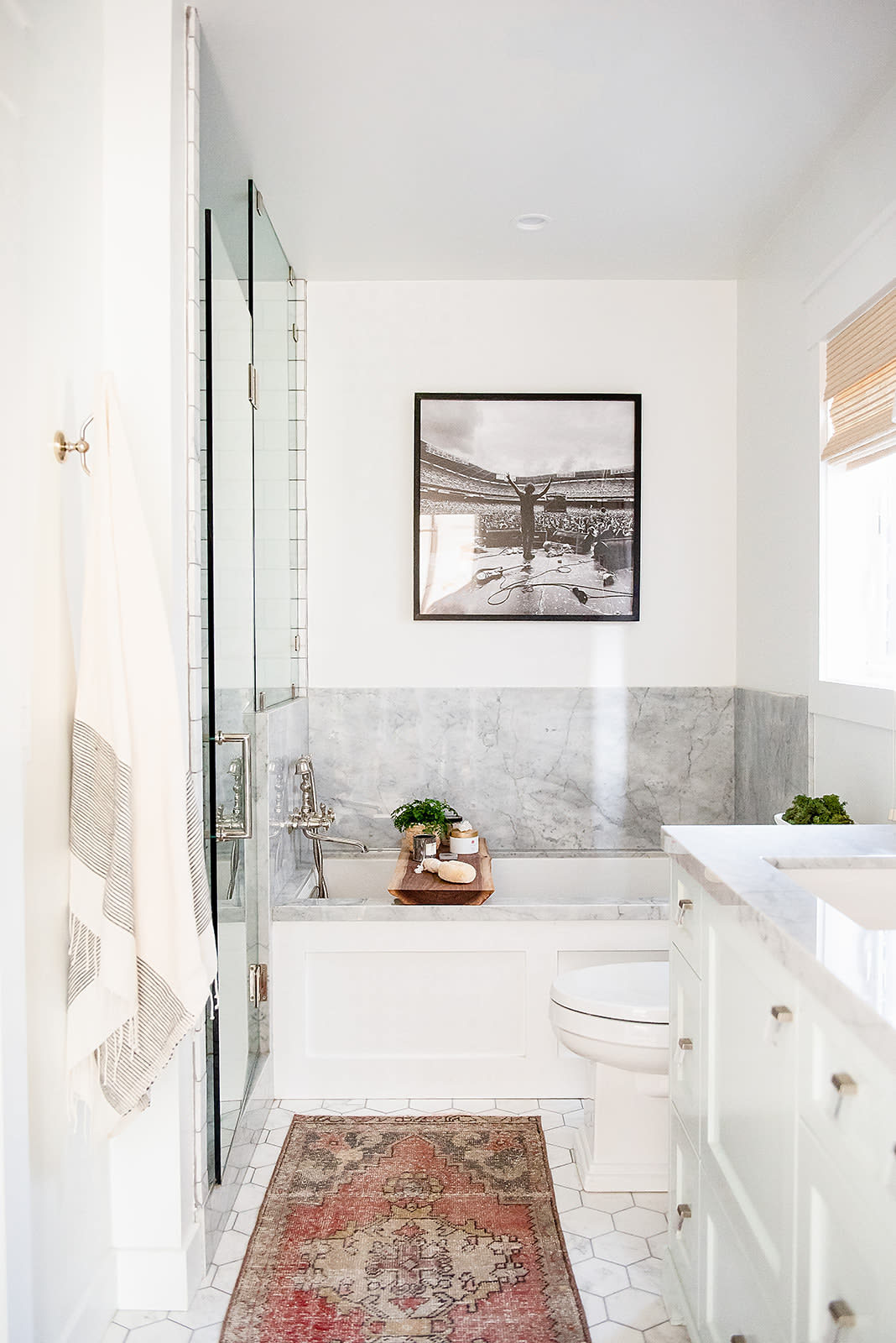 Go for the Unexpected
"Interestingly, the master bathroom is the least like my boho style, but it's one of my favorite spots in the house," she says. The marble and pewter fixtures veer toward the traditional, but Hammond hooked it up with something unexpected.
A large black and white photo of Gavin Rossdale of the band Bush hangs unapologetically above the tub. "Personally, I have no tie to Gavin Rossdale or his music, but I fell in love with this photo at a Pete Black exhibit," she says. "Everyone was like, 'Why would you put that in your bathroom?' But I think it's cool, unexpected and a nice balance to all the traditional-ness in there."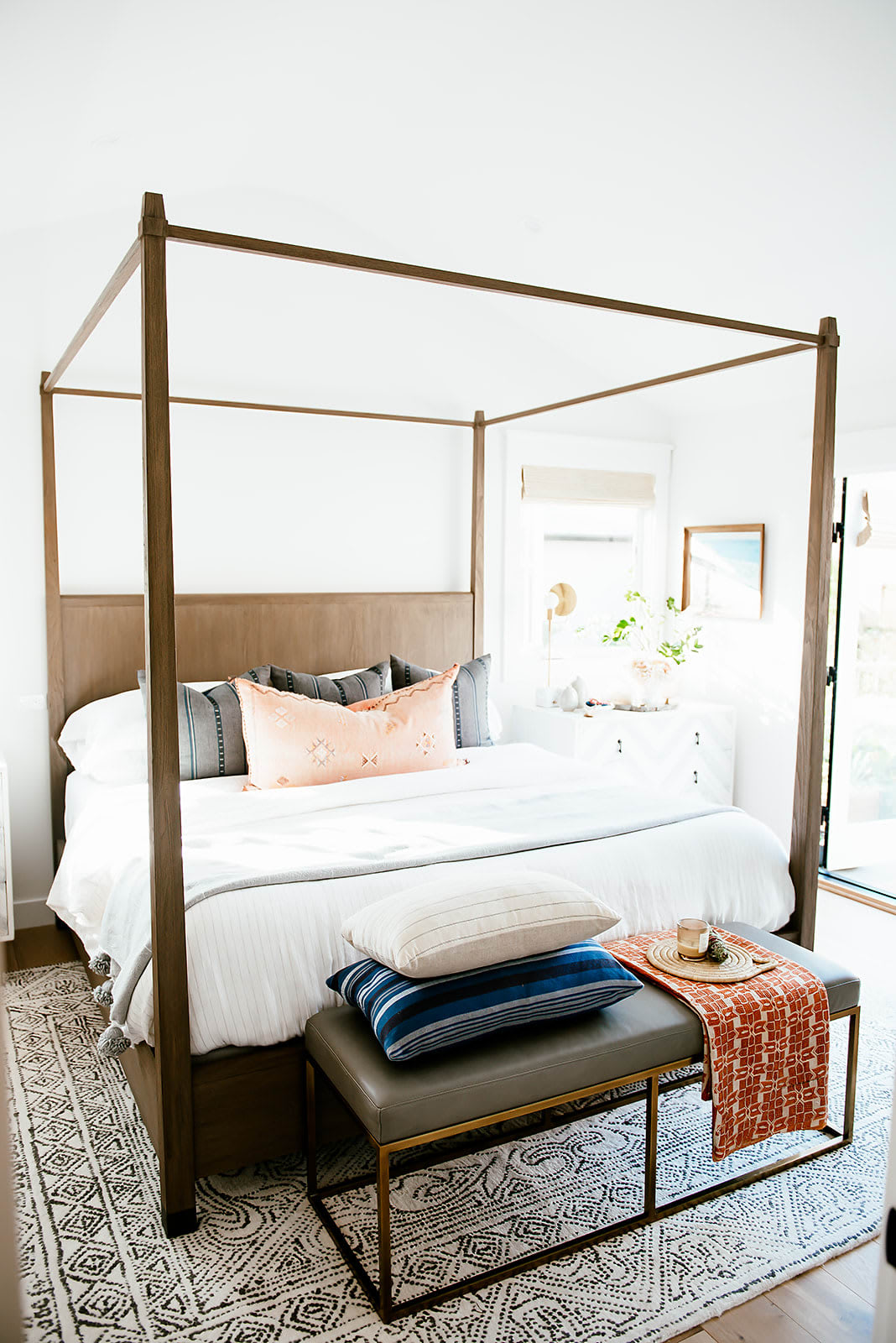 Include a Statement Piece
The home was originally a square, but was made into an L, by adding on a laundry room and master suite. We did a pitched ceiling because I fell in love with this four poster bed, from One Kings Lane before we renovated and knew I wanted it to be a statement piece.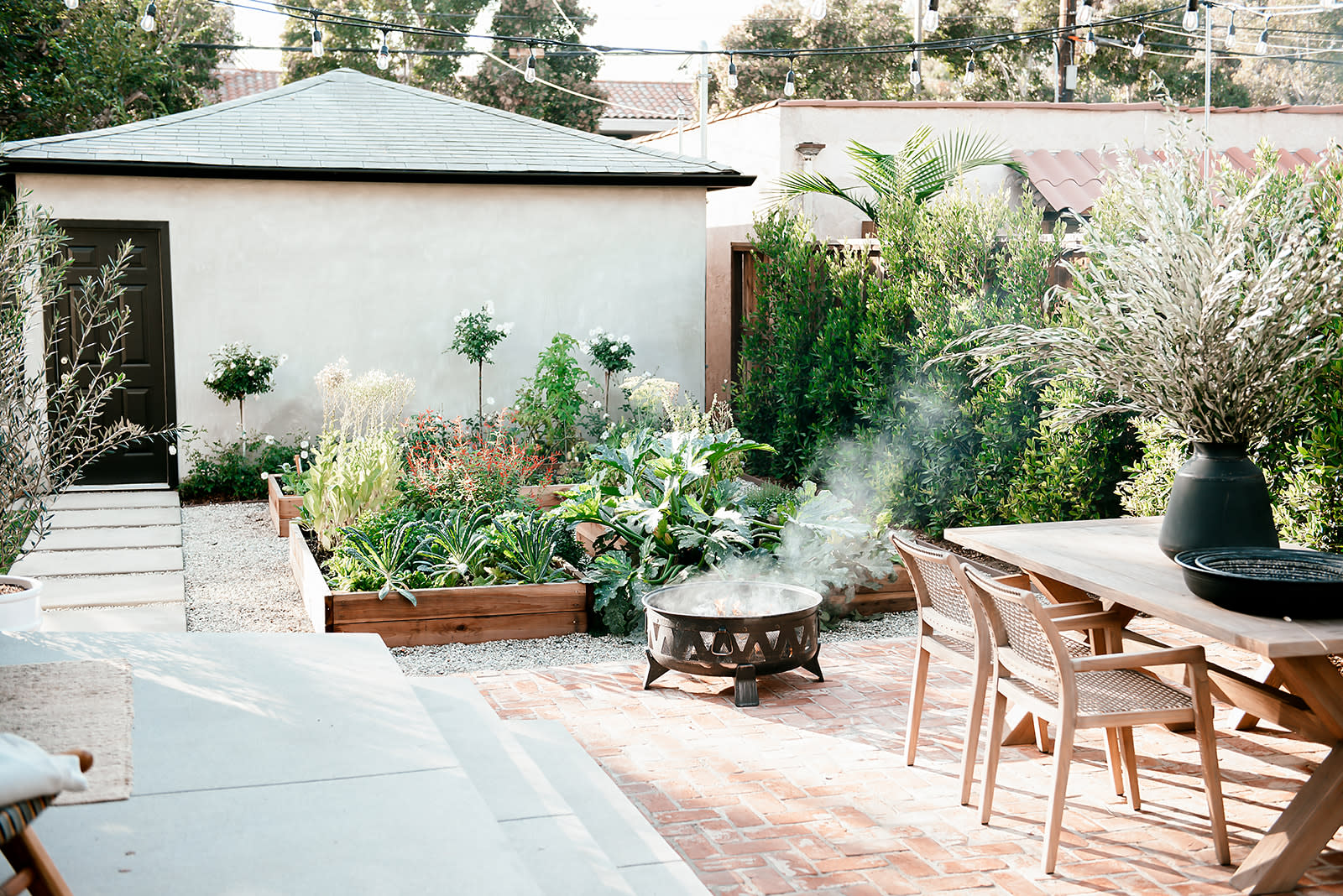 As part of the new layout, a big L-shaped concrete patio was added to the property. French doors open up to it from the bedroom and the dining room.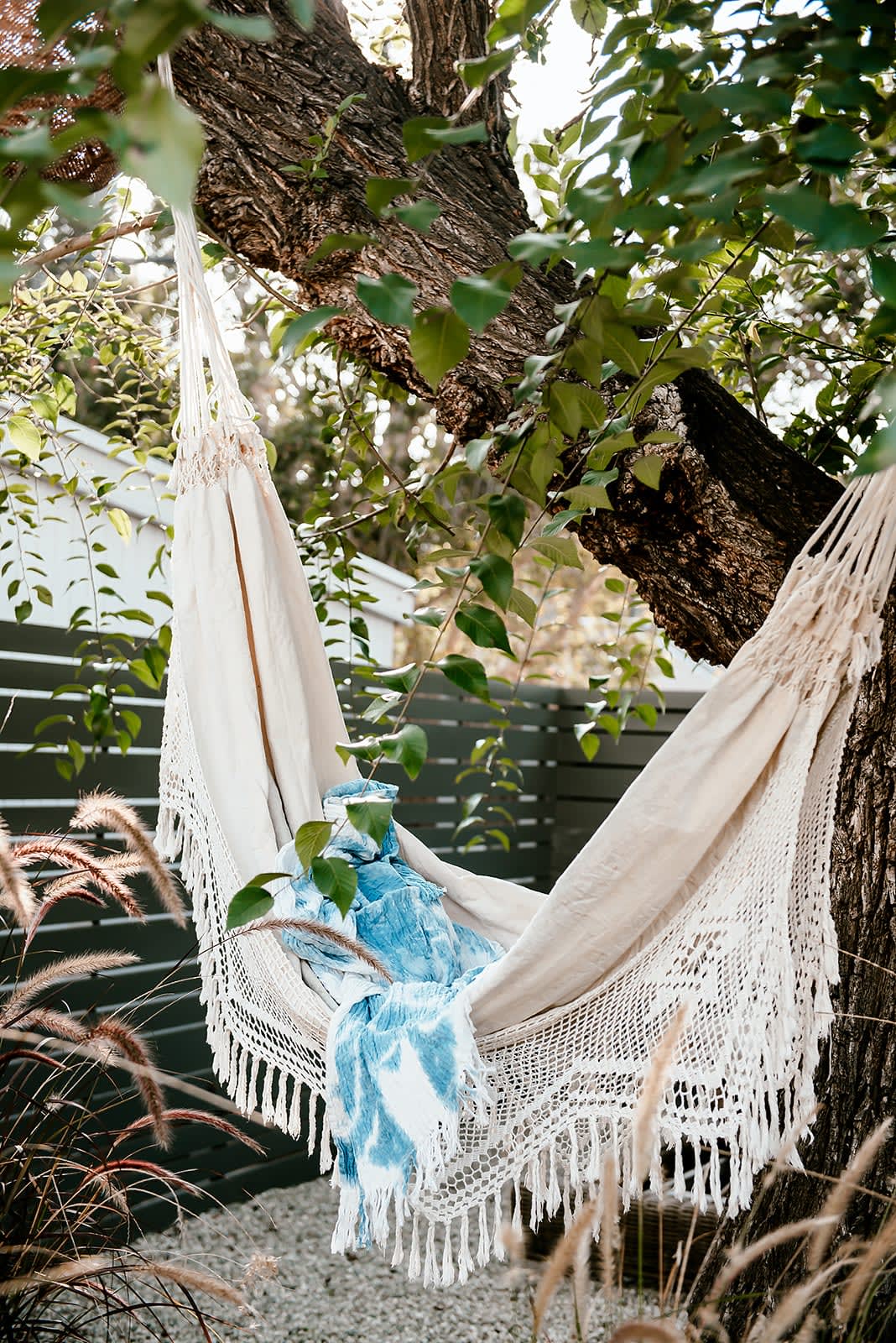 "It's especially nice because I have three obnoxious Chihuahuas, Tucker, Toby and Goldie, and can just open the door in the morning and let them out."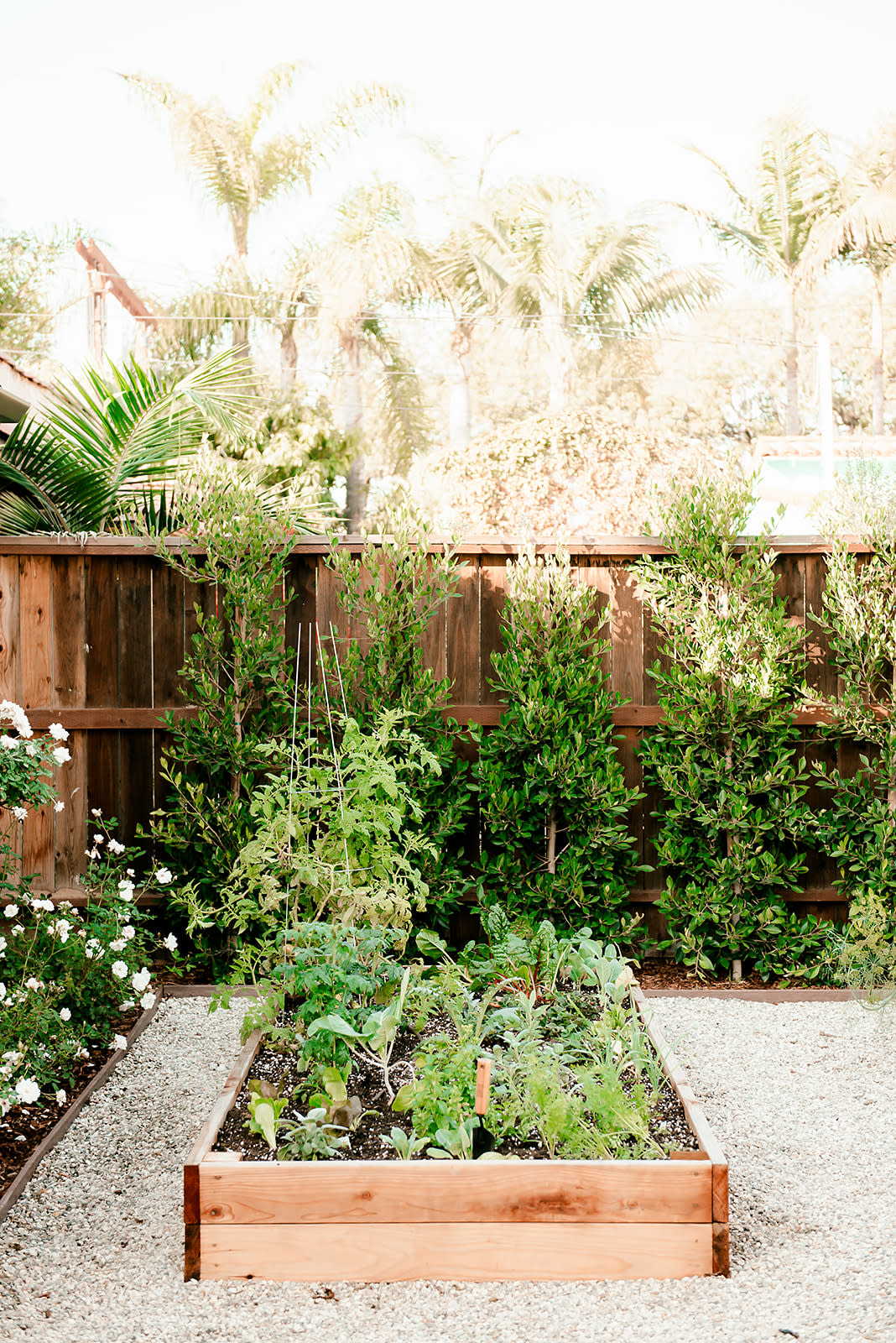 Putting Down Roots
"I don't have a green thumb, but I am trying," says Hammond. When she was growing up, her grandfather had a veggie garden in the same spot, so she wanted to recreate it and is learning how to garden.
If you're thinking about doing a remodel on your home I'm happy to give my two cents on the remodel and how valuable the changes you're looking to make would be. Also, if you're thinking about buying a home that might just need a little tlc, I'm happy to help you find your next home! Get in touch so I can learn more about what you're looking for in your next Colorado home!
Photo Credits: KIMBER COLLECTIVE
Source: Martha Stewart
Interior Design: Katie Hammond
Styling: Jacqui Nazarian and Katie Hammond