A glance through the most popular exterior photos of the past quarter tells us that many Houzzers seem to want to get back to the farm, or perhaps to a more simple life. The comfortable feeling of country style is conducive to a relaxed lifestyle. And as many folks are forgoing formal spaces like living rooms and dining rooms, their home exteriors also are becoming less formal with farmhouse-inspired style.
This idea of simple and relaxed also showed up in the form of a popular beach house and a 900-square-foot house. So take a break and check out 10 of the most popular recent house exterior photos.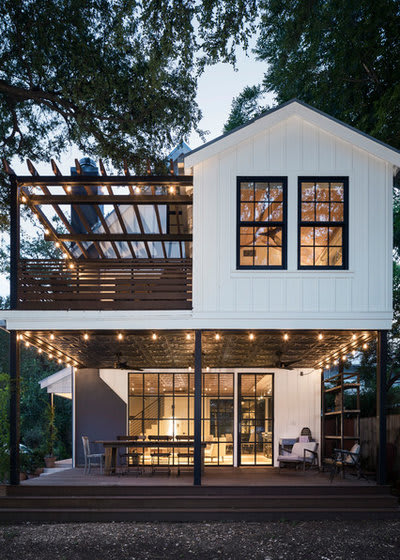 Modern Farmhouse
Once again, the modern-farmhouse style reigned among Houzzers. This Austin, Texas, home's back facade was the most popular exterior photo this quarter. By now the modern farmhouse vocabulary is well-known — board-and-batten siding, porches, a contrast of black and white and a gabled roofline. But architect Richard Hughes also brought in the modern element big time with the house's form. Check out the way the upper story hangs over and forms the porch, showing off the wonders of modern engineering that originally inspired the modern architectural movement. A tiled ceiling, pergola, steel-framed windows and all of those charming lights made it a standout facade for Houzzers.
Style note: Look at the lighting tucked underneath the fascia boards at the top of the gable. It highlights the architecture with a lovely glow.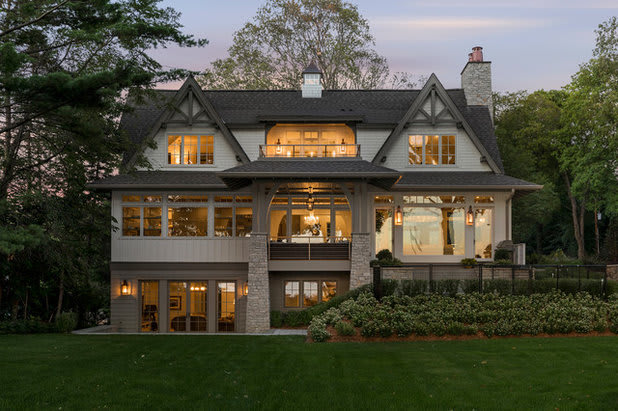 Lake House Influenced by an Equestrian Ranch
For her home located on Lake Minnetonka in Minnesota, architect Laurie Kruhoeffer knew she didn't want a house that would look like all the traditional cottages on the lake, but she still wanted it to fit in. So she looked to an unlikely inspiration —
this equestrian ranch
. Elements like the cupolas, braces and overhangs she admired at the ranch translated well to lake country style.
Style note: The architect repeated the silhouette of those braces elsewhere in the house.


Gentleman's Farmhouse
This Atlanta home renovated by
New River Building
resembles a different kind of farmhouse, perhaps a Southern gentleman's farm. The welcoming veranda has elegant arches and columns while dormers break up the roofline and two fireplaces anchor the structure's pleasing symmetry. Houzzers were especially drawn to the metal roof, the color palette and most of all, the weathered brick.
Style note:
They used a limewash process on the brick to give it the pleasing weathered look; it used to be a typical red brick.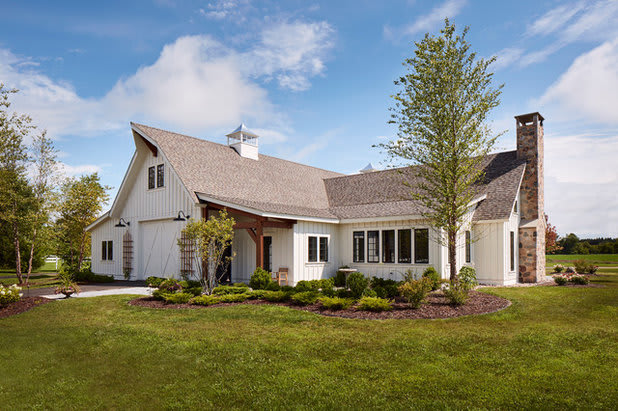 New/Old Barn
To make this new barn-inspired structure complement an 1870s farmhouse on the same property, the designers at Bartelt used materials like board-and-batten siding, double-hung windows and cupolas. And inside, materials like reclaimed pine wood brought an antique feel to the new construction.
Style note: Dark window frames add an updated touch to the agrarian building.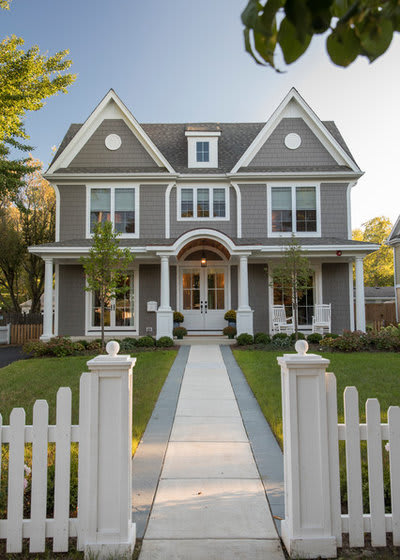 Victorian-Inspired Farmhouse

There's something a little American Gothic about this home outside of Chicago, a new build by Homes By Pinnacle. Its strong cross-gable roof and front porch give it Victorian-era farmhouse style. Details like the round vents and the arched doorway and columns dress up its simple symmetrical form.

Style note: A two-toned scheme adds some flair to the front walk.


Raised Center Hall Cottage
This is a late Victorian-era home (1890s) with New Orleans flavor, known as a raised center hall cottage. Homeowners Richard and Vivian Cahn have been lovingly restoring the house and the yard for many years. The grand porch and staircase and the intricate spindles, brackets and other ornamentation appealed to Houzzers.
Style note: They matched the signature azaleas out front with pink paint on some of the ornamental details, including a sunburst design over the door.



Warm Modern
But it wasn't all farmhouses and Victorian inspiration on the most-popular list. This striking contemporary home in Sydney by TKD Architects has imposing planes and dramatic overhangs that are distinctly modern. The material palette of warm wood and cool concrete provides pleasing contrast. Houzzers were particularly drawn to this material palette and the barbecue area.

Style note: The patios have a beautiful terraced look that eases the transition between levels and to the yard, and each step is enhanced by lighting.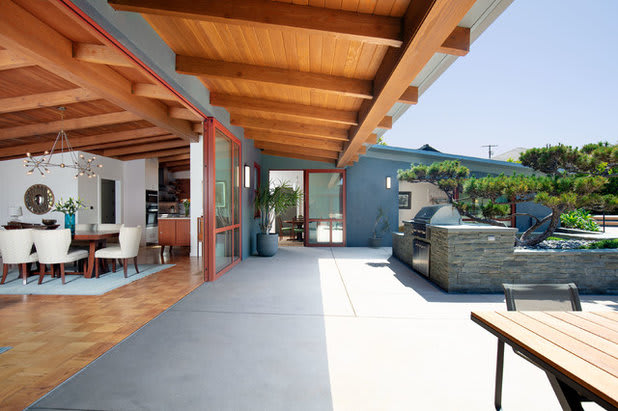 Enhanced Midcentury Modern
This photo shows the respectful improvements made to a classic midcentury modern house in California. The house used to end at that beam to the left of the large sliding doors. Architect Jeff Troyer played off the existing roofline and created a deep overhang that further blurred the lines between indoors and out while respecting the integrity of the original architecture. Renovating the patio and landscaping also strengthened the indoor-outdoor connections.
Style note: During the remodel Troyer was able to save the home's signature parquet floors.


Classic Florida Beach House

This home in Jacksonville Beach, Florida, by Glenn Layton Homes nods to old Florida style with its breezy porch, metal roof and charming details like the picket fence. This house makes us want to go on vacation.
Style note: It's turtle time! Blow up this photo and look closely; there are sweet turtle cutouts in the fence posts that should not be missed.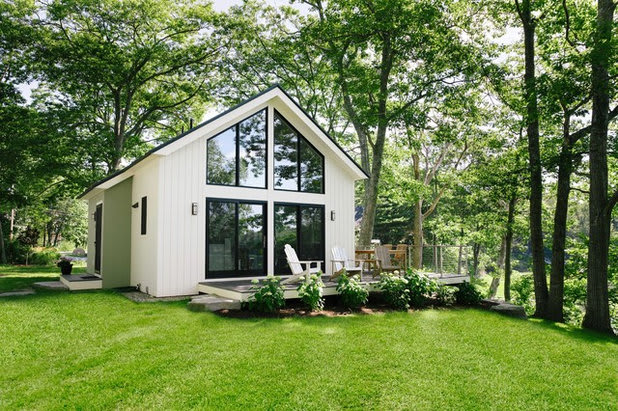 Tiny Contemporary Cottage

Simple and tiny drew many Houzzers to this house in Maine, which feels much larger than its 900 square feet inside thanks to the large glass doors and windows. ACTWO Architects and Peter B. Rice & Co. gave this water-facing side a 13-by-16-foot expanse of glass to provide wide-open views toward an idyllic cove off Casco Bay.

Thank you Houzz for compiling these beautiful exteriors, please click here.