The headlines in real estate today all revolve around one major point: there is a shortage of homes available for sale. Price appreciation is continuing to accelerate because there is a shortage of homes available for sale. In Denver we closed out the year with an average sales price of $530,715 so anything below or around that number is a hot market! Lets chat a little about new home building projections, existing home demand in Denver, and expectations in finding your next home in order to be able to overcome the shortage in Denver's real estate inventory.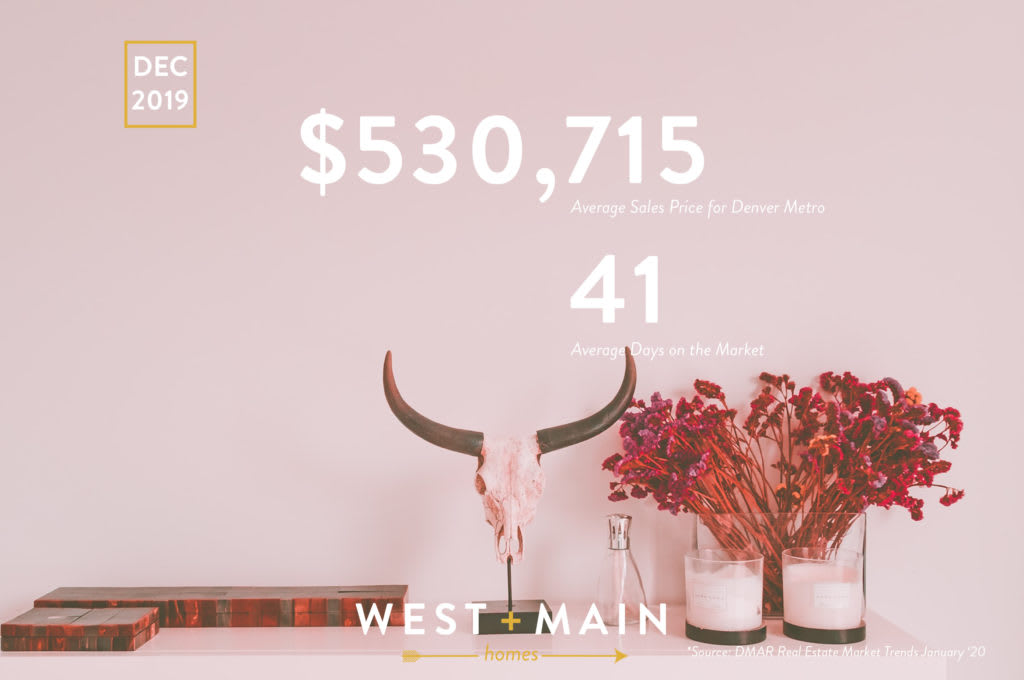 SO, WE WANTED TO DELVE INTO IT: WHAT IS THE MAJOR REASON FOR THIS LACK OF HOUSING INVENTORY?
The issue was examined in a
recent article
by the
National Home Builders Association
(NAHB). In the article, Robert Dietz,
Chief Economist
for NAHB, explained:
"Home building in the 2010s was a story of the Long Recovery. After the Great Recession, the number of home builders declined significantly, and housing production was unable to meet buyer demand…Years of population and household formation growth, combined with relatively reduced levels of home building, have left the market with a critical supply shortage."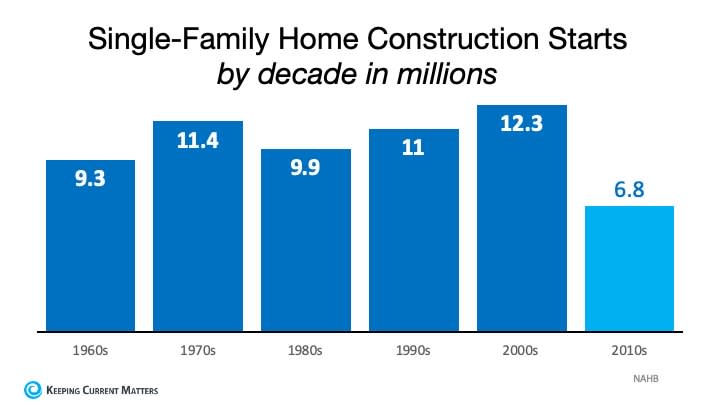 Here are the single-family home construction starts by decade for the last six decades: Obviously, there's a current shortage of homes for sale because not enough houses were built over the last ten years. To add to the challenge, the U.S. population expanded by more than 20 million people during the 2010s.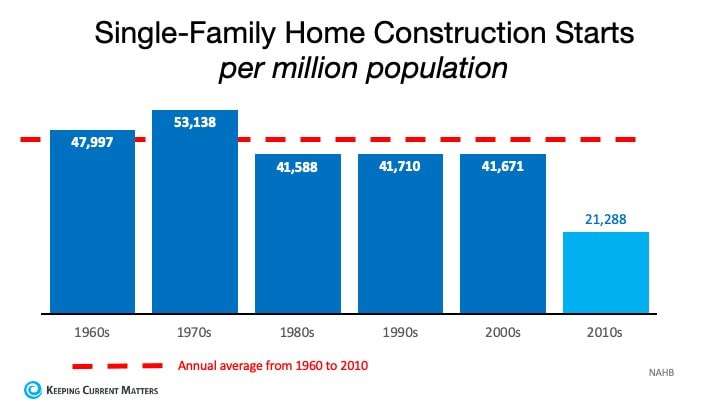 Below is a graph showing the number of starts per every million in population. The last decade shows that starts per population were less than half the average of the previous five decades.
THERE'S GOOD NEWS COMING!
The NAHB article explains that there is light at the end of the tunnel.
How confident home builders are in the housing market is a great indicator of how much building is about to get started. The NAHB/Wells Fargo Housing Market Index (HMI) gauges builder perceptions of current single-family home sales and sales expectations for the next six months as "good," "fair," or "poor." The survey also asks builders to rate traffic of prospective buyers as "high to very high," "average," or "low to very low." Scores for each component are then used to calculate a seasonally adjusted index where any number over 50 indicates that more builders view conditions as "good" than "poor."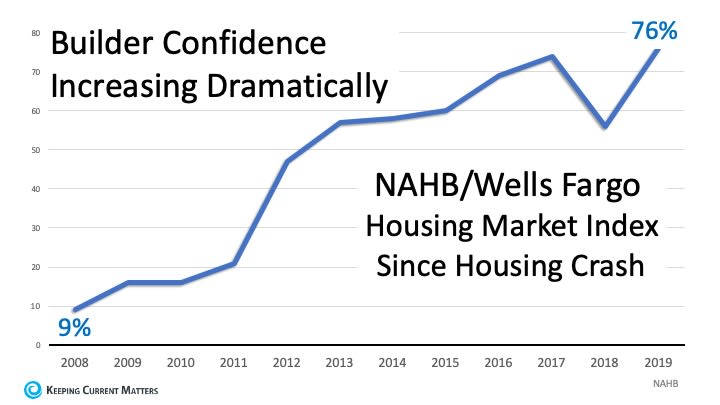 Here are the HMI readings going back to 2008:The 2019 confidence reading of 76 was the highest since 1999. The January 2020 index came in one point lower at 75. These readings indicate we should see an increase in new residential construction in 2020. Just last week, NAHB Chairman Greg Ugalde stated:
"Low interest rates and a healthy labor market combined with a need for additional inventory are setting the stage for further home building gains in 2020."
The increase in housing starts has already begun. According to the
January report
from the U.S. Census Bureau and the U.S. Department of Housing and Urban Development, single‐family housing starts were up 11.2% and attained the highest level in thirteen years.
New Homes vs Existing Homes
The reason I wanted to highlight new home building is because they are going to be able to add housing inventory in Denver to help relieve some of the crunch we are feeling. If you're worried about them over building locally look at this information below…The blue bar represents the total active units we had in December vs. the red bar shows the amount of inventory we would need to offset demand and create a market in equilibrium. In December Metro Denver had 22.4% of the inventory required to offset demand.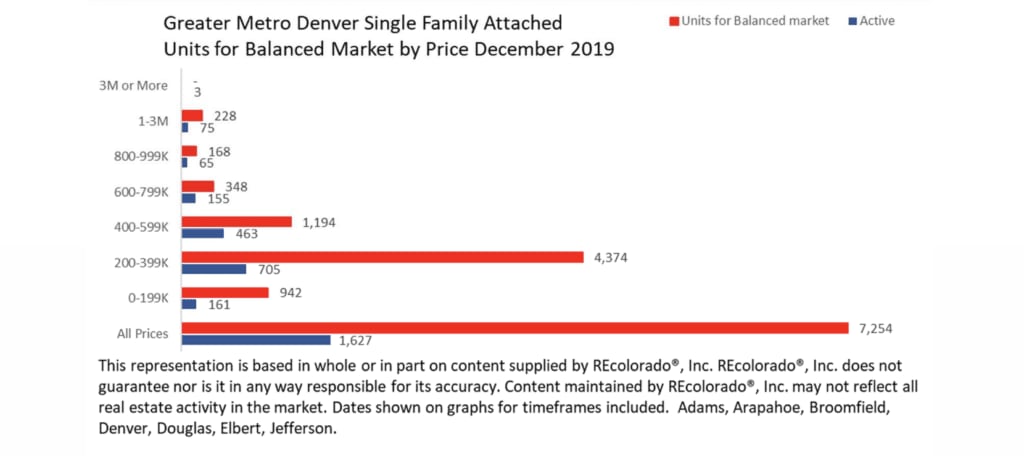 What's the Best Next Move For You?
Giving yourself more time and patience if the key! Even though there are less homes to move to that doesn't mean you shouldn't look. It means you should give yourself more time to find your next home, in Denver's market you should be
chatting with your Realtor
90 days before your planned move…the classic 30-45 days is just going to be too tight. Also come in with a clear idea of wants vs needs.
Our society has become one of customization exactly to your needs. In homes that's not the case the home is customized to the homeowner and now it is not your passion project to customize it to your taste…one of the best benefits of owning instead of renting. When clients turn down homes just because they aren't perfect to their taste it is tough because if it's a great house, that fits your needs, with good bones you should seriously consider it…painting cabinets, an easy tile job, a countertop replacement, etc are quick fixes and you shouldn't turn down that home for not being perfectly to your taste. Loosening up on the perfection expectations set by Instagram and Pinterest and considering your wants vs needs will make it easier to find your next home.
Bottom Line
Whether you're a first-time buyer or a seller thinking of moving up or down, 2020 could be your year with more new construction homes coming to market.
Find your next home here!