Residential seasonal street sweeping season will begin on Tuesday, April 2, 2019 (weather permitting). In 2018, Denver street sweeping crews swept 175,161 lane miles of Denver streets and alleys — collecting 77,678 cubic yards of dirt and debris! Denver Public Works thanks everyone for your help keeping the Mile High City clean!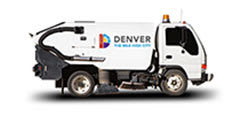 Our Street Maintenance crews sweep residential streets from April through November and encourage you to SHOW YOUR PRIDE AND MOVE YOUR RIDE on your sweeping day!
Residents are advised to pay attention to the red and white signs posted on their block for street sweeping parking restrictions, so Denver Public Works can provide the best street sweeping service possible. Residential streets in Denver are only swept once per month where posted (not every block has restrictions), so please be sure to move your vehicle according to the signs on your block to avoid a $50.00 parking citation.
To see your streets Sweeping Schedule Visit HERE