Global and Domestic Economic Concerns Continue to Drive Down Mortgage Rates.
According to the latest data released Thursday by Freddie Mac, the 30-year fixed-rate average slipped to 4.28 percent with an average 0.4 point. (Points are fees paid to a lender equal to 1 percent of the loan amount.) It was 4.31 percent a week ago and 4.45 percent a year ago.
The 15-year fixed-rate average fell to 3.71 percent with an average 0.4 point. It was 3.76 percent a week ago and 3.91 percent a year ago. The five-year adjustable rate average was unchanged at 3.84 percent with an average 0.3 point. It was 3.68 percent a year ago.
"Mortgage rates fell this week and have yet to account for yesterday's Fed's announcement," said Danielle Hale, chief economist for Realtor.com. "Looking ahead to next week, we could see rates fall even further based on the decision to hold rates steady combined with guidance that emphasized patience."
The Federal Reserve did not increase its benchmark rate Wednesday and signaled it would not hike rates this year, a sign the central bank is concerned about a slowing economy. The Fed's retreat comes amid a slowdown in Europe and China, the uncertain status of Brexit and indications of lower spending by U.S. consumers and businesses. The Fed does not set mortgage rates, but its decisions influence them.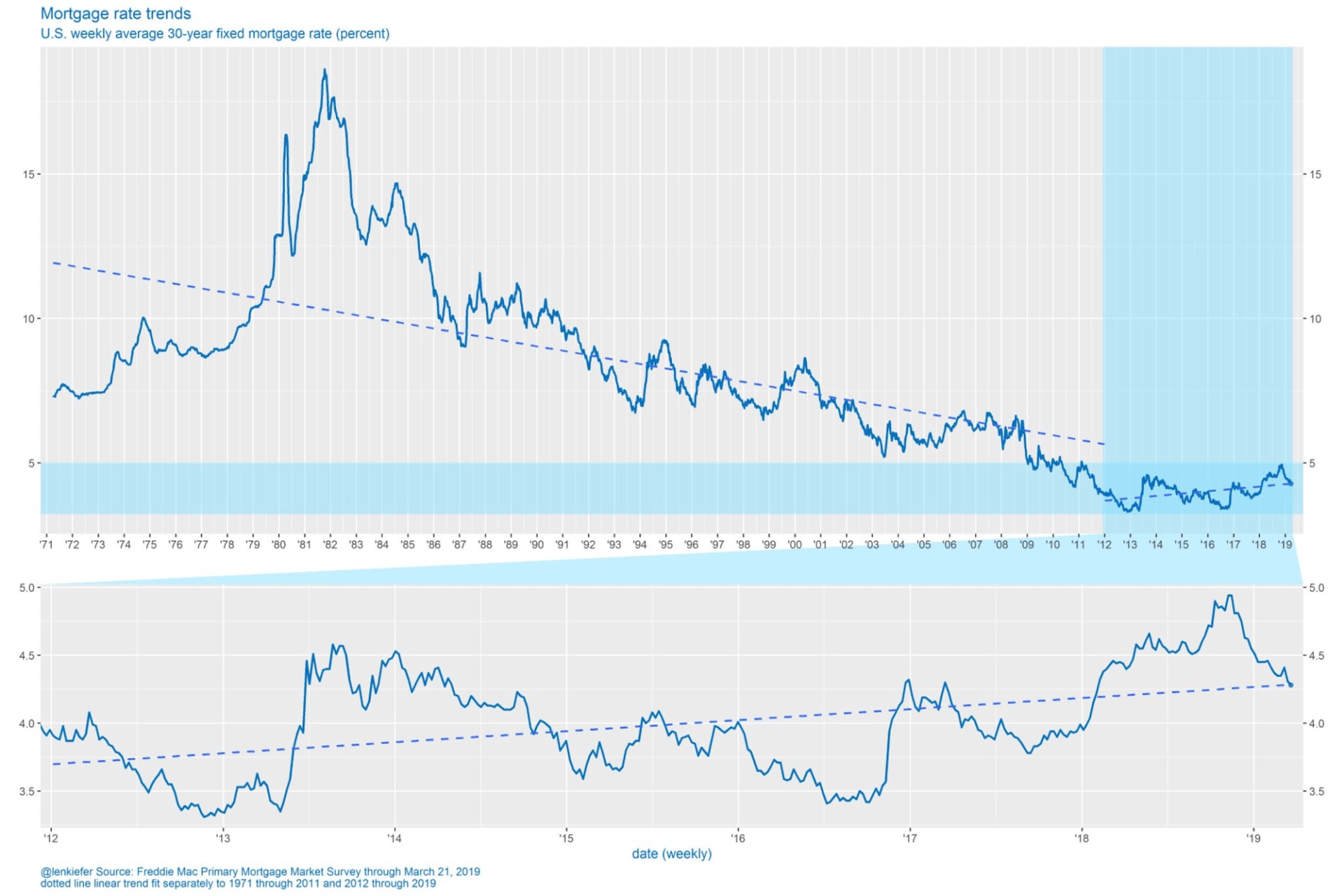 Meanwhile, mortgage applications were higher this week, according to the latest data from the Mortgage Bankers Association. The market composite index — a measure of total loan application volume — increased 1.6 percent from a week earlier. The refinance index climbed 4 percent from the previous week, while the purchase index ticked up 0.3 percent.
The refinance share of mortgage activity accounted for 39.2 percent of all applications.
Learn more at The Washington Post.