Outdoor Furniture Designers Take Advantage of Concrete's Cool Industrial Style. Yes, Pillows Are Part of the Equation…
Edgy and industrial, concrete has been cropping up as an outdoor furnishings material of choice among designers aiming for a contemporary look. As a material, it's durable, outdoor-friendly and acts as a modern counterpart to natural elements like wood, stone and woven textiles. If you're thinking about adding a touch of concrete to your home or backyard, take note of these design ideas and savvy buying and care tips from the pros.
You can buy a piece that is already manufactured or have something custom-made, working with a professional to bring a design you have in mind to life. Before investing in a concrete piece, look into the amount of time a concrete artisan or manufacturer has been working with the material, as well as the breadth of their work, advises Brandon Gore, the designer and artisan behind concrete furniture line Hard Goods. "The quality of the final concrete product, like any other medium, is a direct result of the skill level of the craftsperson," Gore says.

Custom-made concrete chairs set on wheels: designed by WA Design Architects, fabricated by Concreteworks.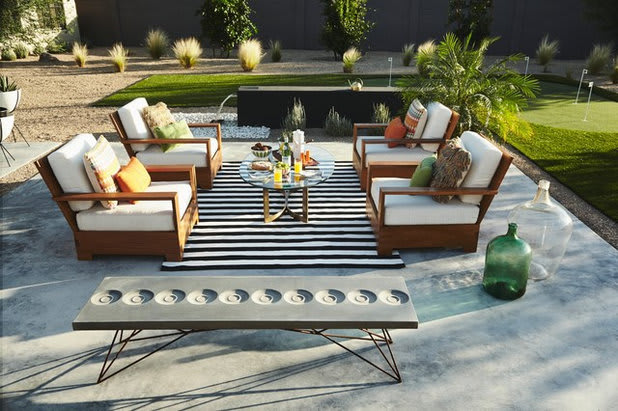 Designing With Concrete Furniture

"Using concrete furniture is all about balance," says landscape designer Elizabeth Pryzgoda-Montgomery of Boxhill Design. "I like to mix it with soft goods or natural wood to knock down the coolness of it," she says. Here, she styled a concrete patio and bench with an outdoor rug and cushioned wood chairs, two softer elements.
This design in Sydney shows the same balancing principle at play. For this breezy lanai, the coolness of the concrete table and stools is warmed up and softened by the other elements in the outdoor room, including the weathered decking, throw pillows, textured wood shade cover, wicker chairs and woven baskets. The woven elements, in particular, also add a nice textural contrast to the smooth concrete.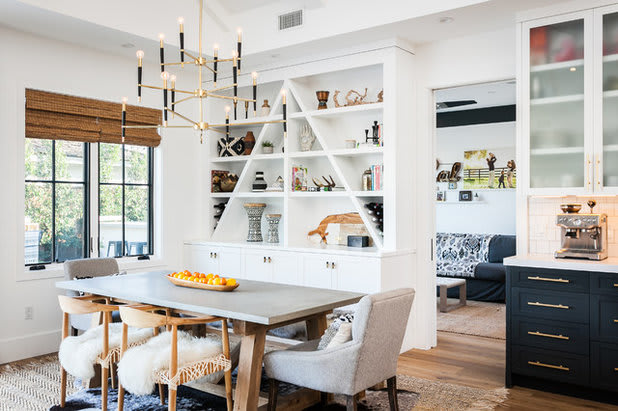 I'm all about durable and low maintenace and have been bringing some concrete elements into my home. What do you think? Would you bring concrete elements into your home or your backyard?

Source: houzz.com