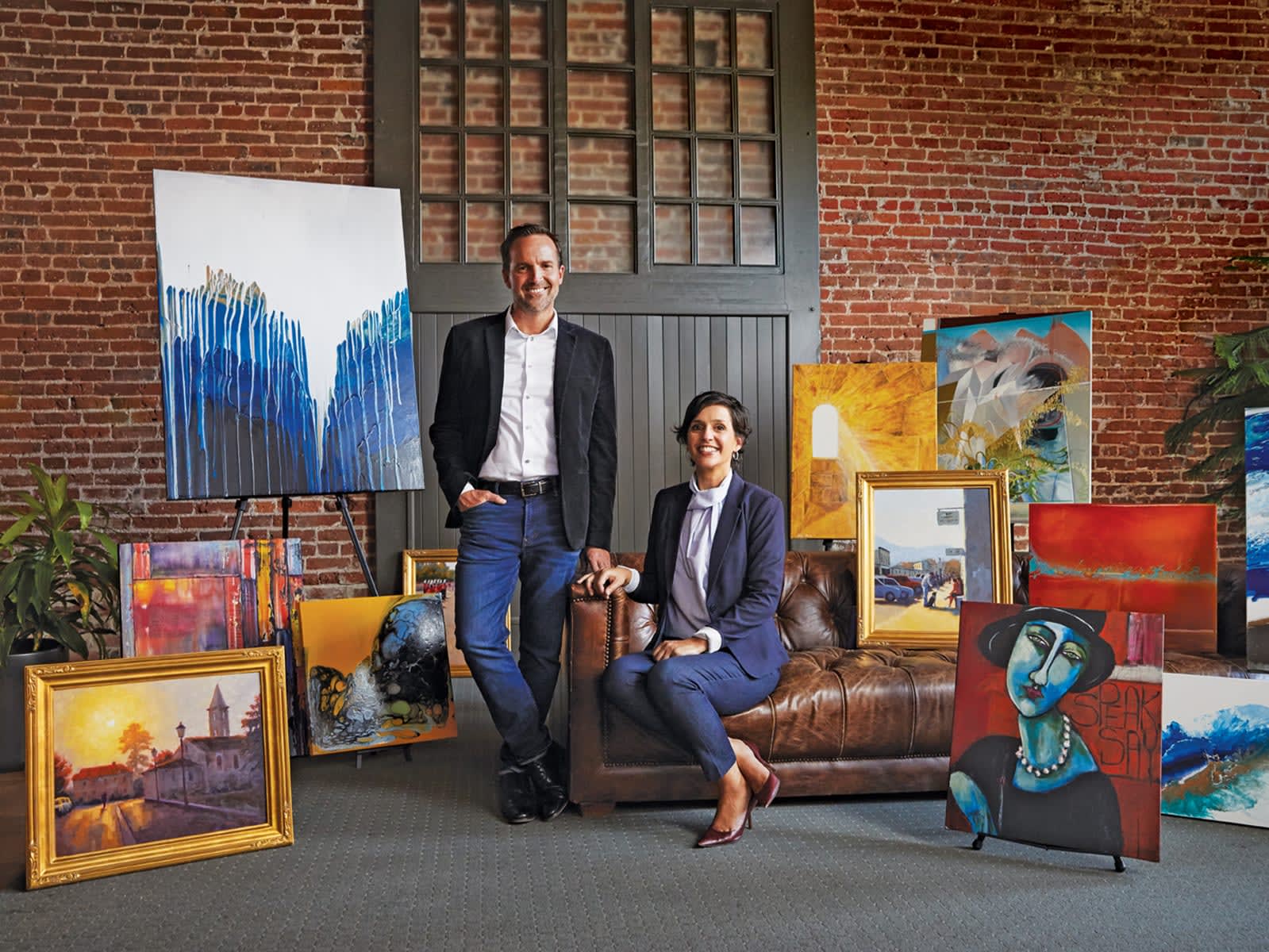 Joe Clark and Christine Bulloch surrounded by a collection of paintings available for rent via their online gallery. Photo by Jeff Nelson.
Get the Gallery is like Rent the Runway for art-lovers, or, rather, soon-to-be-art lovers.
When entrepreneur Joe Clark was a child, his parents belonged to the Indianapolis Museum of Art, which lent out original artworks to its members. "We had this rotation of cool, original paintings and sculptures in our home," Clark says, adding that his parents weren't art collectors or even really enthusiasts. They just liked having easy access to something more unique than the mass-produced prints they might have purchased from a big-box store. "Obviously, those works impacted me," Clark says. "I'm trying to recreate that experience in a way.
His project: Denver-based
Get the Gallery
, an online start-up that leases out original artworks for a monthly subscription fee starting at $49. A user either takes a style quiz to help narrow down the gallery's selections into broad categories, or simply chooses pieces from nearly 40 (and counting) local and national artists. The artwork shows up a few days later and stays at the subscriber's home until she decides to swap it out for a different piece. And if she falls in love and wants to buy the art? A small portion of the subscription fee goes toward the purchase price. Better still, subscription packages allow a user to borrow several works at a time, and the company is working on adding even more full gallery walls to its offerings.
So yes, it's like Rent the Runway, but for art-lovers—or, rather, soon-to-be art-lovers. "We believe that [people who care about their home's aesthetic] would like to have better art, but frankly, the art world feels inaccessible to many people," says Clark, who launched the company in July with co-founder Christine Bulloch. "Going into a gallery can be intimidating, so we remove the risk and give people a chance to choose art they love from the privacy of their homes." The concept also responds to changes in consumer behavior spurred by the sharing economy. "I push a button and someone shows up [in their own car] to take me downtown," Clark says. "I push another button and I can sleep in a stranger's vacation home next weekend. These things that seemed odd a few years ago are now part of our everyday lives." Now, high-quality art can be, too.
Love for Locals
Good news, Denverites: Get the Gallery is investing in a "local first" initiative that aims to connect subscribers along the Front Range with artists in the Mile High City. "It's the farm-to-table idea," co-founder Joe Clark says. The company benefits from reduced shipping costs and a lower environmental impact—plus the intangible bonus of building the city's network of artists and potential collectors. For subscribers in Denver, this approach means quicker delivery: Artworks selected early in the afternoon arrive by courier before the day's end (with no shipping charge!). We call that a satisfying and speedy solution to bare walls all over the city.