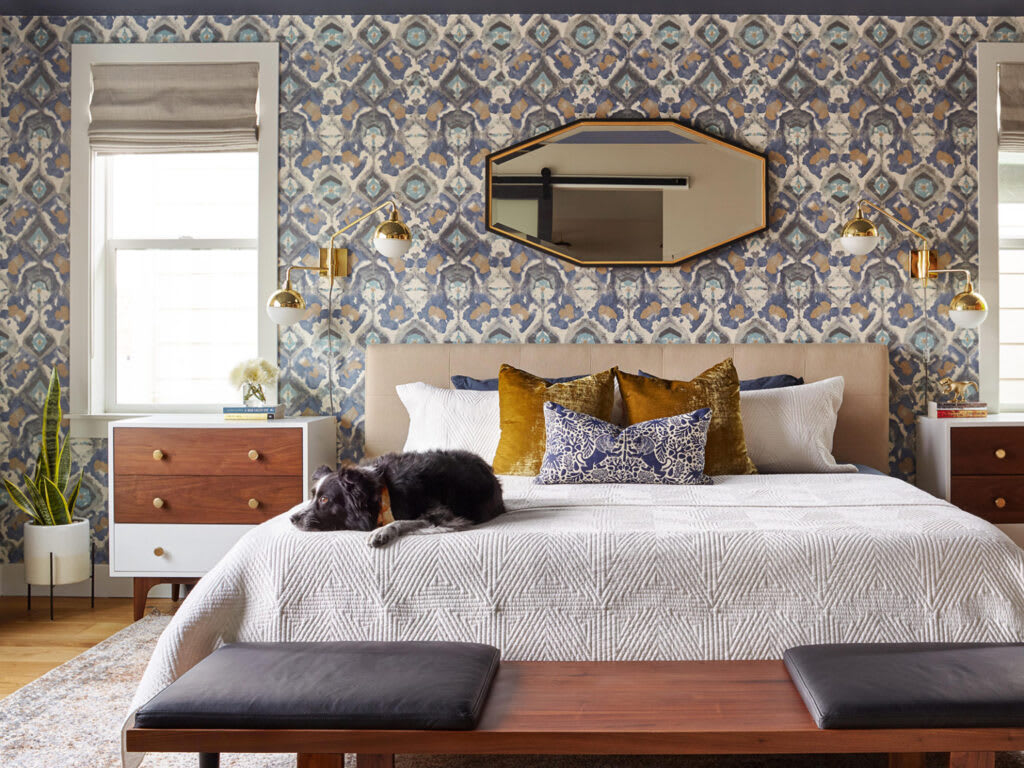 Interior designer Lauren Winter shows you how to turn a spare room into a space your guests won't want to leave. (You've been warned.)
BY HILARY MASELL OSWALD • OCTOBER 1, 2020. Personal Excerpts and tips added by yours truly, Megan Douglas.
Sometimes, it's tempting to furnish a guest room with a mishmash of unwanted elements from bygone design eras. But this beautiful bedroom—designed by Lauren Winter of Inside Stories by Duet Design Group—makes a compelling case for creating an intentional space that shows your visitors you're actually glad to host them. By pulling inspiration from Winter's approach, you, too, can build a space that will delight your guests.
Pick a standout element. Here, Winter started with the wallcovering—Casamance's Azuli print in Amethyste. "We were drawn to its abstract feel that brings in a punch of color," she says. The bold pattern is ideal for a guest room because, she adds, "your guests are typically only staying for a short time, so they won't have time to get sick of it!"
Build a palette. Nothing makes a room feel more pulled together than a cohesive color scheme. This palette takes cues from the wallcovering, but you can use any starting point: a gorgeous rug, vibrant curtains, or even an eye-catching throw pillow.
The pro: Lauren Winter,
Inside Stories, Photo Courtesy of Inside Stories

Paint the ceiling. A color-rich ceiling is an affordable way to make a room feel polished and extra cozy. Winter chose a dark hue—Benjamin Moore's Anchor Gray—"because the other furnishings in the space were light in tone," she says. If your room has dark walls or heavy wood elements (or if it's located in the basement), you could opt for a lighter hue or even a shimmery wallcovering to brighten the space.
Provide lots of light. To make you feel good inside them, rooms need multiple sources of light. Here, sconces from Anthropologie augment a ceiling light and the glow from the windows. Thoughtful touches—such as a dimmer on an overhead light's switch or a night-light—allow guests to darken a room as they prefer before drifting off to sleep.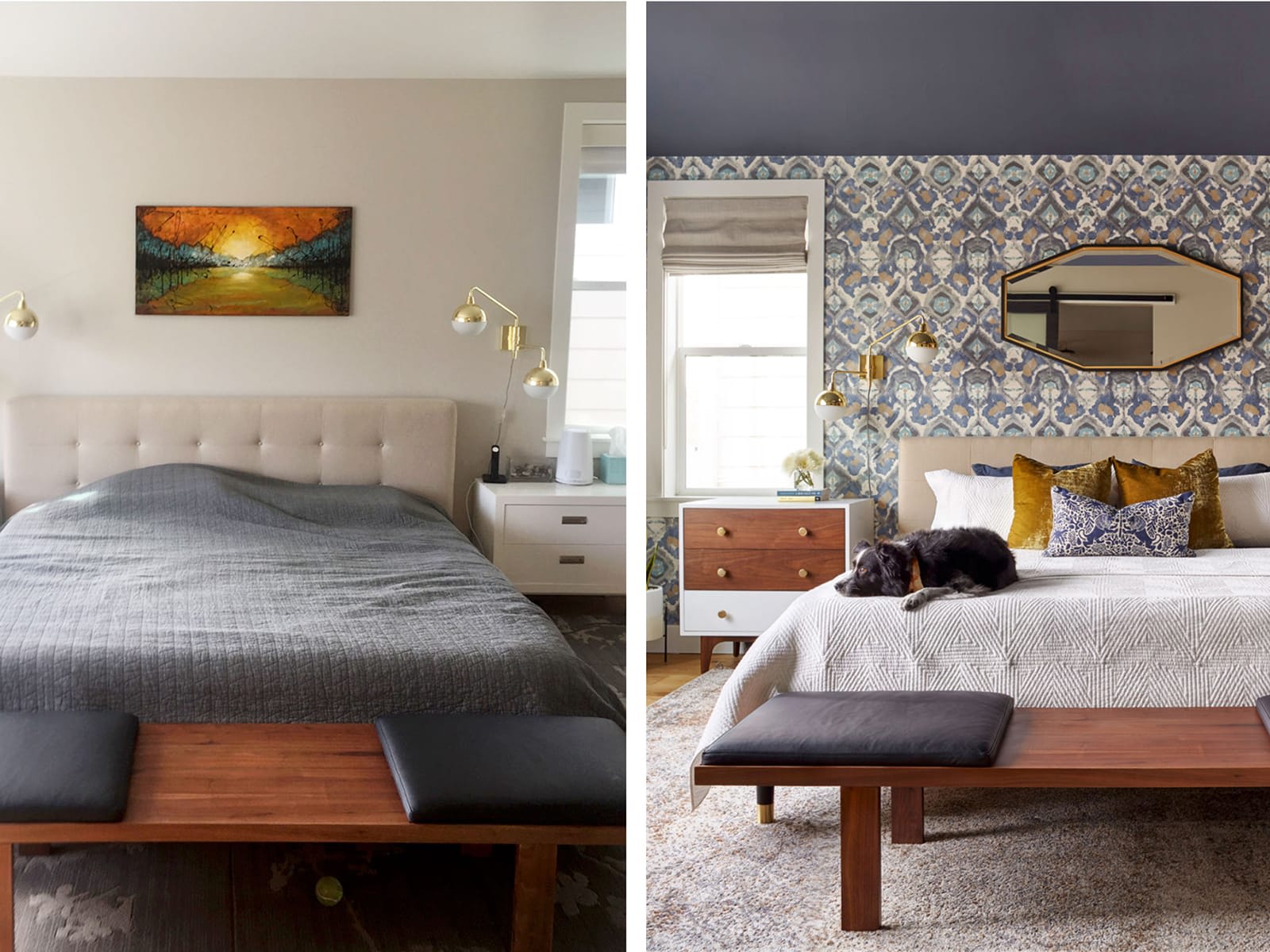 Interior designer Lauren Winter transformed "a beige box," as she describes it, into this vibrant, approachable bedroom. The Casamance wallpaper is a playful foil for the tailored headboard; a pair of two-toned nightstands from Joybird complements the wood elements in the room and adds a fun, midcentury vibe. Before photo courtesy of Inside Stories by Duet Design Group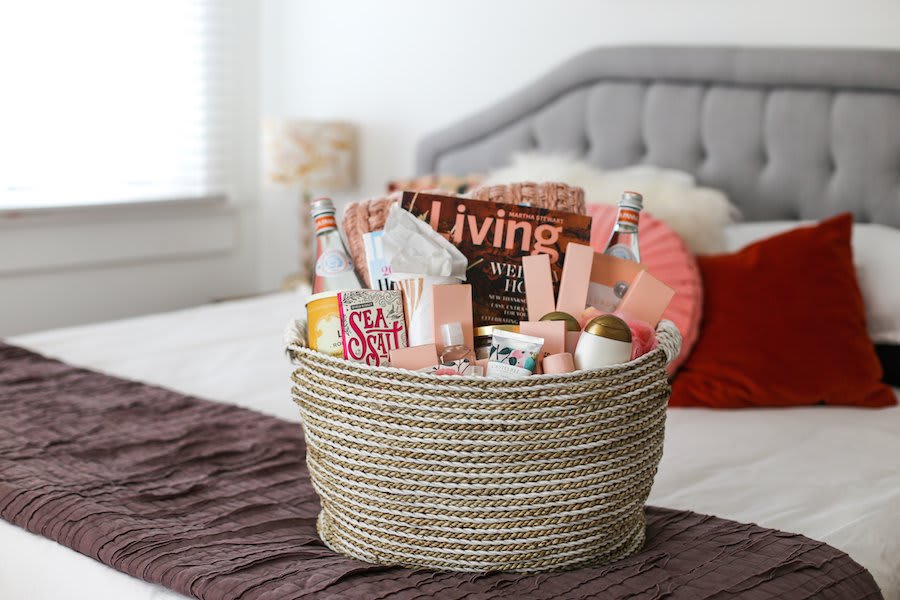 Adjusting to The Mile High City!
Remember that most of your guests won't be coming for our altitude. Including a reusable water bottle, humidifier and maybe sunscreen for the intense sunlight. My personal favorite is putting an essential oil called breathe in an essential oil diffuser. Not only does it make your space smell refreshed but it adds just enough moisture to the air. Visit
Denver has some simple High Altitude Tips
!
Friendly Touches
Put your Wi-Fi network name and password in a small frame on a dresser or nightstand.
Liven up the room with a small bouquet of fresh flowers or even a faux plant for low-light basement spaces. If your guests are coming for the holidays I love the mini Christmas Trees Trade Joes sells to add a little holiday spirit or even some scented pinecones.
A few beloved books on the nightstand are easy decor—and will delight visitors who love a good bedtime story.
Take the extra minute to look in your guest bath to see if you have a blow dryer, set of shampoo, conditioner, and soap is full. Doing this now will lead to less rushing around as the holidays approach.
If your guests are traveling with children you can find affordable foldable cribs and other items to ease their travel burden. Supplies of these items are always easier found when you plan ahead!