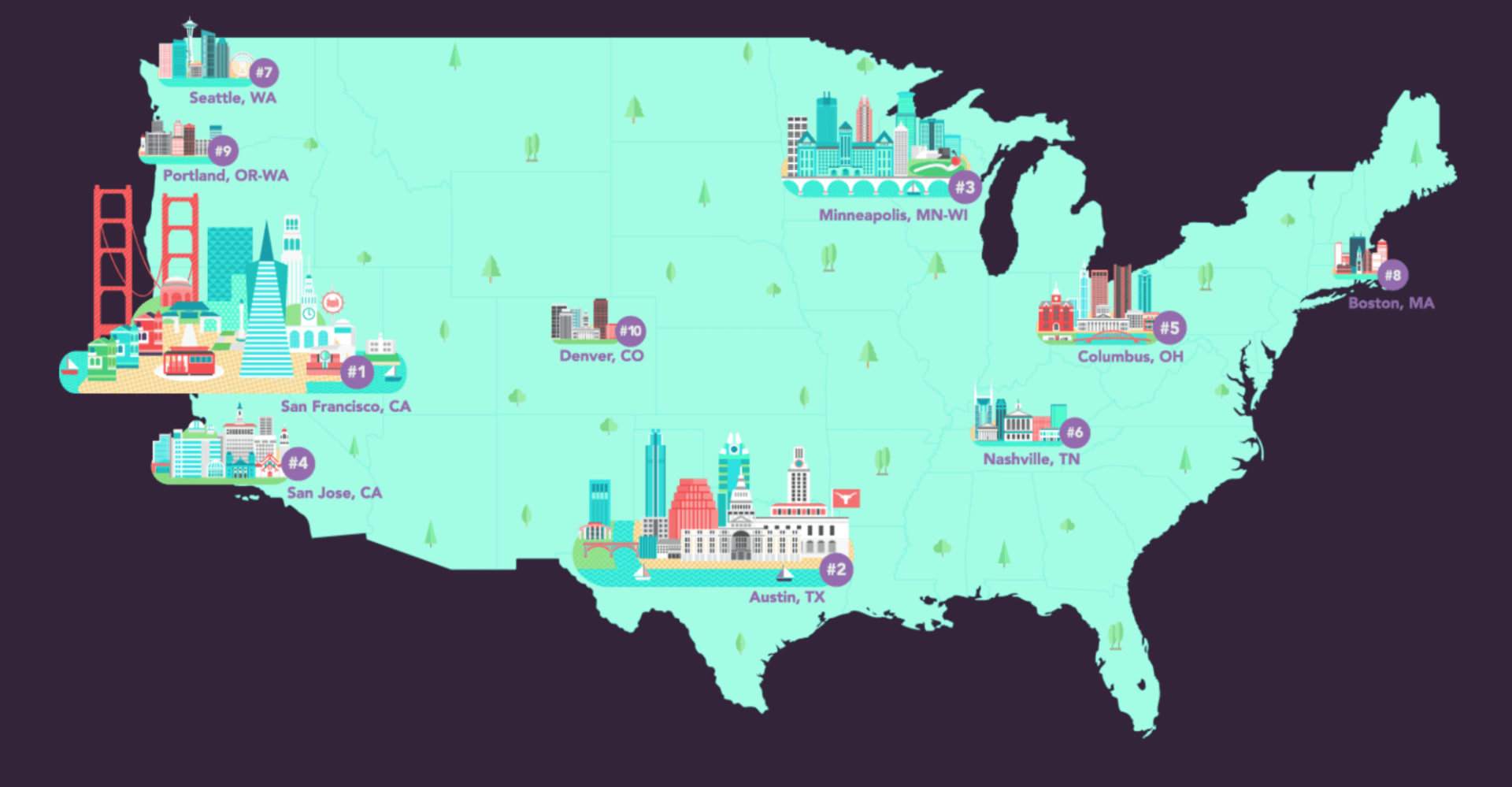 Whether you're fresh out of college or considering a new opportunity elsewhere, chances are there's a promising start-up near you—or if you prefer, thousands of miles away. Likewise, if you're an entrepreneur looking to launch your own start-up, you're no longer limited to Silicon Valley, the Silicon Prairie, or any of the other "Silicon" locales established a decade ago.

You can't, however, just throw a dart at a US map and expect overnight success. The non-tech press tends to put forth the narrative that the entire country is in the middle of a constant start-up explosion—this isn't necessarily true. Previous hotspots have cooled (though they're no less vibrant), and new ones have popped up in unexpected areas (Denver, anyone?), but compiling a definitive list requires some number crunching.
Factors Considered
So we crunched those numbers, hard. Business.org studied over 300 North American cities, from sprawling metropolises to tiny burgs, and ranked each according to their start-up friendliness, as well as financial environments and demographic cultures. Our criteria included factors like these:

Young adult dwellers: We tallied the local population percentage of those aged 25 to 34, one of the simpler indicators of a favorable environment for new ideas and businesses.

Higher education: We also factored in the local ratio of those 25-to-34-year-olds holding a bachelor's degree, along with professional and graduate degrees. Naturally, there are more than a few college towns on the list.

Local employment: More bluntly, what's the joblessness rate of each city? We looked at employment numbers across the US, also within the 25 to 34 age range, and most cities in our top 10 scored 90% employment or higher.

Income vs. rent: How much money will you have to shell out for housing? The numbers we discovered are in-line with growth stats: few of our top 10 cities are cheap, so be prepared for some income trade-off.

Start-up surges: As mentioned previously, there are a few surprises amongst the old guard of familiar start-up-centric cities. Even the lowest-ranked cities on our list have seen recent start-up growth of over 75%.

To see the details for each of the Top 10 Cities for Startups and Entrepreneurs, visit Business.org, which compiled this information. Here is what they had to say about the Mile High City:
Denver, CO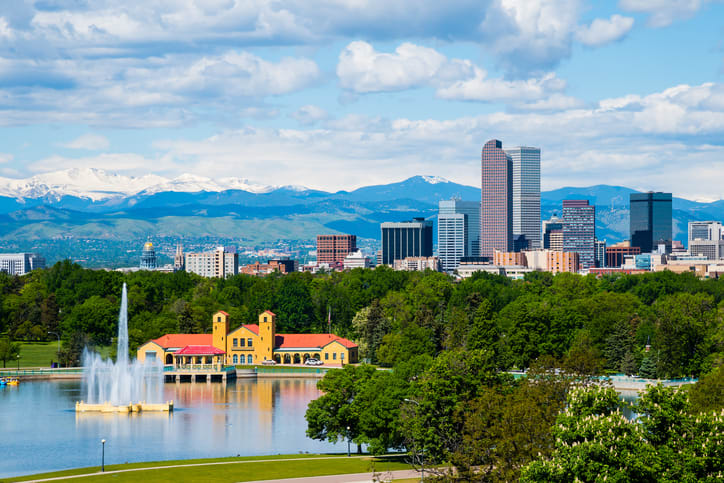 Denver has a lot of young people, and they're working: the Mile-High City has the lowest unemployment rate of our entire top 40. The levels of college education and start-up growth hover around the middle, however, and the rent is on the expensive side (nearly on par with San Francisco, in fact). Still, Denver's gorgeous mountain scenery and easy access to transportation (together with certain legalized substances) are tough to beat.
Full Business.org top 40 start-up cities:
San Francisco, CA
Austin, TX
Minneapolis, MN
San Jose, CA
Columbus, OH
Nashville, TN
Seattle, WA
Boston, MA
Portland, OR
Denver, CO
Washington, DC
Dallas-Fort Worth, TX
Pittsburgh, PA
Atlanta, GA
Indianapolis, IN
Houston, TX
Chicago, IL
New York, NY
San Diego, CA
Charlotte, NC
San Antonio, TX
Baltimore, MD
Kansas City, MO
Philadelphia, PA
Virginia Beach, VA
Cincinnati, OH
Milwaukee, WI
Jacksonville, FL
Los Angeles, CA
St. Louis, MO
Orlando, FL
Phoenix, AZ
Providence, RI
Tampa, FL
Cleveland, OH
Sacramento, CA
Las Vegas, NV
Detroit, MI
Miami, FL
Riverside, CA
The mantra may be old, but it obviously still applies: "Location, location, location!" Where a business is selling is as important as what it's selling—and it's something to seriously consider when you're looking for your next, or even first, career.

If you are thinking about making the Denver area your next home, contact me! We are here to help you make a smooth transition to our town.