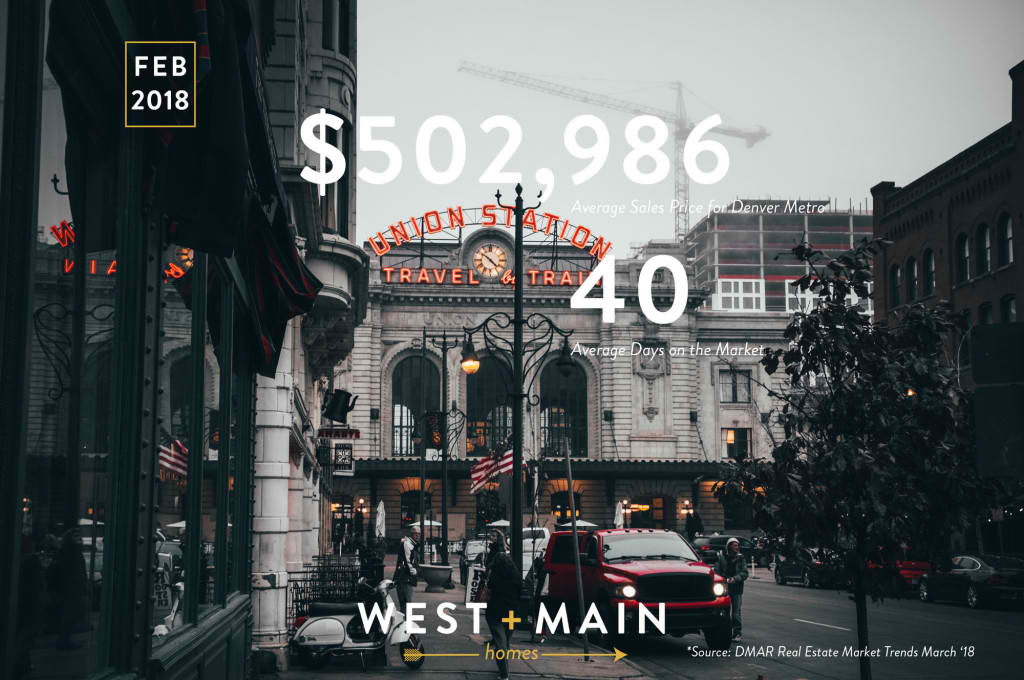 For the First Time on Record, the Average Sold Price of a Single-family Home in the Denver-area Passed the Half Million-dollar Mark Settling at $502,986 in February.
"This may represent a psychological barrier for some homebuyers wishing to enter the market," said Steve Danyliw, Chairman of the DMAR Market Trends Committee and Denver REALTOR®. "Some good news for buyers was the month-end inventory."

Active listings for the residential market finished 5.56 percent higher than last month and 5.31 percent higher year over year.

According to Danyliw, "This is good news as we normally see a small seasonal decrease this time of year." So, why the uptick in inventory? The metro-Denver housing market saw an additional 4,638 new listings in February, an increase of 10.88 percent from last month. He adds, "The Denver-area normally sees a 6.76 percent seasonal increase this time of year. These new listings may be 'fence-sitters' jumping in as concerns of increasing interest rates mount."

Active listings in the residential market (single-family and condos) were at 4,084 total units in February. The number of sold listings decreased 2.82 percent compared to the previous month and dropped 9.24 percent year over year. Year to date, a total of 5,939 homes have sold which is down 8.12 percent from 2017. The condo market continues to see steady growth in days on market, increasing to 72 days compared to 43 last February. The most active price segment for the single-family market continues to be $300,000 to $399,999, and $200,000 to $299,999 for condos.

The year-to-date average sold price hit $496,764 for the single-family home market, up 10.85 percent from last year, with the median sold price at $425,000 and up 10.10 percent year over year. The condo market did even better with the average sold price reaching $346,059, representing an 18.36 percent increase over 2017. The median price of condos sold also increased by 16.49 percent to $290,000.

Of the homes that sold in February, the median single-family home was 1,730 square feet, four bedrooms, three bathrooms, spent seven days on market and was built in 1985. The median condo was 1,200 square feet, two bedrooms, two bathrooms, spent six days on market and was built in 1996.

Our monthly report also includes statistics and analyses in its supplemental Luxury Market Report (properties sold for $1 million or greater), Signature Market Report (properties sold between $750,000 and $999,999) and Premier Market Report (properties sold between $500,000 and $749,999). In February, 102 homes sold and closed for $1 million or greater, down 0.97 percent month over month and up 56.92 percent year over year. The closed dollar volume in February for all luxury residential was $147,179,472, down 6.81 percent month over month and up 44.60 percent year over year.

The highest priced single-family home that sold in February was $5,100,000 representing five bedrooms, nine bathrooms and 6,133 above ground square feet in Evergreen – and the listing agent is a DMAR member. The highest priced condo sold was $2,500,000 representing three bedrooms, four bathrooms and 3,023 above ground square feet in Denver. The listing and selling agents for the condo transaction are DMAR members.

"February may be short on days, but it certainly wasn't short on luxury home sales," stated Elaine Stucy, DMAR Market Trends Committee member and metro Denver REALTOR®. "While the number of overall closed sales in the market dropped 9.24 percent year over year, the top of the market (Luxury segment) was up a soaring 56.92 percent. Sales over $1 million are now owning 3.48 percent of the market."

With average current days on market at 113, most of these homes were for sale in late fall or early January while inventory was lower, showing that the late fourth and early first quarter of the year are defying the myth of seasonality in the metro-Denver marketplace.

"Up 133.33 percent year over year, condo sales continue to be a shifting lifestyle story as they are 13.7 percent of sales for homes priced over $1 million," adds Stucy. "Notably, this is not about a condo being more affordable than a single-family residence and therefore an easier entry into the luxury category. With the additional fees associated with condo living, the payment is often higher, showing that people are willing to pay more for the convenience and ease of an urban lifestyle. However, lest we think that buyers have forgotten the dream of Colorado's wide open spaces, nine luxury sales in February, almost 10 percent, were properties over five acres. So, here we can enjoy a condo with a range as big as a barn, or home on the range with a barn!"

Thank you to our partners at the Denver Metro Association of Realtors for compiling this information. Download their report.

Are you curious where you and your home fit into today's swift moving market? Get in touch for a free real estate review from Megan Douglas, Realtor at West + Main.