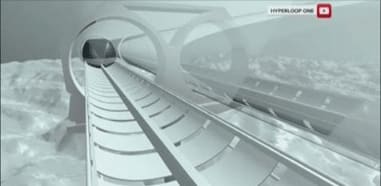 A Cheyenne-to-Denver-to-Pueblo route was selected to be a part of the Hyperloop One high-speed transportation project. The project will connect Pueblo, Colorado Springs, the Denver Tech Center, Denver International Airport, Greeley, Fort Collins, Cheyenne, Golden, Silverthorne and Vail.

Hyperloop says the 360-mile Colorado project will be one part of a network of tubes used to transport people at nearly the speed of sound. Ten winners were announced in the Hyperloop One Global Challenge that began in May 2016. The call for proposals resulted in more than 2600 entries which were narrowed to the 35 strongest proposals.

The Cheyenne-Denver-Pueblo route beat out two other Colorado routes. A direct Cheyenne-to-Pueblo route was announced as a semi-finalist and a Cheyenne-to-Houston route was a finalist.
Rocky Mountain Hyperloop says the high-speed project could help the state's tourism industry as well as reduce traffic congestion.

Travel times on the Rocky Mountain Hyperloop:
Denver to Greeley: 6 min
Denver to Fort Collins: 9 min
Denver to Vail: 9 min
Denver to Colorado Springs: 9 min
Colorado Springs to Pueblo: 6 min
Hyperloop One envisions an expansive network of tubes across North America. Three other U.S. routes were selected as winners in addition to Colorado's route including:
Chicago-Columbus-Pittsburgh
Miami-Orlando
Dallas-Laredo-Houston
Hyperloop One hopes for the first prototypes to be operational as early as 2020.

What are your thoughts on having the Hyperloop in Colorado?

Source: 9 News Article