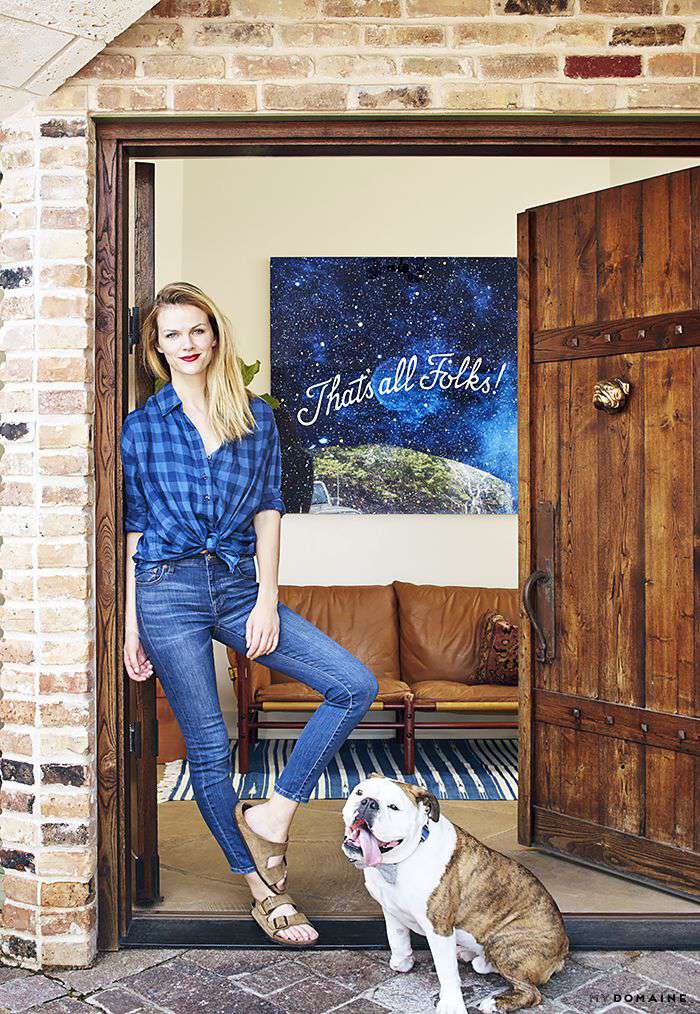 Tucked into the secluded, tree-lined acreage of West Austin, the Decker/Roddick compound could easily be considered a sanctuary. The pair's traditional Texas-style farmhouse feels entirely removed from the frenetic downtown development of America's number one growing metropolis area just miles away. Flush with a mélange of natural wood, stone, and light-filled charisma, it's easy to infer why the well-traveled couple favors the dwelling so well as a hideaway.
Roddick and Decker purchased the home in 2013, at which point Decker set to work, culling points of reference from her favorite travel destinations, contemporary artists, and designers. "I love interior designers," she says. "I love interior design more than a lot of things in life." She demurs, a robust stack of books covering everything from architecture to hospitality in plain sight throughout her living room. "Kelly Wearstler is brilliant. I love what Roman and Williams are doing. They are living legends.
I think they will go down as some of the most singular artists of our day."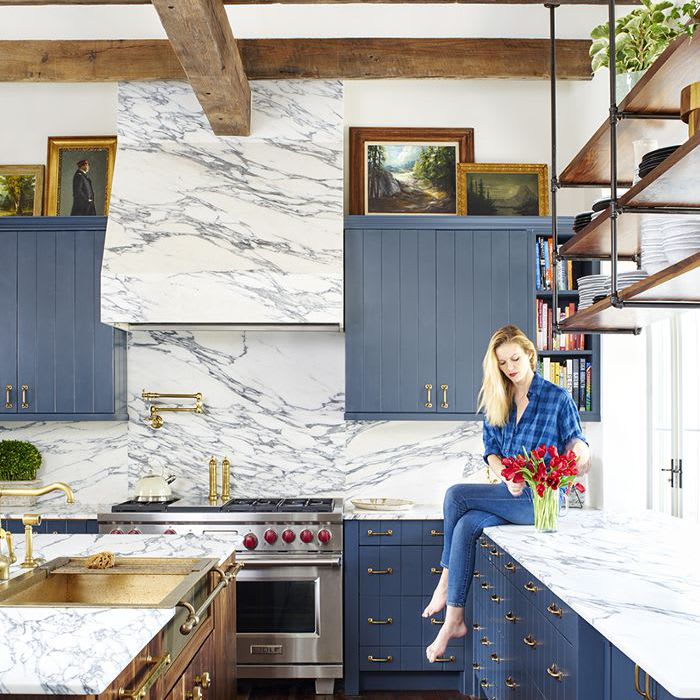 CASEY DUNN
When it came to building with her own approach, Decker learned the ropes over time and multiple real-estate ventures. "We built a house seven years ago, and it was my first time doing anything interior-wise," she tells us. "I tried to make everything go and pick a cohesive feel for the home. Now I go on instinct. It's more emotional. Unless you have something very distinct in your architecture, I think there's room to experiment and play. Picking things that you like instead of choosing a strict theme is the way to go.
It tells a story. I sort of learned that the hard way."
Decker oversaw a handful of renovations to the space, adding an office for Roddick, and redesigning the kitchen to accommodate for family entertaining. "Aside from the construction, we did everything ourselves," she tells us. "We refinished and installed all the hardware, refinished the cabinets. Our builder is a good friend of ours. He came in and built the island, placed the marble, and built the shelving for us. We designed everything and tried to do as much of it on our own as we could, save for setting the marble, which would have been very dangerous seven months pregnant—seeing as I have no clue how to do it."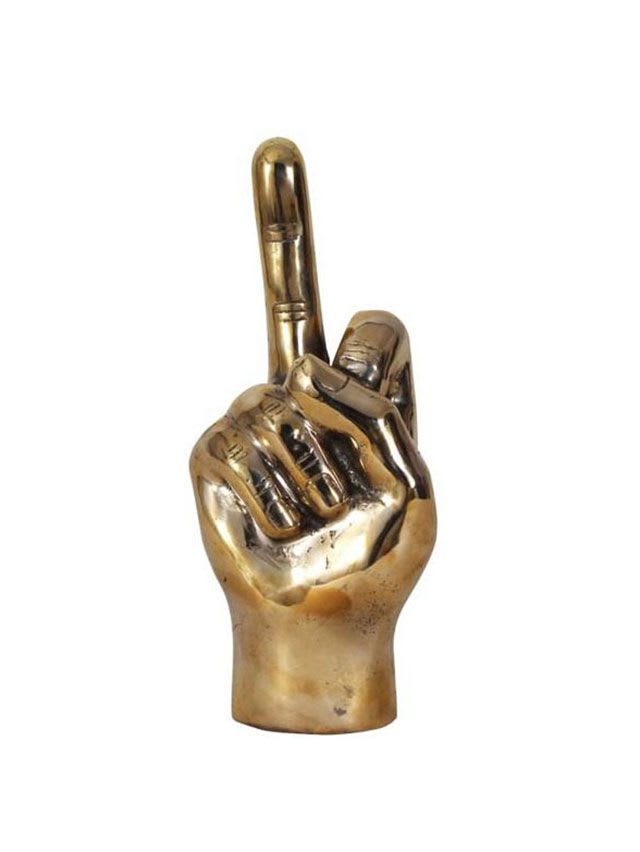 Noir Middle Finger Statue $177SHOP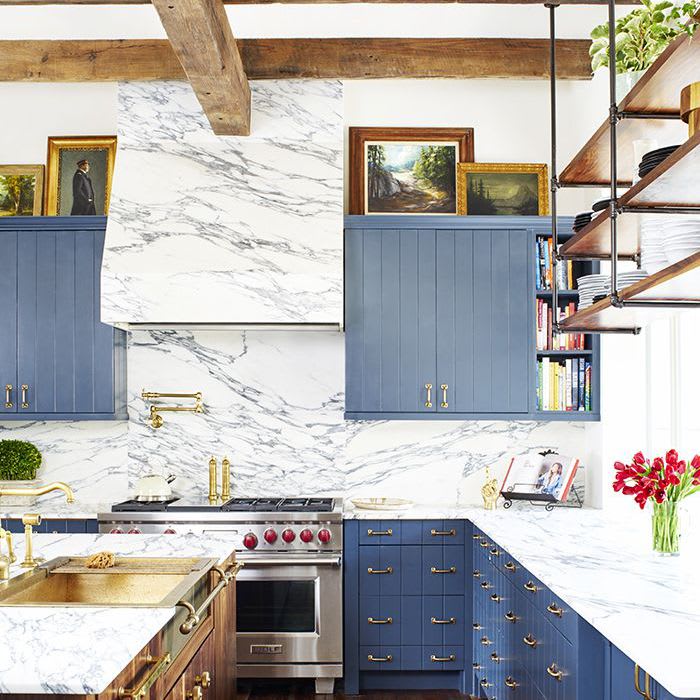 CASEY DUNN
As for the color scheme, Decker went room by room and favored liberal experimentation in pursuit of landing the perfect hue. "We went through several paint colors in the kitchen. I originally wanted to go all green—a very high gloss, creamy vibrant green," she says. "We couldn't find a color that worked. Then we tried several grays and ventured into the blue territory. When the marble came in, we realized how much it drew the blue and gray out of the stone. I don't know if it's a perfect match, but it was a lot of experimenting."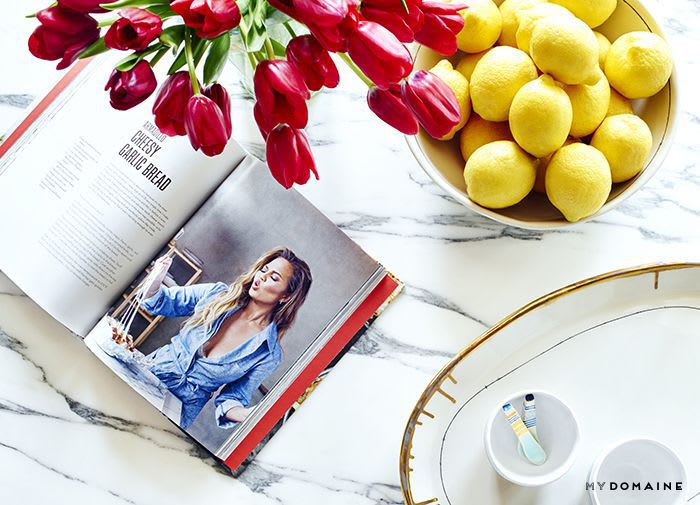 CASEY DUNN
A reflection of her tenacious spirit and dogged enthusiasm, Decker hunted for months on end for just the right marble for her kitchen remodel. She had her heart set on a very particular stone, Arabiscato marble, largely for its striking resemblance to cookies 'n' cream ice cream. "I was looking for Arabiscato," she tells us. "I wanted it to look like cookies 'n' cream. You can't find it anywhere. We looked in England and all around the States, mostly online because I was doing it myself. Our builder eventually became adamant that we had to select a stone."
With construction on the verge of being delayed to further accommodate the hunt, Decker received a fortuitous tip. "One day his wife called and said, 'There's a marble yard in San Antonio that claims to have a stone that looks like cookies 'n' cream. Do you want to go check it out?' I drove up there right away, and they had four slabs of this marble." Her response to the discovery so close to home was bordering on elation. "Basically, when I saw it, I hugged it," she confides. "And I gave it a little gentle kiss. Then they installed it."
Take the rest of the inspiring home tour at My Domaine.