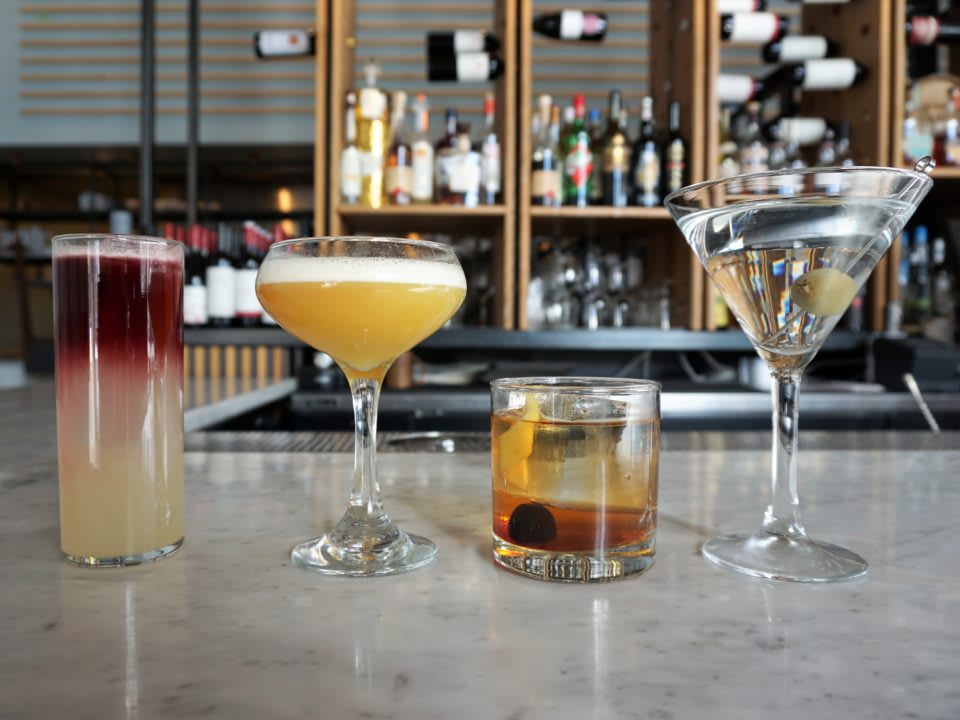 Winter Lights, Winter Nights | February 1-10
Although its culinary scene is lesser-known than those of neighboring Denver or Boulder, Golden has a bevy of diverse, delicious restaurant offerings that you can explore on the cheap during this event, its version of restaurant week. Enjoy deals like two entrées and a bottle of wine for $59.95 at the historic Old Capital Grill & Smokehouse or $30 for beef short ribs and a glass of red wine at Abejas. After you dine and drink, take a stroll around downtown Golden to enjoy the picturesque twinkling lights. Prices vary; multiple locations
Root Down's 10th Anniversary Menu | Now-February 3
Celebrate this popular Edible Beats restaurant's last decade by partaking in a special three-course anniversary menu. Expect tried and true Root Down favorites, such as the portobello wontons, tofu pot pie, and chocolate budino. $35 per person for three courses; 1600 W. 33rd Ave.ADVERTISEMENT
Rioja Chocolate Happy Hour | Now-February 28
Instead of buying your sweetheart a typical box of chocolates, treat them to this unique happy hour instead: Jennifer Jasinski's Larimer Square restaurant's February happy hour menu is all about cocoa. From Mexican chocolate martinis to mole chicken skewers to chocolate beignets, there are plenty of sweet, savory, and boozy options available to ensure a truly happy hour. Prices vary; 4-6 p.m., 1431 Larimer St.
Breckenridge Brewery: Free Ride February | Now-February 28
Let Breckenridge Brewery foot your Lyft bill when you visit the 30-plus participating area bars and restaurants, including the Pioneer Bar and the British Bulldog. Sign up to receive promo codes worth up to $10 for each ride for the entire month of February, and check out the list of participating locations here. Multiple locations
Tamayo Mole Festival: A Celebration of the Decadent Sauce | Now-March 31
Tamayo is rolling out five new mole dishes in honor of Mexico City's annual October mole festival. Fans of the flavorful sauce, which is traditionally made with a dizzying array of ingredients in myriad colors, will be able to try versions of it in dishes such as mole negro enchiladas, red mole "cazuela" (a stew-like dish), and a mole sampler appetizer. Prices vary; 1400 Larimer St.
Bar Dough's Top Chef Alum Dinner | February 1
This unofficial Top Chef Season 15 reunion event boasts a six-course, prix-fixe menu prepared by some of your favorite chefs from the Colorado-based season. Bar Dough's own Carrie Baird, Brother Luck (of Four By Brother Luck in Colorado Springs), and Joe Sasto (aka Mustache Joe) will treat diners to a parade of bespoke dishes at Highland's Bar Dough. Passionate Top Chef fans can opt for a seat in the private Segretto dining room, which incorporates a designated sommelier, server, and some one-on-one time with each chef. A portion of the proceeds will go to the California Camp Fire victims. $90 for the basic meal, $150 for a seat in the Segretto room; call 720-668-8506 to make your reservation, 2227 W. 32nd Ave.
Choice Market Vegan Pop-up Brunch | February 2
Whether you're a die-hard vegan or you're just curious about how a meatless meal stacks up, this pop-up at this modern convenience store is a must. Choice Market's chefs will prepare inventive meal options such as a barbecue jackfruit bowl and a beet reuben sandwich. The $5 admission fee will be donated to an animal-focused charity organization. Admission is $5, food items range in price from $9-$11; 10 a.m.-1 p.m., 1770 BroadwayADVERTISEMENT
Cocktails 101 Class at Il Posto | February 2
After this informative two-hour class, you'll be mixing well-crafted cocktails like a pro. Enjoy complimentary snacks as Il Posto mixologist Adam Gamboa walks you through the history of spirits and drinks. You'll even get to practice making your own old fashioned or martini. $50; call 303-394-0100 to make your reservation; Noon-2 p.m., 2601 Larimer St.
Frasca's La Subida Guest Chef Dinner | February 3
Delight in four courses of Friulian cuisine (plus wine pairings by Bobby Stuckey) cooked by Michelin-starred chefs Mitja and Alessandro Sirk of Italy's famed La Subida restaurant. It's sure to be an unforgettable evening. $180; times vary, 1738 Pearl St.
Duo's Anti Super Bowl Dinner | February 3
Not a football fan? Commiserate with likeminded Denverites at this Highland eatery's annual dinner. Guests will nosh on three courses of their choosing—options include fried calamari, pork osso bucco, apple prune cake, and many more—with no televisions, football, or chicken wings in sight. $53 per couple, 5-9 p.m., 2413 W. 32nd Ave.
Dio Mio Sunday School: Intro to Pasta Making | February 3
Learn how to make and shape pasta from scratch at this intimate cooking class taught by Dio Mio owners Alex Figura and Spencer White. The class will take place in the dining room of the RiNo restaurant, and will be followed by a wine-accompanied pasta lunch. $75; noon – 2 p.m. or 4 – 6 p.m., 3264 Larimer St.
Chinese New Year Celebration at Ace Eat Serve | February 5
To commemorate the Lunar New Year and the impending year of the pig, this Uptown joint is throwing a bash replete with traditional dim sum bites, themed cocktails, and a whole roast hog. Stick around after you eat to play a few games of ping pong and enjoy a Piggy Colada—a dangerous medley of Pig's Nose Scotch, two kinds of rum, coconut, pineapple, and lime. Prices vary; 4 p.m.-close, 500 E. 17th Ave.
World of Nobu at Matsuhisa | February 7
Celebrate the legendary chef's latest cookbook, World of Nobu, with a six-course dinner—all hailing from Matsuhisa's book. Diners can expect tuna nasturtium wraps, a tiradito roll, and assorted bites of sushi. The first tier of tickets includes a Champagne reception and the meal, while the more expensive ticket options include a a copy of the cookbook signed by Matsuhisa. $180-$250; 6 p.m., 98 Steele St.
Denver Mac & Cheese Festival | February 8
Have you ever tried kimchi mac and cheese? How about mac with goat cheese and smoked brisket? If not, you'll get your chance at this cheesy festival, where more than 15 Denver restaurants (including the Post Brewing Co. and the Corner Office) will compete for your vote for the best mac in town. $59-$109; 6:30-9:30 p.m., 3560 Chestnut Pl.
Late-Night Pizzas at Oak at Fourteenth | February 9
Celebrate National Pizza Day with this late-night pie party. For one night only, you can sample chef Steve Redzikowski's square-shaped, wood-oven-fired pies, all of which are made with a naturally leavened dough. Toppings range from classic to creative (we're dying to try the Forager, with maitake mushroom, cheese fondue, and truffle). prices vary; 10 p.m.-midnight, 1400 Pearl St., Boulder
OG Whales of Craft Beer Fest | February 9
In celebration of Michigan-based Founders Brewing Co. finally making its beers available in the Centennial State, for one day only, Hops & Pie will pour pints of Founders' Canadian Breakfast Stout. In addition to that legendary brew, the Berkeley restaurant will pour other legendary craft brews from around the country, including Russian River Brewing Company's Pliny the Elder. Noon-11 p.m., 3920 Tennyson St.
Coperta Wine Class: Let's Talk Rosé | February 9
Summer may still be a few months away, but that doesn't mean you should delay enjoying rosé. Learn all about the pink-hued vino from Coperta wine director J.P. Taylor Jr., as you sip on five different wines and paired bites like polenta fritters from chef Paul C. Reilly. $45, call 720-749-4666 to make your reservation; 3-4:30 p.m., 400 E. 20th Ave.ADVERTISEMENT
First Art Market at Seedstock Brewery | February 9
Buy a punny shirt from Surdy Designs, a painting from Thomason Arts, or another locally-made gift for your Valentine this year. The market inside this West Colfax brewery will have these and options from nine more area vendors, as well as a pop-up from roving 'wich specialists Smitton Afternoon Sandwich and, of course, plenty of beer. Prices vary; 5-9 p.m., 3610 W Colfax Ave.
Lee Spirits Presents: Cookies and Cocktails | February 10
Girl Scout cookie season has (finally) arrived, and for those who want to combine their treats with something a little stronger than milk, this pairing event has you covered. Expect all of the Samoas and Thin Mints you can eat, as well as four surprise cocktails and a Girl Scout cookie-inspired punch. $40-$45; 3 p.m., 110 E. Boulder St., Colorado Springs
Speed Rack Competition at Cervante's Masterpiece Ballroom | February 11
In this national cocktail competition, 20 of Denver's best female bartenders go head to head—or rather, shaker to shaker—to earn a spot at the National level. Attendees can enjoy punch and small bites as they watch the action. All proceeds will be donated to breast cancer research. $25-$30; 6 p.m., 2637 Welton St.
The Little Nell Guest Chef Dinner Series with Alex Seidel | February 12
James Beard Award-winning chef Alex Seidel (Mercantile Dining & Provision, Fruition, Füdmill) will whip up comfort food-inspired plates for attendees of this Aspen dinner. Wine pairing options curated by Little Nell Master Sommelier Carlton McCoy will be available for an additional $75. $95-$160; 6-10 p.m., 675 E. Durant Ave.
Galentine's Day Cookie Decorating Party at Jovanina's Broken Italian | February 13
Grab a girlfriend or two and join chef de cuisine Ashley Morrison for a cocktail and cookie decorating workshop and party at Sotto Voce, Jovanina's downstairs wine speakeasy. As you learn to flood and pipe with ease, sip on two cocktails, nibble on charcuterie and wood-fire pizza, and take home a dozen decorated cookies (6 done by Morrison, 6 done by you). $40; 6-8 p.m., 1520 Blake St.ADVERTISEMENT
Vegan Valentine's Day Dinner at Charcoal Bistro | February 13
Denverites adhering to plant-based diets deserve a nice Valentine's Day too, don't they? Charcoal Bistro thinks so and is serving a five-course dinner to prove it. Dishes including sunchokes, truffles, beets, and more are on the menu. $65 per person; reservations accepted from 5-9 p.m., 1028 S. Gaylord St.
Coohill's Extended Valentine's Day Celebration | February 14 – 16
Co-owners (and spouses) Tom and Diane Coohill want to alleviate the stress of securing a reservation on the 14th by offering a five-course Valentine's Day feast for three consecutive nights. Dishes include foie gras with green apple fritter and apple gastrique, and an Aspen Ridge ribeye served with gnocchi, Hazel Dell mushrooms, and marrow herb butter. Vegetarian, vegan, gluten-free, and lactose-free options will be cheerfully available upon request, and wine pairings are available too. $85 per person or $135 with wine pairings (excluding tax and gratuity), reservations strongly urged; 1400 Wewatta St.
Three Fantastic Ways to Celebrate on February 14
Viewhouse Centennial's Valentine's Day Murder Mystery | February 14
The only thing that could make spending Valentine's Day with the love of your life (or of the moment) more satisfying is solving a fictitious murder together. As you work through this whodunit mystery, you'll enjoy a three-course meal featuring the meat of your choice wrapped in bacon and a white chocolate raspberry bundt cake dessert. $40; 6 p.m., 7101 S. Clinton St., Centennial
Valentine's Day at Morin | February 14
Celebrate the love at Morin's first-ever Valentine's Day dinner. Chef de cuisine Charles Matthews and his team will cook three- and five-course menus of modern French fare, with beverage pairings by McLain Hedges and Mary Allison Wright (RiNo Yacht Club). $60 per person for three courses, $80 per person for five courses; times vary, 1600 15th St.
Valentine's Day Cocktail and Dinner Pairing with Biju's Little Curry Shop and Ironton Distillery & Crafthouse | February 14
For a change of Valentine's Day pace, head to Ironton Distillery in RiNo with anyone you love (partner, date, friend, all are welcome!) for a casual cocktail party replete with sweet and savory passed small plates from Biju's Little Curry Shop, drinks from, well, Ironton, and flowers (available for purchase) from Daisy's Front Porch Flowers. $35 for singles, $65 for couples; 7-9 p.m., 3636 Chestnut Pl.ADVERTISEMENT
Safta's Champagne Garden | February 14-17
Savor bubbly and sweet treats including pastry chef Liliana Myers' caramel and cardamom bonbons as you wander through Safta's tranquil "champagne garden," aka the Source Market Hall. Prices vary; 3300 Brighton Blvd, Suite 100
Pop-Up Molecular Doughnut & Coffee Shop 7.0 at the Inventing Room | February 14-17
If you think you can conceive a doughnut as delicious and inventive as the Elvis—a double peanut butter cream, bananas foster, and spicy candied bacon indulgence—you can submit your recipe to the Inventing Room here for the chance to have your creation featured at its seventh pop-up event. If you're only interested in tasting chef Ian Kleinman's eccentric, molecular-gastronomy-fueled creations, you're in luck too, as the four-day event will feature the Elvis and nine other crazy creative doughnuts topped with your choice of liquid nitrogen ice cream, exploding whipped cream, and the like. Times vary, 4433 W. 29th Ave.
Lonely Hearts Club at Citizen's Rail | February 15
Whether you bemoan Valentine's Day for the commercialization, the sappiness, or just a bad former experience, you'll find plenty of sympathizers at this late-night singles happy hour. Sip on mezcal and Campari punch or throw back strawberry-Champagne jello shots to the nostalgic tunes of '90s ballads. Free; 10 p.m.-midnight, 1899 16th St.
Moxie Bread Co. Bread Class | February 16
Fulfill your knead (ha!) for bread by learning how to bake your own sourdough during this hands-on class, taught by Moxie Bread Co. master bakers Joan Rasmussen and Andy Clark. Leave with knowledge and goodies including a proofing basket and your own sourdough starter for experimenting at home. $250; 8 a.m.-2 p.m., The Food Lab, 1825 Pearl St.
15th Annual Denver Restaurant Week | February 22-March 3
It's that time again: when savvy Denverites can score multi-course meals at bargain prices at hundreds of restaurants across town. Browse menus here and start making your reservations. $25-$35; times vary, locations vary.
The Kitchen Fort Collins Mardi Gras Hog Dinner and Meat Raffle| February 28
Dig into a crawfish boil and beignets at this New Orleans-inspired meal, then, after the five-course dinner, stick around to win Jodar Farms cuts of meat at the raffle, which will benefit Dixon Station, a Poudre Valley Community Farms property and conservation project of Colorado Open Lands. $75; 5:30-9 p.m., 100 College Ave., Fort Collins
Dig into copious amounts of mac and cheese, attend an anti-Valentine's Day bash, perfect your martini-making technique, and much, much more. BY CHLOE BARRETT | JANUARY 31, 2019