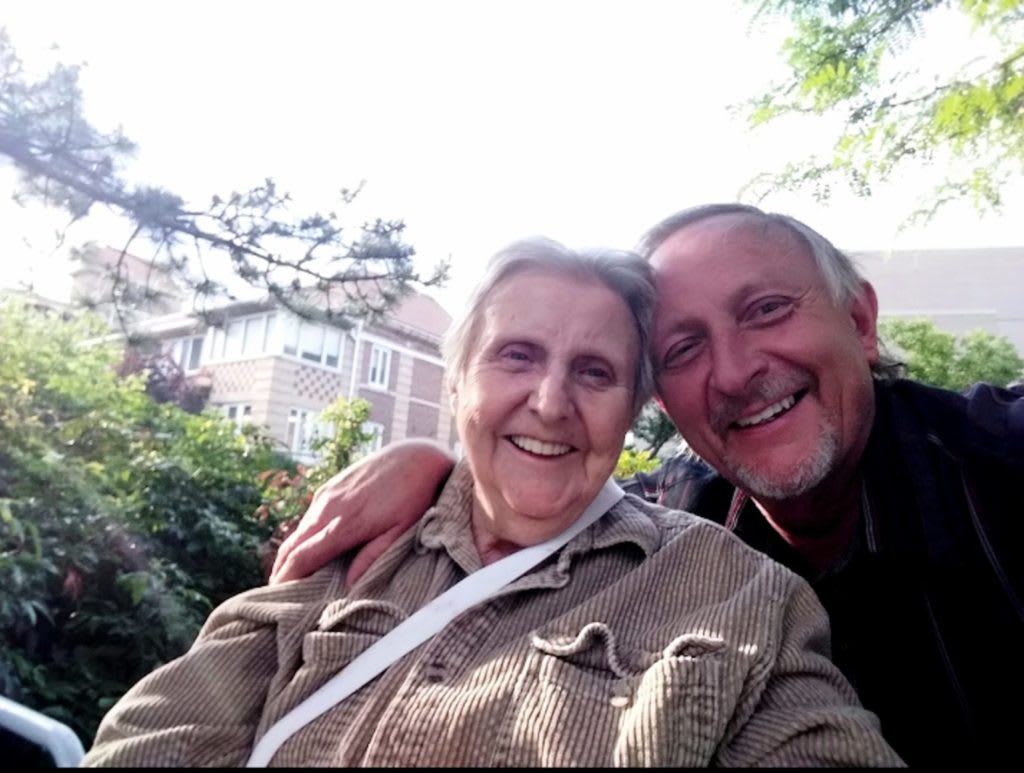 Jim Kotch and his mom. Courtesy of Jim Kotch

Eight Coloradans share the things—big and small—that they've learned to appreciate about lockdown life.
Staying at home for weeks on end is probably not what any of us desired for 2020. But it's the reality many of us have faced this year, and you know what? It's not all bad. As Colorado recently transitioned from the stay-at-home to the safer-at-home phase of its coronavirus response, we talked to residents to learn the positive things they've experienced in the past two months.
But before we get into these uplifting reflections, we want to note it's undoubtedly a privilege to be able to stay home, as Coloradans who are essential workers cannot. And some folks, including those who are struggling with housing and food insecurity, or stressful (perhaps even abusive) dynamics at home, may not be experiencing anything good about the current situation. We fully acknowledge that.
What follows are eight stories from Colorado residents who have identified powerful, thought-provoking, and occasionally humorous silver linings to their stay-at-home situations.
Strengthened neighborhood bonds
The past two months have been especially challenging for Jim Kotch. The 60-year-old Denver resident was laid off from his job, lost his health insurance, and hasn't been able to pay for the medication he needs to manage his stage 2 chronic obstructive pulmonary disease. But Kotch, a Colorado native, has seen a silver lining to his struggles: As he's been staying at home and caring for his 76-year-old mother who lives with him, neighbors on his College View block have stepped in to help.
Folks across the street gave Kotch masks; residents four doors up have taken his dog, Miku, on walks; and others shoveled his sidewalks after a recent snowstorm. These kind acts have reminded Kotch of how the neighborhood used to operate back when he was a kid [his family has owned the land his house sits on since about the 1940s]. "I've talked more to my neighbors this last month than I have the last two years," says Kotch. "It's a good feeling. It kind of takes me back in time." When the pandemic subsides, Kotch plans to reciprocate, hopefully with a "big barbecue or something like that where I do all the cooking, all the food, and just have them all over," he says. "And say 'Hey, now let's really get to know each other.'"
A chance to give back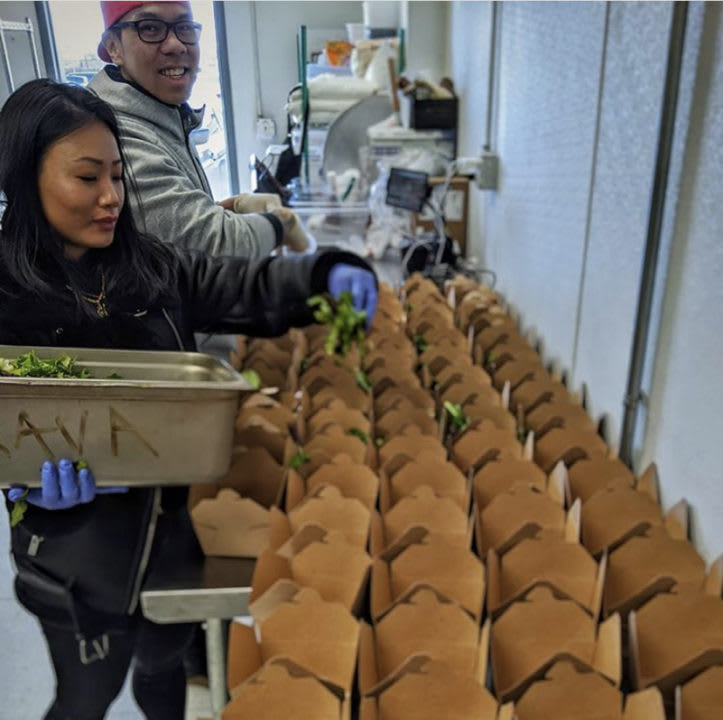 Ken Wan and Doris Yuen fill up salad boxes for Operation Family Meal. Photo by Thomas Garnick
As owners of
Meta Asian Kitchen
inside Denver's
Avanti Food & Beverage
, Ken Wan and Doris Yuen are part of an industry that has been hit hard. But the married couple, who moved to Colorado last summer from New Jersey, has still managed to look on the bright side. Soon after they closed their business on Friday, March 13, they got involved with
Operation Family Meal
, a local initiative that feeds hospitality workers who recently lost their jobs because of the pandemic. Through the program, Wan and Yuen have helped deliver hundreds of meals to those in need across Denver. "One of the reasons we moved to Colorado is we love just the vibe of Denver, the feeling, the community," says Wan, and being able to give back "means a lot."
In addition to volunteering, Wan, 36, and Yueng, 35, have used the extra time to clean and organize their space at Avanti, better strategize for their business, and develop new recipes for their menu—recently, they added Char Siu, a BBQ roast pork dish (now available for takeout and curbside pick-up), and are working on a pork and shrimp dumpling. Yet another silver lining for the couple, who just celebrated two years of marriage, is their improved relationship. "When we were working like crazy at [Meta Asian Kitchen], we fought more often," says Yuen. "I feel like this COVID [-19 pandemic] has actually brought me and Doris closer," adds Wan. "It's given me the chance to spend more time with her in a non-work-related way and just enjoy her company a little more."
A deeper relationship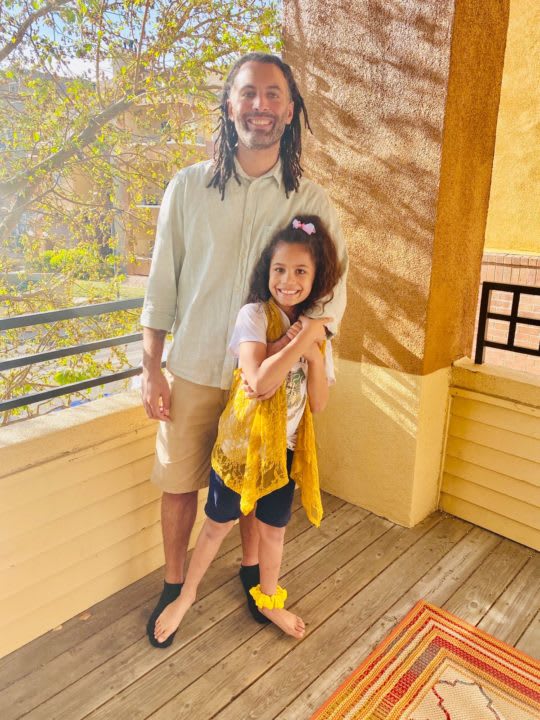 Kyle Holland and daughter Aiden. Courtesy of Kyle Holland
Virtual learning has been a tough aspect of stay-at-home life for many Coloradans, but Denver resident Kyle Holland, 33, appreciates how it's allowed him to grow closer with his 8-year-old daughter, Aiden. Pre-pandemic, Holland says that when Aiden came home from school, he had to "ask very specific questions to get any kind of information out of her." But now that the two have both been working remotely at home—Holland clocks in as a project manager at an IT firm while Aiden tackles her third-grade assignments—he knows "exactly what she's doing." This extra intel has allowed Holland to have more in-depth conversations with his daughter and more effectively help her with schoolwork.
Since stay-at-home started, "I feel like I understand her a little better," says Holland. "I definitely think we've gotten closer." Their new at-home dynamic has also given Holland more insight into how Aiden acts with classmates. "A bunch of 8-year-olds on a Zoom meeting is hilarious," he says.
A newfound obsession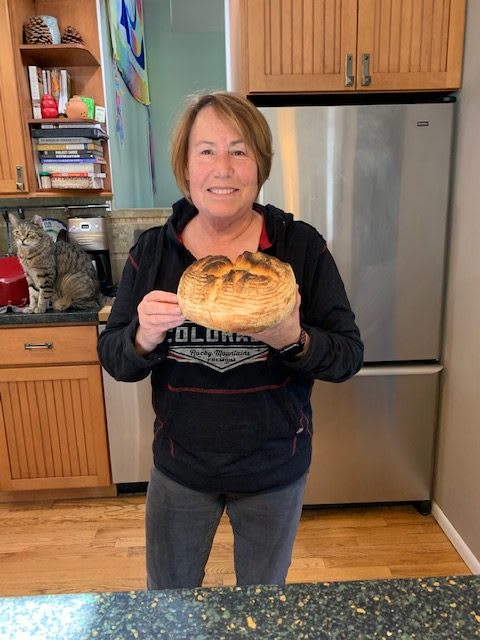 Betsy Rich with her sourdough loaf. Courtesy of Jamie Rich

In late March, Betsy Rich's adult son texted her a photo of a sourdough bread loaf he'd recently baked. "My mouth started to water and then I got jealous as hell," remembers the 62-year-old Evergreen resident, who had always wanted to bake her own bread, but felt like she just didn't have the time. The enticing text—and the fact that Rich now had many excess hours—provided the incentive she needed to fulfill her carb-laden dreams.
After acquiring a sourdough starter from local restaurant Willow Creek, Rich made her first loaf and was instantly hooked. In the time since, she's baked about 25 loaves, experimented with bagels, bialys, olive bread, and crackers, and joined several online groups for bread-baking enthusiasts (yes, of course those exist). "It's opened up this whole world of new people that I've met, and entertainment, and my house smells amazing," says Rich, who leaves jars of starter on her front porch for others to take, and shares fresh loaves with friends and neighbors. Perhaps the biggest testament to Rich's newfound passion is the fact that she's given her sourdough starter a moniker. "Her name is Doughprah," says Rich, "because you get a loaf, and you get a loaf, and you get a loaf, and you get a loaf."
Space to heal
Last summer, Lisa Smith's husband died unexpectedly. In the months that followed, Smith, 53, and her 13-year-old daughter, Ellie, led "very busy lives" as they wrestled with the devastating loss. For Smith, who works in real estate, the grief was the worst on days when she didn't leave her home in Evergreen. So when she first realized she and Ellie would have to self-isolate because of the pandemic, "it was kind of overwhelming." But the past two months have ultimately helped her on her healing journey. "It's kind of forced me to quiet my mind and listen," she says. "And just, I guess, be kind to myself."
Smith has also used the extra time to bring meals to others and donate food to a local pantry. These acts of service, which mirror the ways people helped Smith's family after their loss, make "me feel so good," says Smith. "That volunteerism, that spreading kindness and goodwill, really does benefit us." Ellie has joined the pay-it-forward cause as well by making masks and mailing them to family members and the CDC. "Keeping her mind busy and active has been so good for her," says Smith.
A dream, finally fulfilled
Catherine Glenn and her yoga partner, Little Cat. Courtesy of Catherine Glenn
Lakewood native Catherine Glenn long wished she could bring her cat to work. "I knew he would like being with me," she says of Little Cat, a black, crosseyed polydactyl. "And he's just a clown—he likes being around other people, too." But for the yoga, Pilates, and senior fitness instructor, that simply wasn't possible—until stay-at-home happened. As soon as Glenn started leading virtual classes out of her townhouse living room, her furry companion started participating—and to date, he hasn't stopped. During senior chair yoga classes, for example, Little Cat typically sits on the back-half of the chair behind Glenn. "You'll see a little tail off to the side," she says. In regular yoga and Pilates classes, Glenn's "lovely assistant" lies next to her mat the entire time. Glenn, 57, isn't the only one enjoying his presence—class attendees seem to get a kick out of his appearances, too. Some have even started addressing emails to both Glenn and Little Cat, she says.
Expanded connections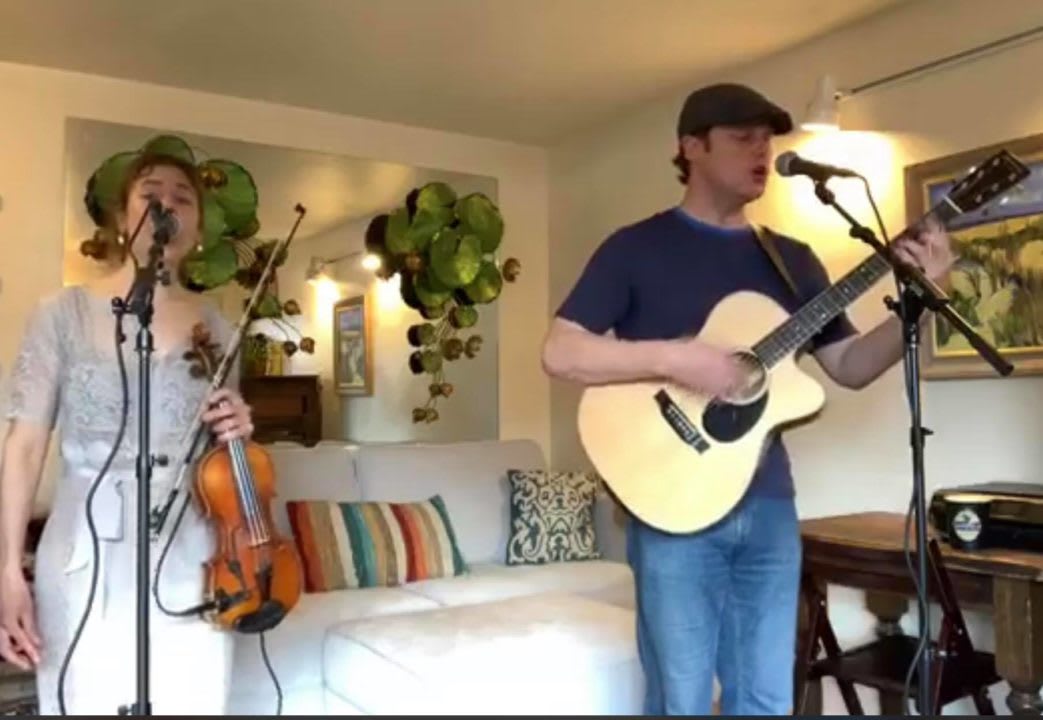 Harmony and Brad Jones perform during a virtual concert. Courtesy of Harmony and Brad Jones

Last year at this time, Brad and Harmony Jones, a Boulder-based couple and acoustic rock duo, were averaging 120 shows a year in the U.S. and Europe. This March, as the pandemic canceled mass gatherings, "our playing career just stopped abruptly at 100 miles an hour," says Brad, 44. Stuck at home in the days following the canceled Tucson Folk Festival, the couple decided to partake in the festival's "Live From Home" event.
From the confines of their living room, Harmony and Brad (the group's official name) broadcast a 30-minute session on Facebook Live that to date has been viewed in its entirety about 8,200 times—a much larger crowd than their 50 to 100-person shows typically attract. "All of a sudden, we started to say, we can get a lot done from our couch," says Brad. Another plus to stay-at-home: Before coronavirus, Brad spent about 40 hours a week coordinating logistics for shows and only about five to 10 hours a week actually writing and playing music. Now, in between teaching virtual music lessons, he has more time to devote to his craft. Thanks to the lockdown, the duo is almost done with their next album.
The joy in slowing down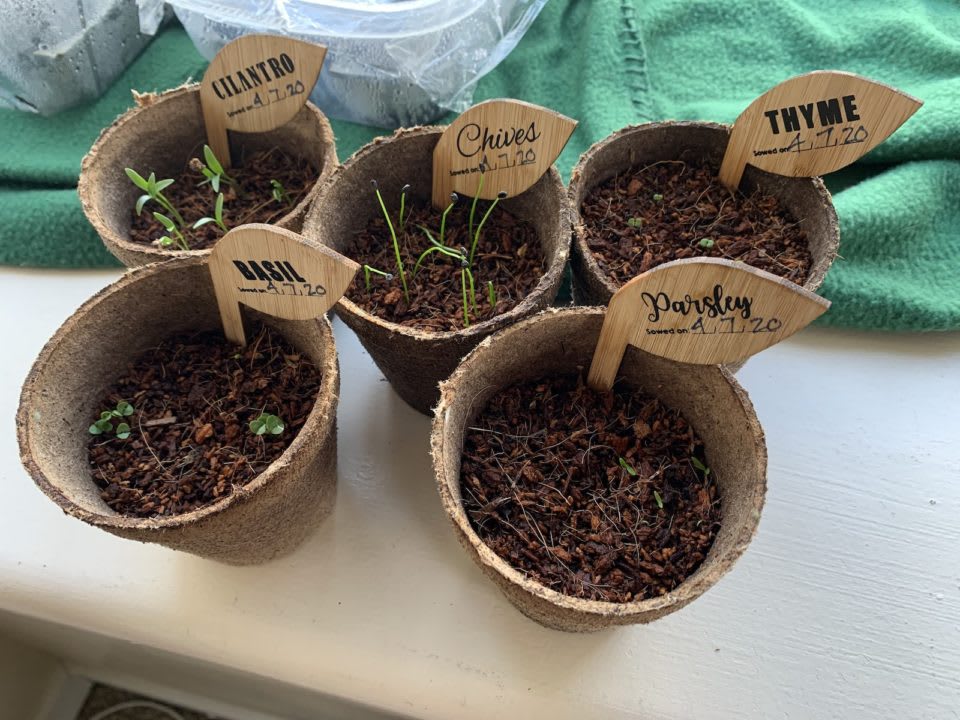 Kayah Swanson's thriving herb garden. Courtesy of Kayah Swanson
Before coronavirus, Kayah Swanson felt like if she wasn't busy, she "wasn't doing it right." Between working full-time at the Pikes Peak Library district, attending graduate school full-time, and serving as a part-time research assistant, the 28-year-old Colorado Springs resident had "absolutely no time." But the slower pace ushered in by the stay-at-home order has allowed Swanson time to "explore some of those things that make me feel really deeply human and happy."
One such example: gardening. In her 700-square-foot apartment, Swanson recently started growing cherry tomatoes as well as a small herb garden of parsley, thyme, cilantro, chives, and basil. "It's been a really nice way to take a break in between just endless Zoom meetings for work just to get up and stretch my legs and make sure the plants are getting enough sun," she says. Overall, staying at home has been "this really lovely recalibration as I just try to look at my life a bit differently and realize that not every moment needs to be filled with productivity," Swanson adds. "Sometimes just breathing and being is OK, too."