The fact that residential home prices are increasing substantially in most regions of the country is music to the ears of homeowners. However, if you are in the process of selling your home, make sure you realize the major challenge a hot real estate market creates. Each house must be sold twice; once to a buyer and a second time to an appraiser who represents the bank that will grant the purchaser a mortgage to buy the home (unless it is an "all cash" purchase). In a real market with escalating prices, the second sale may be the more difficult. And a recent survey by Quicken Loans reveals that the gap between what a homeowner believes is the value of their home compared to an appraiser is widening.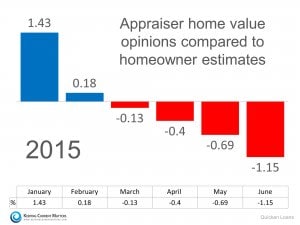 This could lead to an increase in the percentage of real estate transactions being challenged by a 'short' appraisal (where the appraiser value is less than the contracted price of the home).
Bottom Line
Whether you are a buyer or a seller, you must be prepared for this possibility as it may result in a renegotiation of the price of the home.
Also, when interviewing agents to sell your home make sure they know how to represent you during this process with an appraiser. If they don't have a plan they might not be the right choice. If you're curious, I am happy to share the techniques I use to represendt my clients during the appraisal period.