Is there a right and a wrong strategy when it comes to which month to put your house on the market? It's more like there is a better timing strategy to use if your goal is to maximize your profits. It's important to get your home in front of as many buyers as possible and also know when you have the most and the least potential competition. We have learned the last couple of years in Denver that our real estate market is starting earlier and earlier in the year. When buyers start looking for their home earlier in the year they also tire out earlier. So, Sellers who think that June and July are a prime time to sell may have already missed the largest potential buyer pool and the least potential listing competition which generally means, highest potential profit as a Seller.





Take a look at the charts below. Green represents the best Seller opportunity for listing your home based on 12 different variables listed along the left side. This chart shows the month that a Seller needs to be on the market receiving contracts in order to close approximately 30-45 days later.

To me, the most powerful indicators are Odds of Selling, Average Days on Market (DOM), % Close vs List, and % Change Average Sold Price Month Over Month (MOM) otherwise seen on the charts below as Indicators 5-9 on the lefthand side.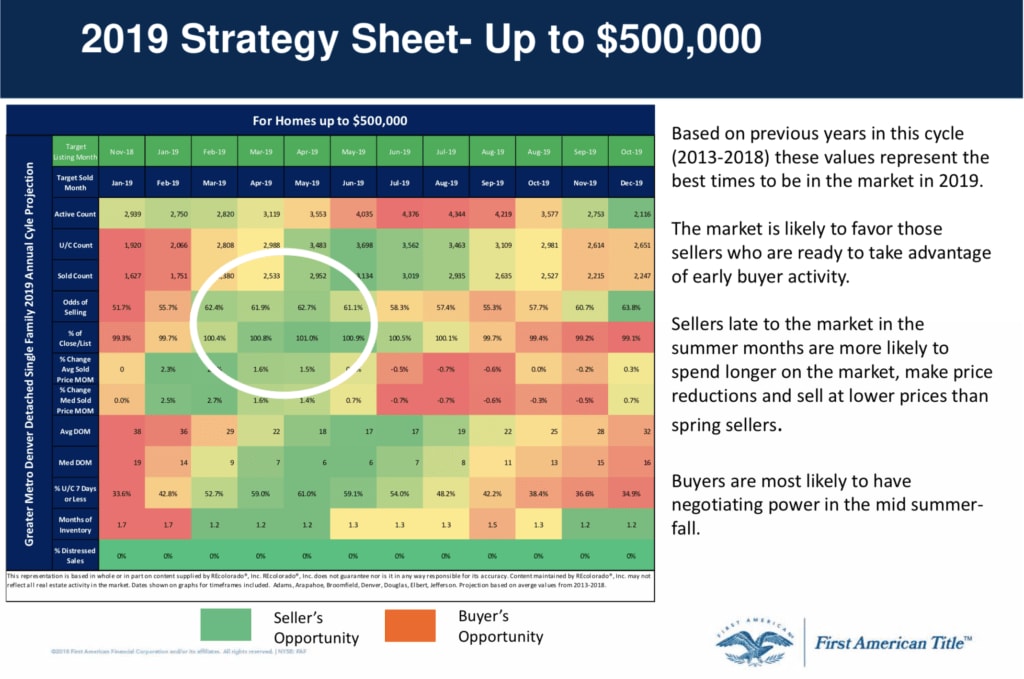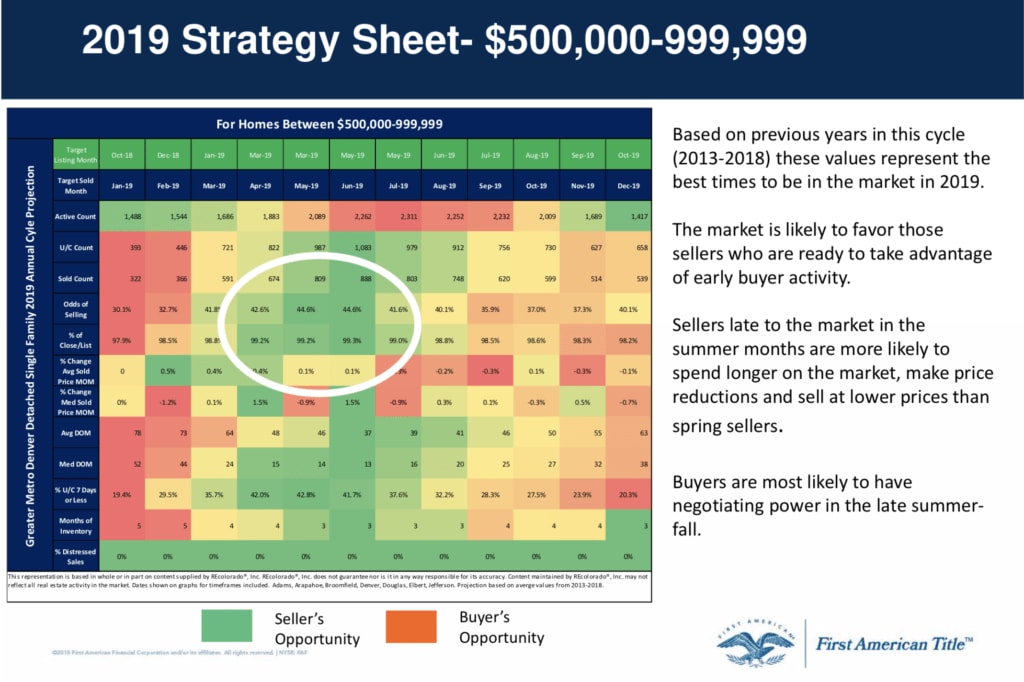 You'll notice in most of the price ranges the sweet spot for listing a home is February-April with the mood starting to shift to Yellow in May and then potential Seller profits declining into a Red June-September.

Does this information make you think about what your home is worth and when it should go on the market? Get a FREE price and home equity analysis here.

Maximum profits aren't the only reason to sell your home. I certainly understand that school start and stop, new babies, job changes, and many other life events are important to take into account when selling your home. But, I wanted to provide a clear answer to this question as it's the one I get most when I sit down for a listing appointment. When is the best time to list my home to maximize my profit? This data provides a clear answer. If you choose to list throughout the rest of the year you will likely enjoy impressive profits across Denver, just be a little more patient with time on the market, less aggressive pricing strategy, and understanding that our late summer to fall market is a little softer.

I know these charts are small so please let me know if you'd like to review this information with me on a personalized basis or if you'd like me to send the charts in a larger format that is easier to read.
Curious about using this data as a Buyer? That info is coming next week.

As always, I'm available and look forward to chatting with you soon megan@westandmainhomes.com.