The side yard for this early 1900s shingled house in Wellesley, Massachusetts, is larger than the backyard, so it was an ideal spot to add a patio and grill set up for the family to use during warmer months. "The house is located on a corner lot," says landscape designer Inge Daniels. "There's a footpath along the side of the property that leads to a nearby river, so we added a custom screen for privacy from people walking by." The new patio setup also includes a custom concrete shelving system that features a grilling station, bench seating, and firewood storage.
Patio at a Glance
Who lives here: A young family with two kids
Location: Wellesley, Massachusetts
Size: About 300 square feet (28 square meters)
Tucked at the back of the property's side yard, a large patch of lawn surrounded by lush flower beds leads up to the new patio when entering from the front of the house. "The homeowners have added a lot of modern touches to the house, so creating a transitional-style patio worked well with the overall look," Daniels says.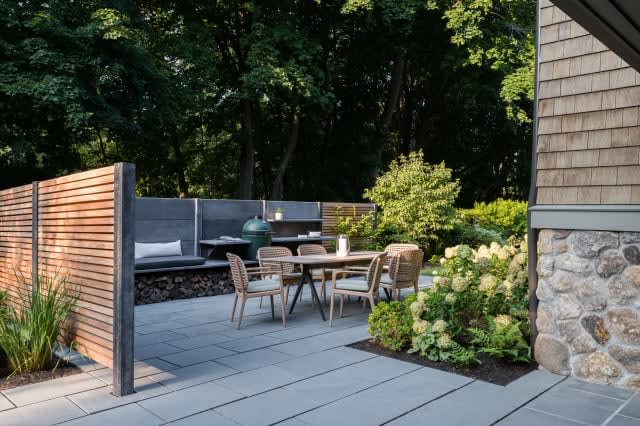 New bluestone pavers lead from the backyard to the side yard patio. The L-shaped screen features ipe slats and concrete posts. "The slats provide privacy but also allow some sunlight to filter through," Daniels says.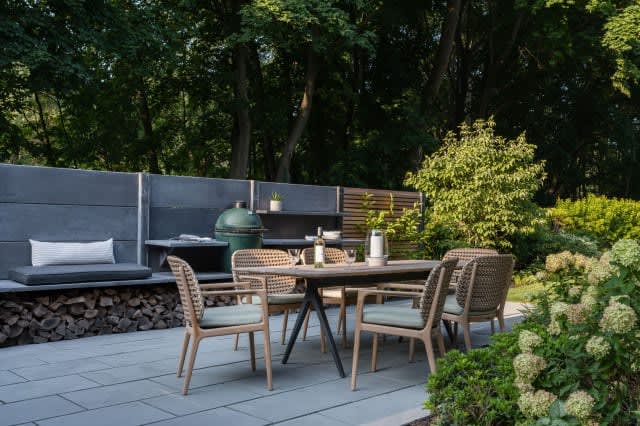 The chic outdoor dining table features a teak top and black aluminum legs. The outdoor dining chairs are also teak and include sage green seat cushions.
The grill set up at the center of the privacy screen is surrounded by a custom concrete shelving system. The firewood stored along the base of the screen is used to power the egg-shaped wood-burning grill.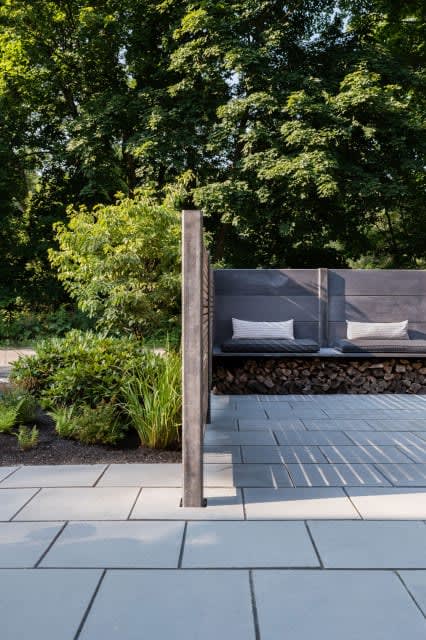 Daniels added outdoor cushions and pillows atop the integrated concrete bench. "It's not a very big space, but there's lots of areas to sit and socialize with friends and family," the designer says.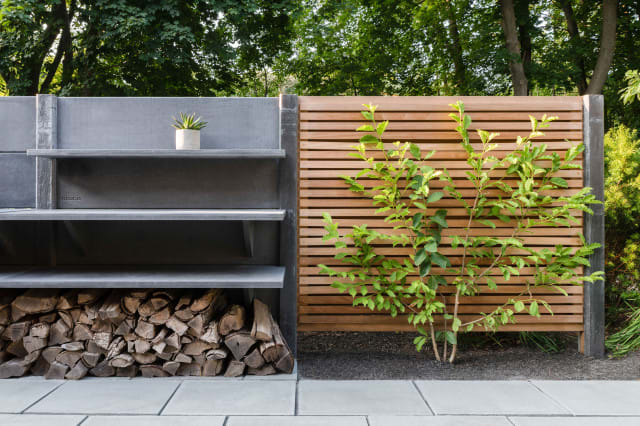 Daniels planted a magnolia tree at one end of the slatted fence. "The fence is high enough for privacy but low enough that it still allows for views of the river when looking out from inside the house," she says.

Wanting to avoid too much light pollution, Daniels added only outdoor lighting that's below the top of the privacy screen. "There's no overhead outdoor lighting. All of it is at face-level or below," she says. Providing a warm glow at night is the portable outdoor floor lamp, which can be repositioned as needed, and the wall lantern attached to the side of the house and behind the hydrangeas.