We're officially at the halfway point of 2020—and Sherwin-Williams has already moved on to 2021. The company's experts pulled together its annual Colormix Forecast, highlighting the paint hues they predict will be everywhere next year. With 40 shades to peruse, there's plenty of inspiration to see you through your next makeover.
The report is sorted into four unique palettes, each one meant to evoke a different feeling. We flipped through the swatches to pull our own curation of the trending colors—here are the combinations we're loving, according to what mood you want to create at home.

Inspired by smart living and technology, Continuum is a hyper-invigorating color scheme. You might not think that electric yellow and lavender go together—and ordinarily we might agree with you—but with a grounding hue like navy as the base, this fun pairing definitely makes a splash. Start small, with DIY door trim to update an often-overlooked surface.

Soft, muted tones rule in Encounter, a palette that references artisan crafts and a modern bohemian vibe. There are plenty of earthy tints (including terracotta, of course), but we're equally drawn to the subdued blues and yellows, which are perfect for making your bedroom feel extra-cozy. Just add a few blankets.

The most neutral-filled combination is Sanctuary, which pays homage to Scandinavian design through an assortment of natural colors. However, no one ever said that neutral had to be boring: Rich, warm shades of berry and olive green are made for elevating gathering spaces, like your living or dining room. Use this trio to set the scene for many future pasta-fueled shindigs.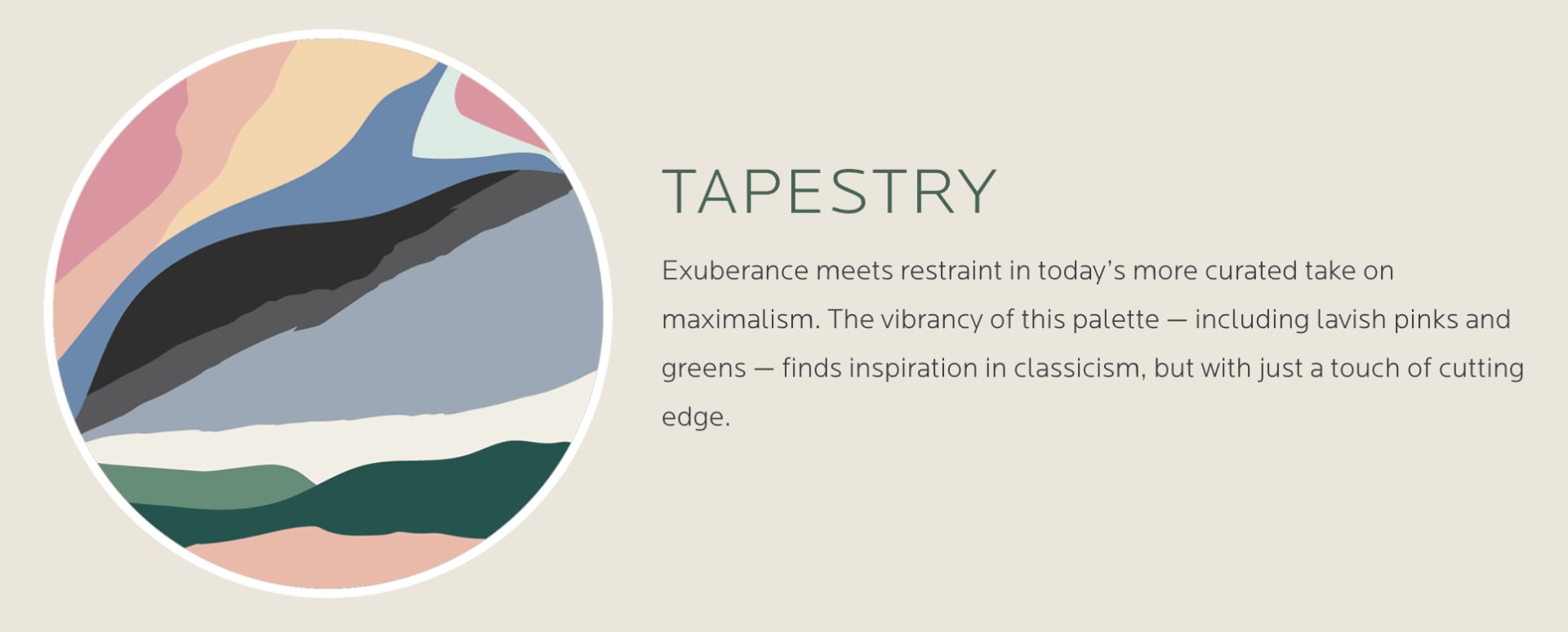 We could all do with a bit of optimism, and that's where Tapestry comes in. Described as a curated take on maximalism, it's full of zingy hues like bubblegum pink and periwinkle blue. Consider this your chance to try a freehand mural: Dress up an empty wall with a custom design that will make you smile every time you pass by.