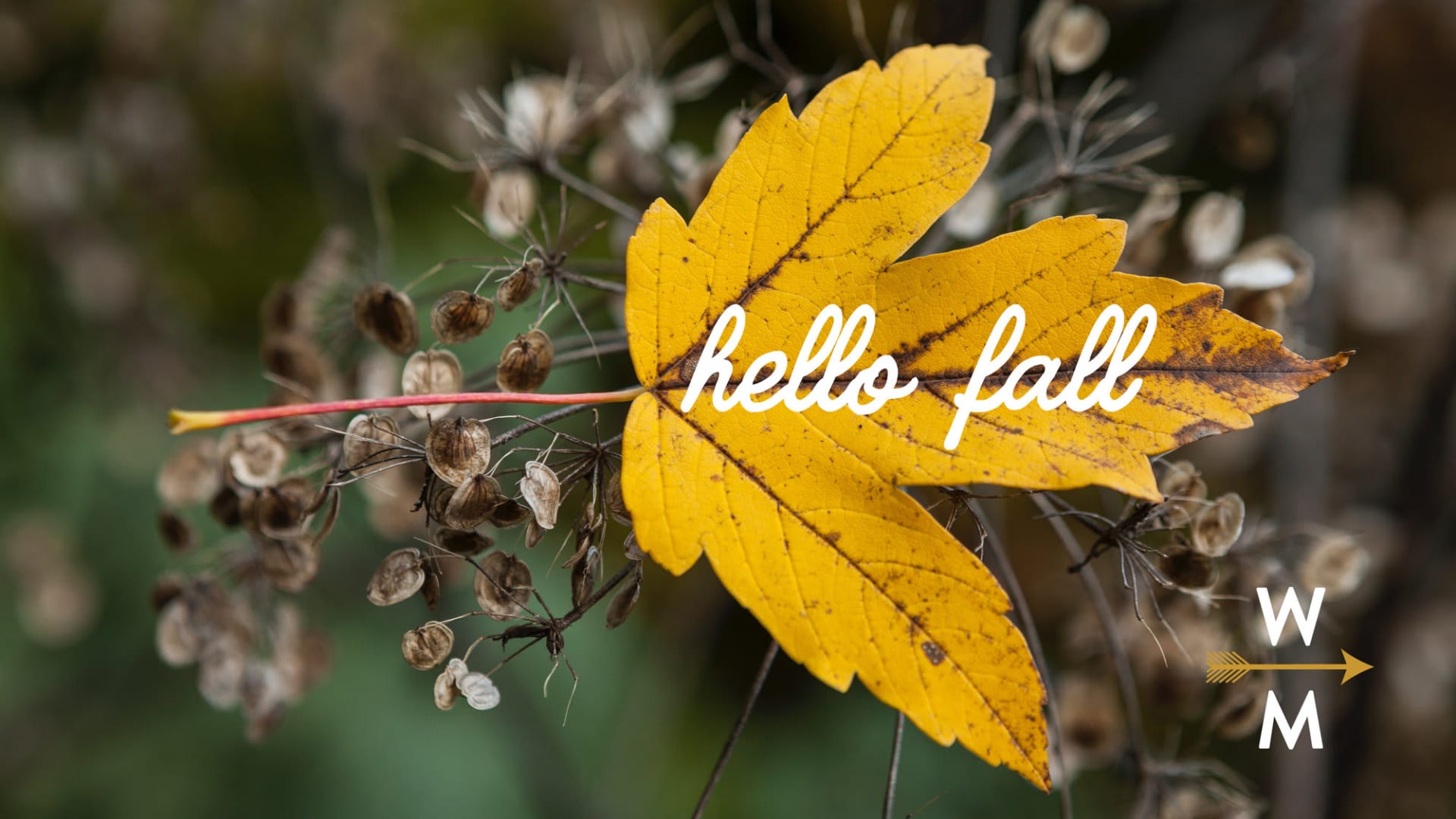 It's fall, Y'all!
There are so many ways to enjoy our favorite season in and around the Mile High City, the first of which is always to enjoy the changing leaves!
Take a Drive | Now through mid-October
Fall isn't just about Pumpkin Spice Lattes. As the days get shorter and the air gets colder, don't forget to take time to enjoy the changing leaves in the high country. Grab your keys, a cable knit sweater, and drive west to witness the aspen trees turning gold. If you're up for an adventure, the leaf-peeping at Maroon Bells is legendary, or for a closer destination, the Peak to Peak Scenic and Historic Byway passes directly through Front Range foliage.
Here's a list of 8 of the best day trips to take to soak up this fall weather.
The leaves are changing earlier than usual this year, thanks to the drought and unusually high temperatures this Summer. 9News has a great explanation of this.
Here are the predicted dates for peak colors across the State:
Other fun things to do around town this September, via 5280 Magazine:
Sunnyside Music Festival | September 8
Spend the last moments of summer enjoying music, local food, beer, and kids activities at the Sunnyside Music Festival in Chaffee Park. Started as a neighborhood bluegrass party in 2000, the fest now raises money to support local charities in addition to putting on rocking live shows. Before the event officially kicks off, enjoy free yoga from 10:30 a.m. to 11:30 a.m. with Better Buzz Yoga. This year, Sunnyside Music Festival will feature the Sweet Lilies, the Highland Ramblers, Eef and the Blues Express, Doug Kershaw, and Analog Son. The shows start at noon. Chaffee Park, 44th and Tejon
Stanley Arts Fest | September 8–9
The Stanley Marketplace will be overflowing with locally crafted art from all mediums during this weekend-long event. Peruse the wares from exhibiting artists and then take a break in the Peace Tent, the 2018 featured installation from Denver-based artist Emma Balder. In addition to art, food trucks such as Dude Bro Taco and Peak Pops will provide tasty treats for purchase. The festival runs from 10 a.m. to 7 p.m. on Saturday, and 10 a.m. to 5 p.m. on Sunday. 2501 Dallas Dr.
Fall Fest | September 14–16
Fall is here! For three days, Boulder's Pearl Street will be filled with vendors, food, music, and magicians to celebrate the changing of the seasons. The festival will feature a beer garden hosted by Avery Brewing Company in addition to margaritas by the Rio Grande Mexican Restaurant. A full list of the schedule and feature vendors can be found here.
Technology Ted Talk | September 18
Looking to learn something new? TEDxMileHigh speaker Romain Sepehr Vakilitabar will explore how exponential technology can accelerate understanding and global compassion at this free seminar, taking place at Denver's Zeppelin Station at 6 p.m. Vakilitabar's nonprofit, Pathos Lab, creates empathy-based virtual and augmented reality to disrupt interpersonal oppression, discrimination, and misperception. Guests are invited to a dinner afterward. Admission is free, but registration is required. Zeppelin Station, 3501 Wazee St.
Handmade in Colorado | September 21–23
The 10th annual Handmade in Colorado Expo is coming through Denver and Boulder this fall. The eight-day expo features independent designers who have produced original handcrafted goods, from glass to ceramics. Designed to encourage supporting local artists, all participating are emerging and experienced artists from Colorado. The Denver event takes place this month, while the expo will visit Boulder in October. Skyline Park, 15th and Arapahoe streets.
Denver Oktoberfest | September 21–23 & 28–30
Prost! Oktoberfest is arguably the best part about fall in Denver. For the 49th year, Denver Oktoberfest will feature stein hoisting, a wiener dog race, keg bowling, and a bratwurst-eating contest for two weekends this month. Don't miss out on the traditional German fare, such as sausage, turkey legs, and pretzels. Friday and Saturday, 11 a.m. to midnight; Sunday, 11 a.m. to 5 p.m. 1301 21st St.
And Don't Forget to Save the Dates for Fall Events Hosted by West + Main Homes:
First Friday Art Opening Featuring the Works of Phillip Faulkner l September 7
Faulkner's artistic inquiry spans visual mediums, but the one formal constant is an embrace of collage philosophy. He produces work that melds the digital and tangible, bridges technology and tradition, and attempts to create imagery that is both new and nostalgic. The exhibition "Layers" addresses this descriptor on two levels. First, the physical overlapping of material and mark used in the construction of these artworks. Second references depth of analysis and comprehension a viewer might yield from a particular artifact. Each artwork employs appropriated imagery from disparate sources, all of which are already coded with meaning. It is when images are ripped from context and placed in anew, that interpretation is as fragmented and layered as the resulting final compositions. 2632 Blake St, 6-9pm
2nd Annual Octoberfest Celebration l October 21
Join us for a celebration of abundance and gratitude hosted by West + Main Homes! Free pumpkins + beer, family photos, live music, chili-cookoff, petting zoo…bring the kids and enjoy a fun afternoon as our thank you for your amazing support this year! Please let us know if you can come! 15800 W 54th Ave, 1-3pm
If you're ever curious about trying activities in other neighborhoods beyond your own, just let me know. I always have a great recommendation for an event, restaurant, or unique experience throughout the city! Give me a shout [email protected]