As temperatures start to drop, it's time to start moving outdoor plants inside. What's not to love about fall weather? Warm days and cool nights are perfect for checking out the changing colors in the high country. Pack a lunch, hike some trails and let nature inspire your creative plantophile side.
Then, when you are back home in your apartment or house, get your green thumb going with some imaginative indoor plant gardens.
Before getting started with an indoor garden, can you continue growing outdoor containers that have been on your deck or patio all summer by moving them inside? Absolutely, and right now is the best time to bring back outdoor vacationing house plants, herb containers, cactus and succulent containers, and any other plants that can work in your indoor spaces.
Only bring in healthy plants, and check for disease and insects. If any are detected or leaves are sickly from something (even if you can't identify the culprit), just toss the plant, since problems spread quickly among house plants.
Since apartments and houses usually have less light than outside conditions, shade-loving annuals like begonias, fuchsia, caladiums, ornamental peppers and coleus are some of the easiest to grow indoors. Consider taking cuttings from outdoor plants to grow new plants.
Growing plants indoors is becoming as popular as baking your own bread. Both go hand in hand, since there is nothing like noshing on a toasty hunk of artisan bread while admiring your latest green works of art. Invite friends over to join in the planting fun (and ask them to bring additional plant supplies and some jam for the bread).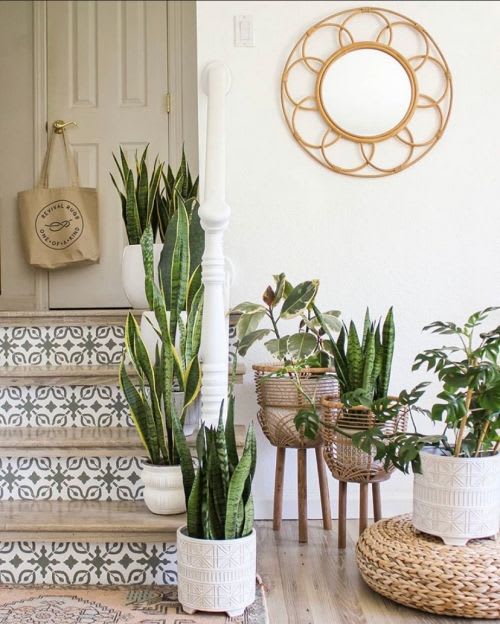 Choosing plants
Just like when planting outdoor containers, use the tried-and-true rule for a mixed dish garden. Combine thriller (tall), filler (round around the middle) and spiller plants (edging). Smaller dish containers may need just one of each, with more for larger dishes. You don't have to follow this three-tiered rule. Single-plant specimen containers (like the tiny ornamental peppers) are fun, fun, fun (and come in assorted colors). Go for bright colors on house plants and various shades of green. Toss in variegated leafed plants to kick it up a notch. The key is to plant the plants closely so they look filled in on planting day.
The short list of more traditional foliage and blooming plants to consider for mixed containers include:
lemon cypress (tall)

anthurium (tall)

euphorbia (tall)

arrowhead plant (filler, spiller)

ivy (spiller)

coleus (tall, filler)

cyclamen (filler)

croton (tall, filler)

poinsettia (tall and filler for holiday)

kalanchoe (tall and filler)

cyclamen (tall, filler)

snake plant…a personal favorite! and it produces oxygen at night.

peace lily (tall and filler)

pothos…a personal favorite! And it pulls toxins out of your air. (filler)
For assembly tips + different types of inside planter ideas, visit The Know.
I also have quite the thriving plant collection and initially struggled with the indoor/outdoor transition. So, feel free to ask me any questions you might have.