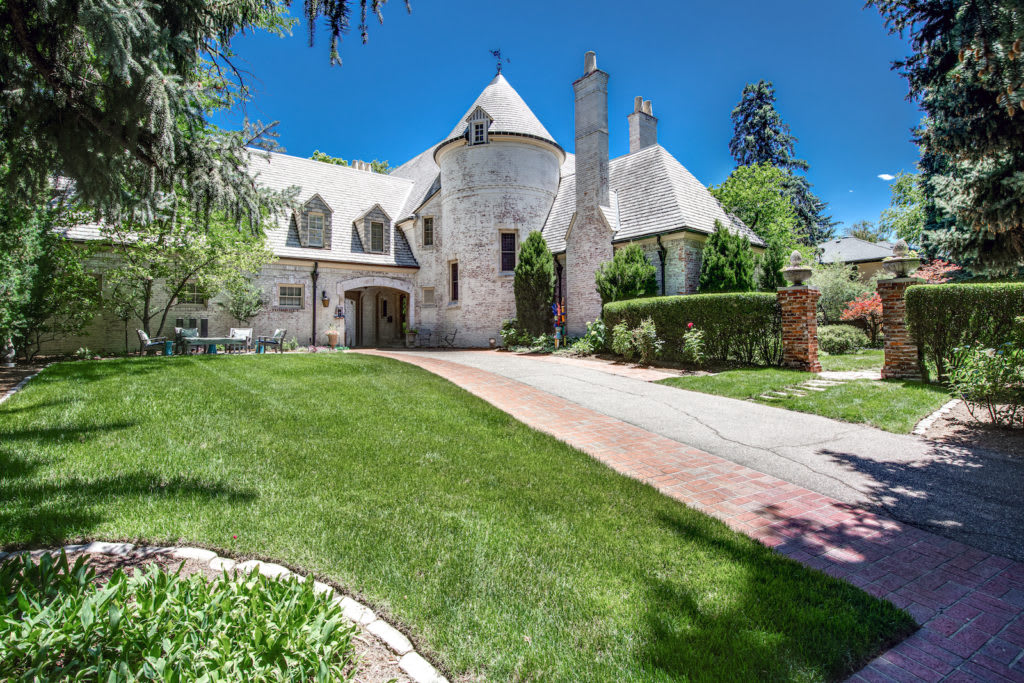 This Towered French Eclectic–style home has character to spare, with a porte cochère entrance and steeply pitched roofs punctuated by dormers and tall chimneys.
Photo courtesy of Coldwell Banker Devonshire
You just might forget you're in Colorado when you stumble upon this elegant estate in Denver's Country Club Historic Neighborhood: Nicknamed the "Corner Chateau," the Towered French Eclectic–style home at 380 N. Gilpin Street has the kind of fairytale charm you'd expect to find in the pages of a storybook.
And that's entirely fitting, since the house was created for a notable lover of books. The 10,073-square-foot home was designed in the 1920s by Burnham Hoyt—the famed architect of Red Rocks Amphitheater, the Denver Public Library, and both Riverside and St. Bartholomew's churches in New York—for Charles Sewell Thomas, a prominent Denver attorney of the day, who lived there with his wife, Marie Wade Thomas, and their daughter, Lenore, until 1949.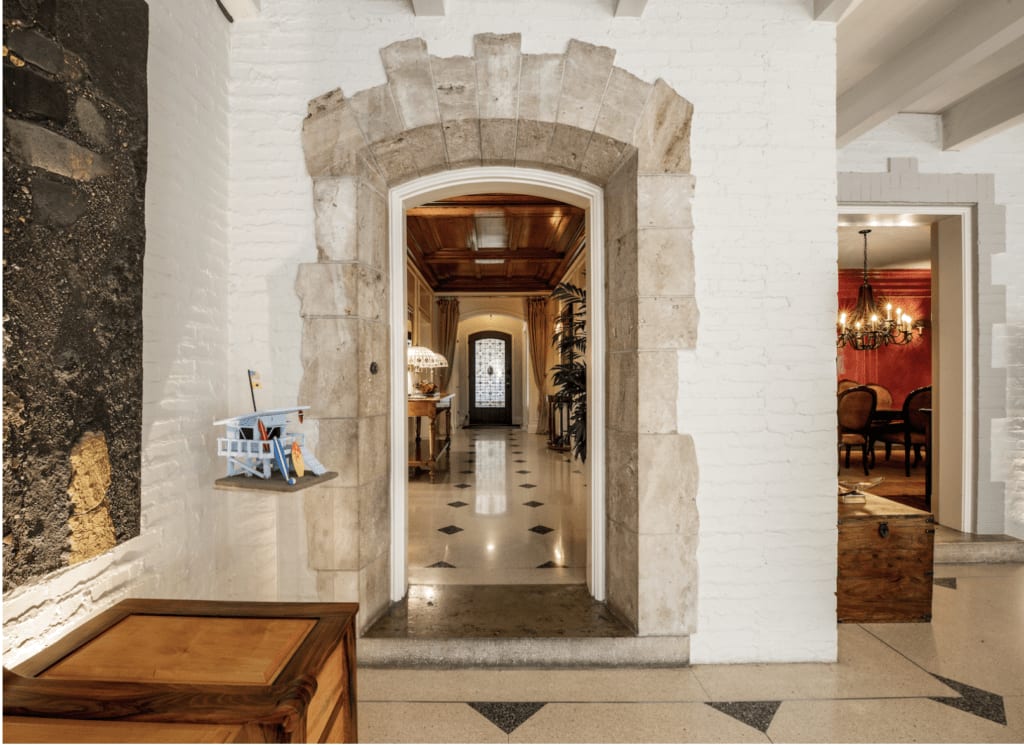 It's easy to imagine you're traipsing through a castle when you see details like the dramatic stonework framing this doorway.
Photo courtesy of Coldwell Banker Devonshire.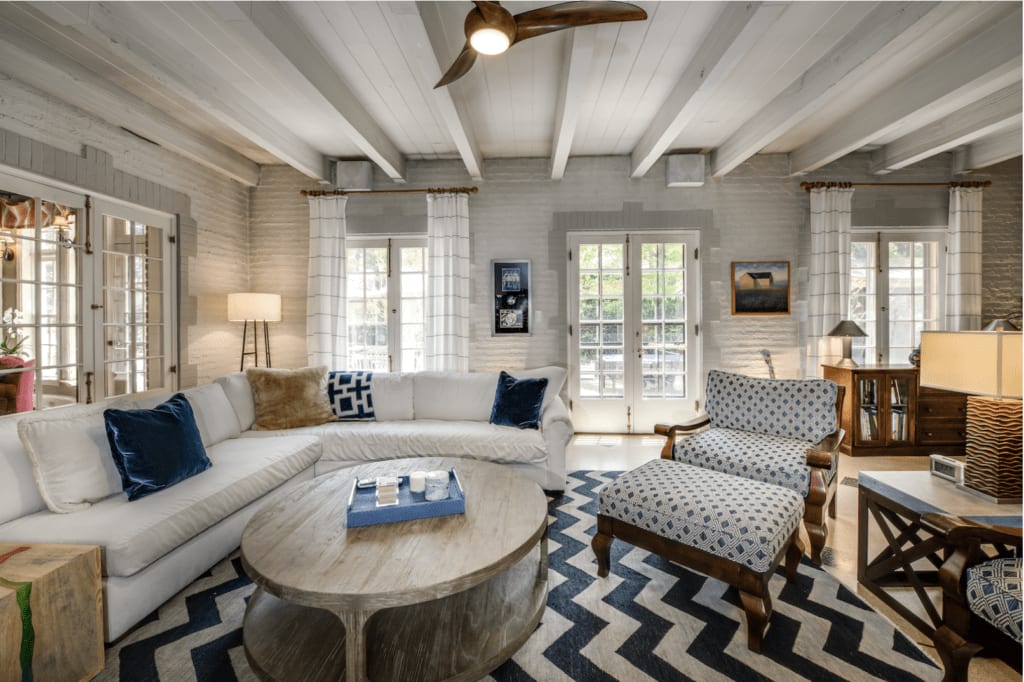 The sunny, 21-by-20-foot family room is a fresh space with a more contemporary feel. The French doors lead out onto a patio for easy summer entertaining.
Photo courtesy of Coldwell Banker Devonshire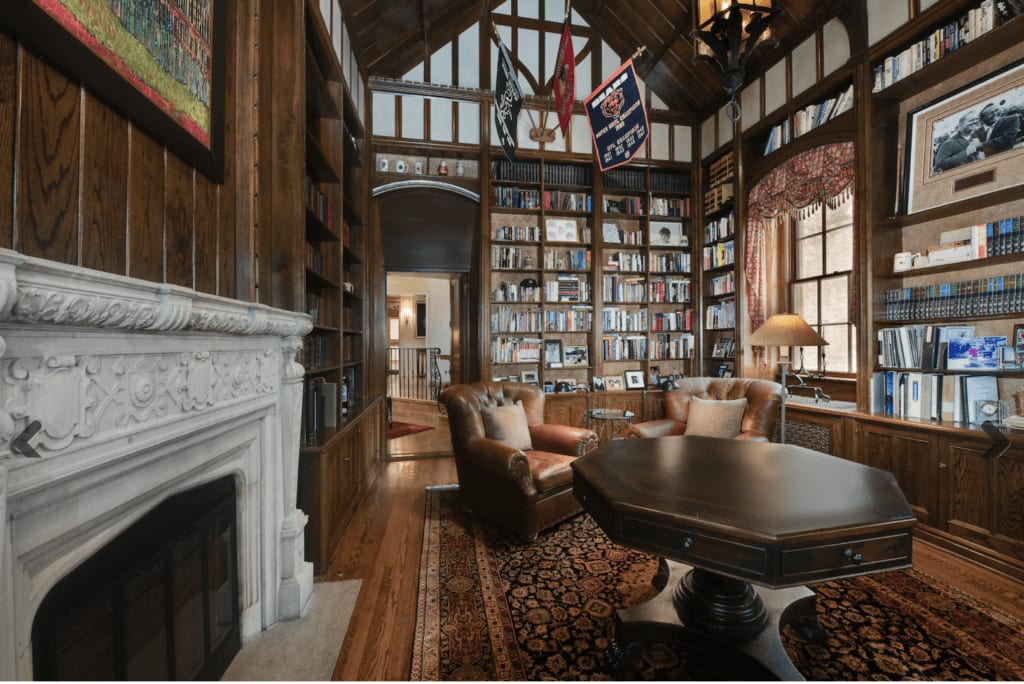 The grand, wood-paneled library is a bookish retreat with a carved-stone fireplace and a club-like atmosphere.
Photo courtesy of Coldwell Banker Devonshire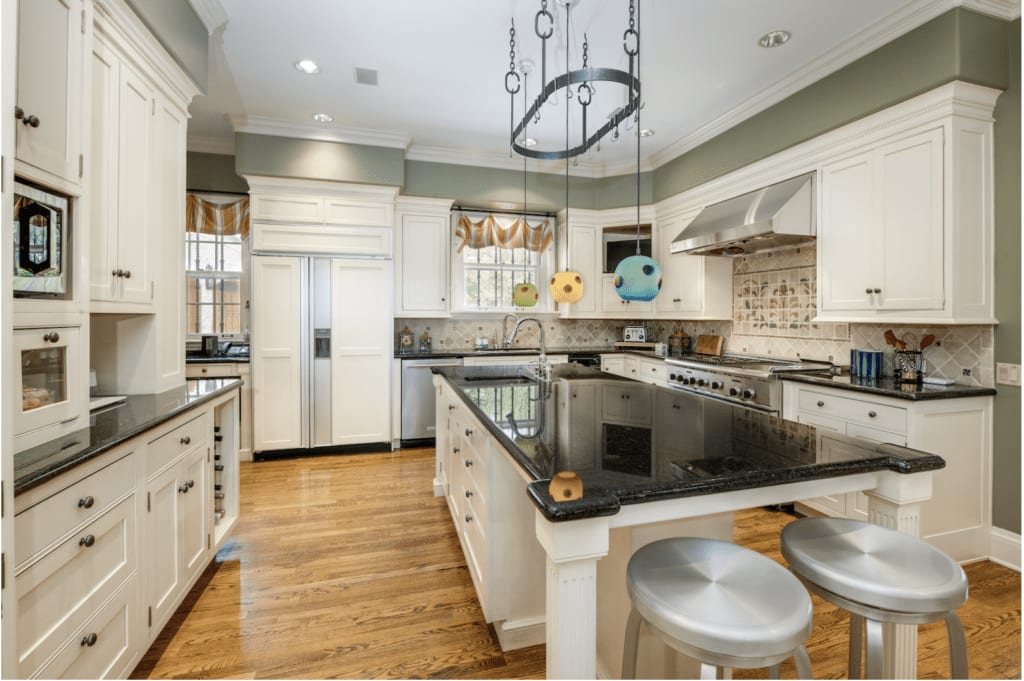 The spacious, 15-by-24-foot kitchen was completely remodeled by BOA Construction, and includes updated appliances and a new, adjacent casual dining area.
Photo courtesy of Coldwell Banker Devonshire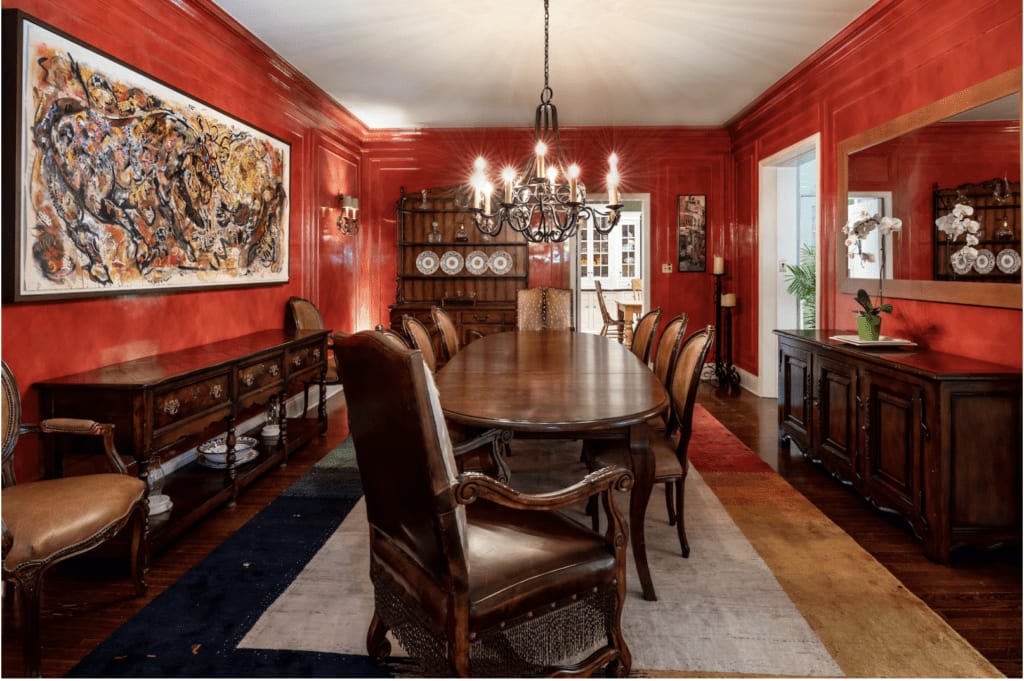 The impressive proportions of the formal dining room can accommodate banquet-size gatherings.
Photo courtesy of Coldwell Banker Devonshire

Although it's been renovated over the years—previous owners have updated the kitchen, and added a home theater, fitness room, and wine refrigerators in the basement—the property still retains a number of delightful original features, including leaded-glass turret windows that incorporate Charles' and Marie's initials, and a baronial, wood-paneled library, warmed by a carved-stone fireplace.
Charles Thomas amassed an extensive collection of more than 3,000 books to line those shelves. (Following his death, many of the volumes found their way to libraries at Colorado College and the University of Denver.) So when Hoyt finished his work on the house, he gave the family an unexpected and perfect gift: A fanciful weathervane depicting Charles Thomas reading a book by candlelight, which still perches atop the home's turret.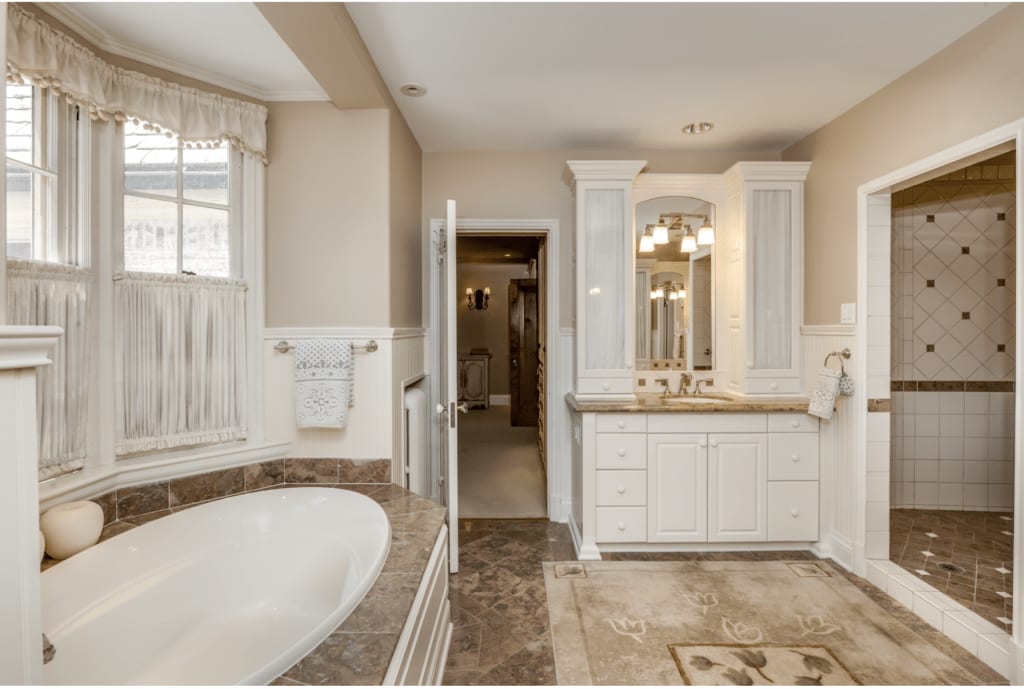 Updated bedrooms and bathrooms offer ample space for modern luxuries.
Photo courtesy of Coldwell Banker Devonshire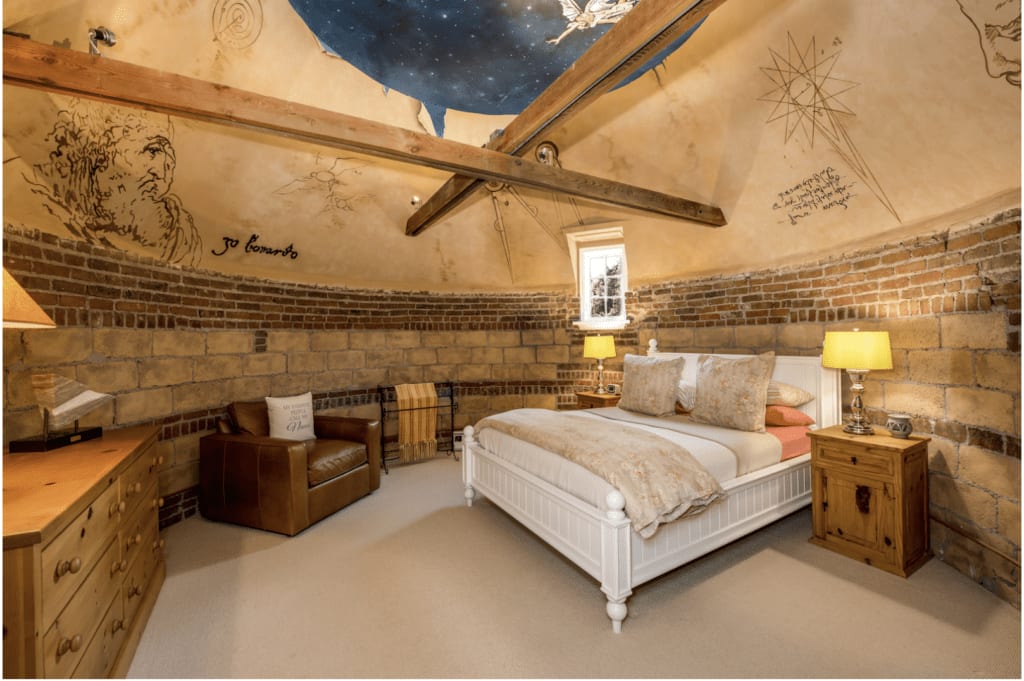 Imaginative trompe l'oeil painting transforms the third-floor turret bedroom into Leonardo's Hideaway.
Photo courtesy of Coldwell Banker Devonshire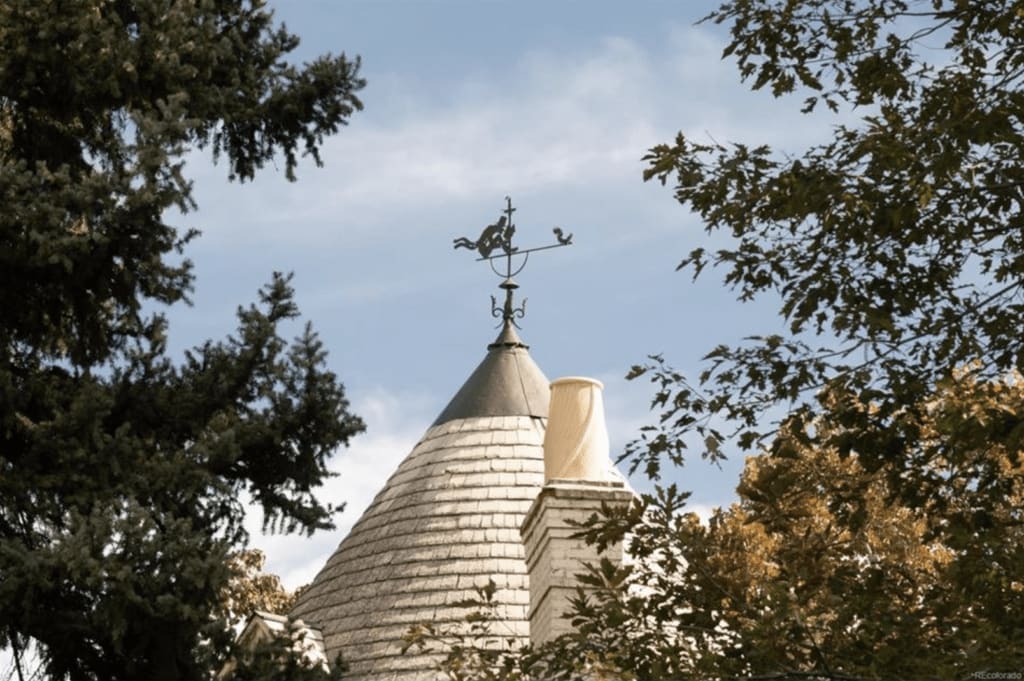 Architect Burnham Hoyt designed this turret-top weathervane that depicts the home's original owner, Charles Sewell Thomas.
Photo courtesy of Coldwell Banker Devonshire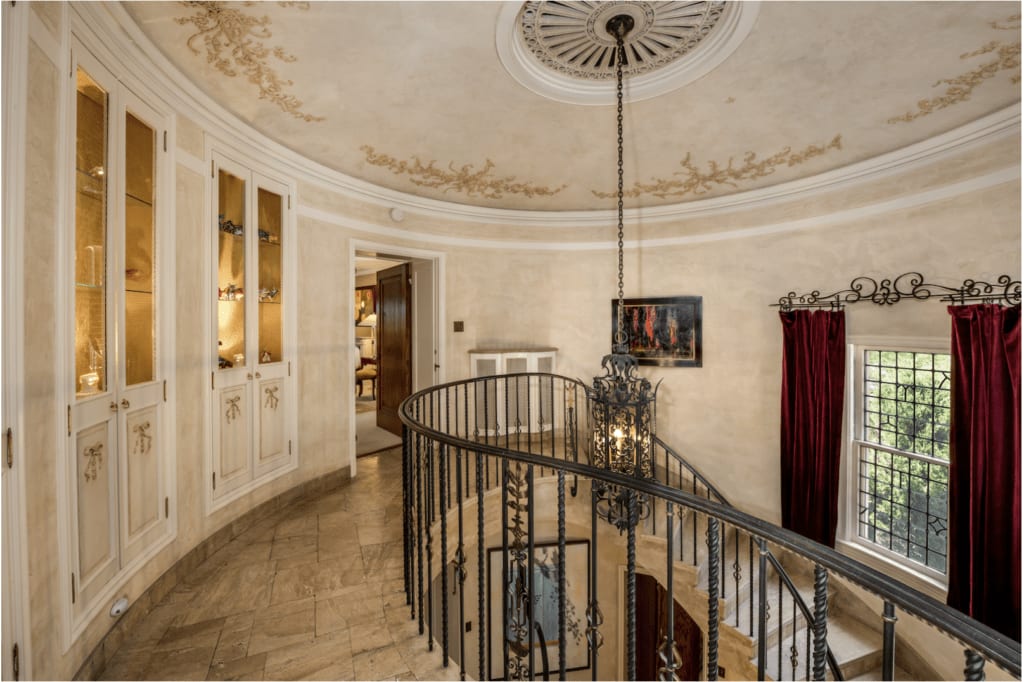 The elegant, iron-railed stairway spirals up through the turret. At the base of the staircase, the Thomas family once displayed an organ designed to automatically burst into song, like a player piano (the pipes were hidden in the basement).
Photo courtesy of Coldwell Banker Devonshire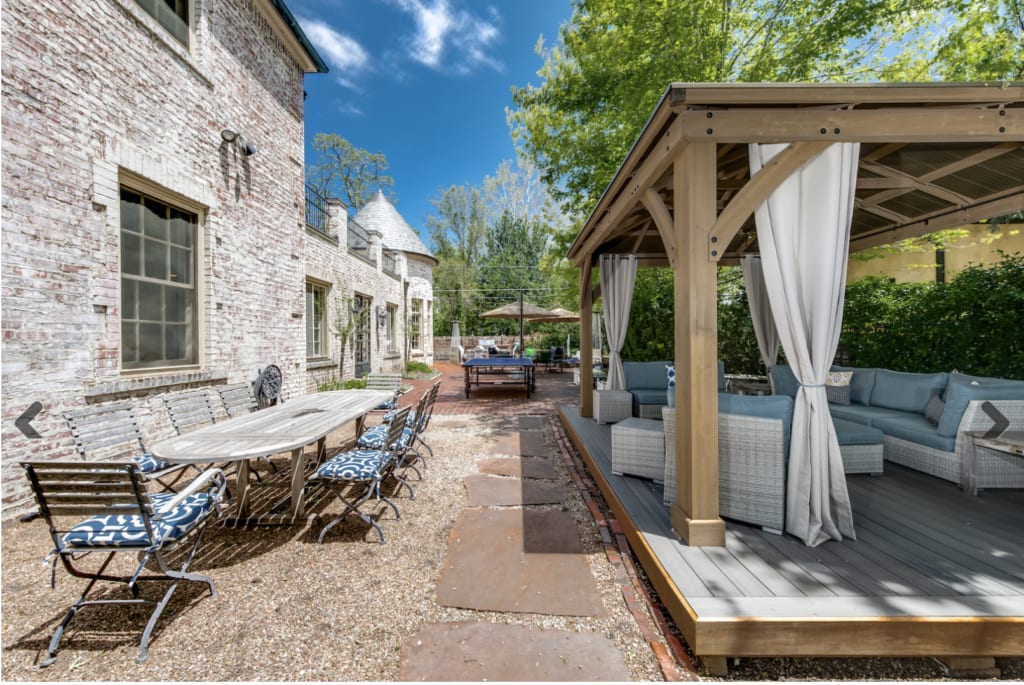 The backyard terrace is party-perfect, with a laid-back cabana seating area, plus dining, playing, and conversation spaces.
Photo courtesy of Coldwell Banker Devonshire
Outside, the 17,400-square-foot corner lot offers a private, park-like setting, with comfortable seating and dining areas. "It's rare to find an estate with beautiful towering trees right in the city," Barton notes. "This home offers quick access to downtown, and the ability to walk to dinner in Cherry Creek or walk to the Denver Country Club." Then again, nobody would blame you for just curling up with a good book by the fire in your very own fairytale chateau.
The three-story home has plenty of space for entertaining family and friends, with six en suite bedrooms plus an extra three powder rooms, and a variety of living and lounging areas. "I especially like the family room for its original charm, textured white walls, beamed ceilings, and connection to the back patio and kitchen," says listing agent Kelli Barton, broker associate for Coldwell Banker Devonshire. "It's a sunny space year-round and great place to read a book, work, and hang out with family or guests." Fun fact: The home's third floor was once devoted to storing luggage for the well-traveled Thomas family. They even built a trap door and pulley system for lowering suitcases down to the second-floor hallway.
This grand 1927 estate, designed by Red Rocks Amphitheater architect Burnham Hoyt, can be your home and castle for $5.995 million.