The trend you love to hate is making a strong comeback.
The popular "grandmillennial" style draws design inspiration from trends past, and millennials, who love vintage, are reviving wallpaper. Welcome back to your grandmother's living room. Floral wallpaper is the central focus of this trend, though a tad updated with larger prints. Just think how pink peonies against a black backdrop can give that floral wallpaper a more modern edge. Floral wallpaper also is being used in smaller doses: You may only spot it in the powder room or as an accent wall in an otherwise neutral room. View the pictures below to see how floral wallpaper is dressing up spaces.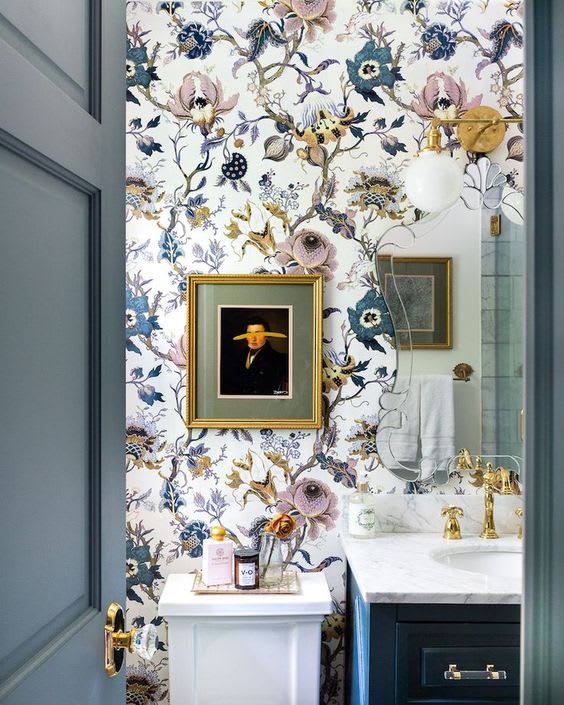 What's better than the classic floral wallpaper? These dark floral wallpaper patterns from Murals Wallpaper.
The new revolution of dark floral wallpaper allows you to push the boundaries and bury the stereotypes associated with floral designs when it comes to interiors. It's no longer a tired print, but instead a wallpaper design that's full of life and excitement. This collection showcases the best of dark floral wallpaper, with elegant flowers in rich dark tones, allowing you to effortlessly style an impactful interior with a luxurious feel.
Dramatic dark florals are a great option for those looking to create a sophisticated interior that's full of depth and character and these bespoke photographic floral designs will provide exactly that. Photographed in-house using real life flower bouquets, all the tone and beauty of the flowers is captured, creating a breathtaking floral wallpaper that will bring your theme to life, while also remaining dark and daring.
As floral wallpaper makes a comeback with the spotlight on dark floral, it's now easy to create a striking interior space that combines the sophistication of a floral wallpaper with dramatic dark tones. Both Chloe and Abundance feature delicate pink or purple flowers on a black background, allowing the design to burst out of the wall and in turn transform the space. The contrasting tones make the murals truly versatile, allowing you to style either a mature or more playful space, both offering a modern edge.
The deep layers and tones within this dramatic floral wallpaper collection make for the perfect cosy bedroom theme that's sophisticated too. Between the deep red tones and refreshing dark green, the designs add layers of texture that will look stunning on your feature wall. The drama of these floral designs allows the mural to speak for itself, meaning you can pair it with quite minimal furniture.
A floral pattern is a great choice when trying to create a dynamic feature wall, and this collection shows how vintage floral can work in almost any room of the house. Style a bespoke kitchen or hallway with these vivacious prints and enjoy the positive energy they circulate through the home.
What do you think of this trend?