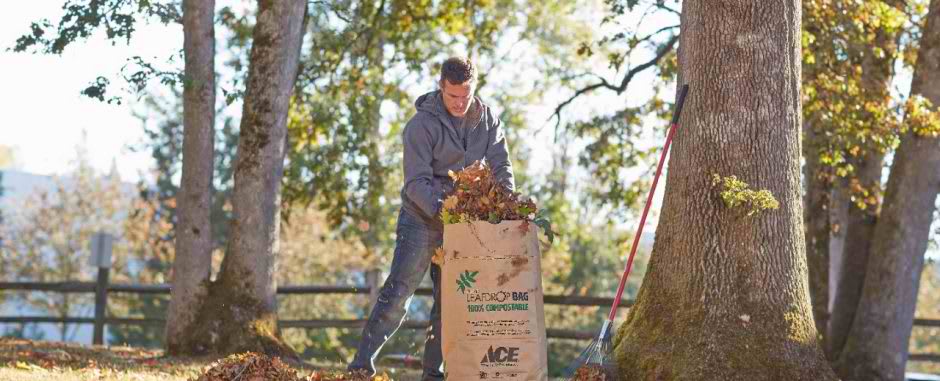 Leaves set-out for extra trash collection (ETC) are taken to the landfill, and therefore do not get composted. Help reduce the amount of leaves going to the landfill by bringing them to LeafDrop sites! That way, your leaves will be turned into Denver's Own EcoGro Compost
We Prefer Leaves in Compost Friendly Paper Bags!
Denver Recycles, Be A Smart Ash, and Ace Hardware stores are teaming up to give away FREE 5-packs of 30-gallon paper leaf bags to help Denver residents keep leaves out of the landfill! Unlike plastic bags, brown paper bags can be composted along with the leaves; saving time and reducing plastic waste.
Find a Participating Ace Hardware Store Near You
LeafDrop Locations:
Weekdays Drop Site
MONDAY – FRIDAY
OCT. 7 – DEC. 6 | 8 AM TO 2 PM
Cherry Creek Transfer Station
7301 E. Jewell Ave. (Quebec St. and E. Jewell Ave.)
Havana Nursery
10450 Smith Rd. (Smith Rd. and Havana St.)
South Platte - Closed
678 S. Jason St. (Enter on W. Exposition Ave.)
(All leaves brought to Havana and South Platte during the week must be in bags.)
Weekend Drop Site Saturdays and Sundays
NOV. 2 – 17 | 11 AM TO 3 PM
Bruce Randolph High School
3955 Steele St (E. 40th Ave. and Steele St.)
Cherry Creek Transfer Station
7301 E. Jewell Ave. (Quebec St. and E. Jewell Ave.)
Havana Nursery
10450 Smith Rd. (Smith Road and Havana St.)
Kennedy High School
2855 S Lamar St (Newland St. and Brown Pl)
Sloan's Lake Park
1700 N Sheridan Blvd (entrance on 17th Ave)
Veterans Park
2100 E Iowa Ave (S. Vine St. and E. Iowa Ave.)