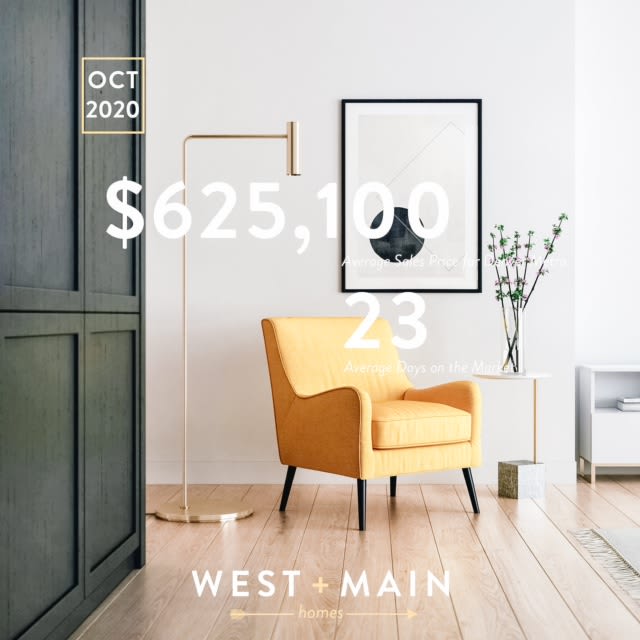 Average and median close prices break historical records, shattering September 2020, as months of inventory dropped to an even more historic low.
In October, the Greater Denver Metro area's housing market remained consistently hot. There was a record-high for average sales price for both single-family detached and attached properties at $625,100 and $393,733 respectively, as well as a record-low of months of inventory at an astonishing 0.81.
While October is generally consistent in the momentum of which it transitions from September and into November, the compounded effects of the COVID-19 months have created historic numbers with only 4,821 active listings. This represents the lowest amount of active inventory for any October on record by nearly 2,000 listings. Due to the lack of inventory, buyers were rushing to make an offer which explains why the 24 days in MLS also represents the lowest on record.
"October continued to defy seasonality as new records were broken by both buyers and sellers," said Andrew Abrams, Chair of the DMAR Market Trends Committee and Metro Denver REALTOR®. "Sellers continued to have little competition as escalation clauses, appraisal gap waivers and "as-is" offers were frequently used, while buyers had to fight hard, making concessions in all of the ways referenced above, to secure a place they could call home."
While there is not an abundance of inventory, it has not slowed down the actual process of buying and selling with 5,984 closed transactions. November could represent another big month as a record 6,141 pending transactions occurred throughout October.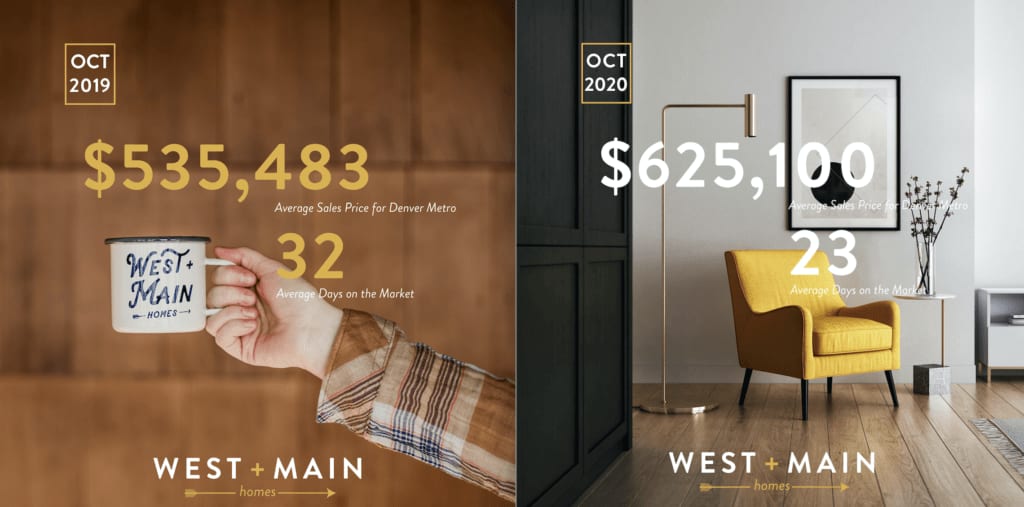 According to Abrams, for sellers, this market translates into having to pick through offers with a fine-tooth comb, hoping that the potential buyer and the transaction is a smooth process. Meanwhile, buyers need to be prepared to act quickly and confidently despite the nerves that ensue when making such a huge investment. While buyers and sellers had different stories to tell, there was a common theme throughout the month of October: prices were on the rise.
Our monthly report also includes statistics and analyses in its supplemental "Luxury Market Report" (properties sold for $1 million or greater), "Signature Market Report" (properties sold between $750,000 and $999,999), "Premier Market Report" (properties sold between $500,000 and $749,999), and "Classic Market" (properties sold between $300,000 and $499,999). In October 2020, closed sales for detached and attached luxury homes skyrocketed to over 115.74 percent from this time last year while the sales volume climbed 126.70 percent to over $668.6 million for the month of October.
With low interest rates and colder weather around the corner, buyers are pushing their budgets to find the perfect home for the holidays. Detached closed properties were up 19.52 percent from last month and up 32.15 percent year-over-year. With 1.88 months of inventory and median days in MLS dropping 8.33 percent to just 55 days, detached luxury homes are firmly sitting in a seller's market.
"Detached homes are the preference for many luxury buyers today who want more land, distance from their neighbors, and multiple private spaces, outside of the bedroom count, that can be utilized as home offices and classrooms for remote learning," said Libby Levinson, DMAR Market Trends Committee member and metro Denver REALTOR®. "While the Luxury Market firmly continues as a seller's market, there is some good news for buyers. There are more detached home choices than last year with new listings up 14.62 percent."
On the other side of the coin, the attached Luxury Market is moving slower as buyers' preferences lean towards detached homes. While there were 83.87 percent more listings this year than last year and 11.76 percent more listings than last month, the attached market is moving slower than the detached segment. As the average days in MLS climbed to 50 days up from 35 days last month and median days on market increased to 23 up from 17 days last month. Pending sales were down 28.95 percent down from last month but are up 28.57 percent compared to this time last year, according to Levinson.
"Don't count the attached market out though," she adds. "While the months of inventory is a stark contrast to the detached segment at 5.7 months, the year-over-year data proves new listings have steadily climbed from 233 in 2016 to 472 in 2020 and pending sales have climbed from 103 in 2016 to 247 in 2020. While the buyer pool may favor detached homes, the competition is less fierce with the close-price-to-list-price ratio dropping to 97 percent, down from 103.02 percent in 2016."
Additional monthly
Mortgage Market Trends Insights
brought to you by The Rueth Team of Fairway Mortgage, the Exclusive Partner of the
Denver Metro Real Estate Market Trends Report
.