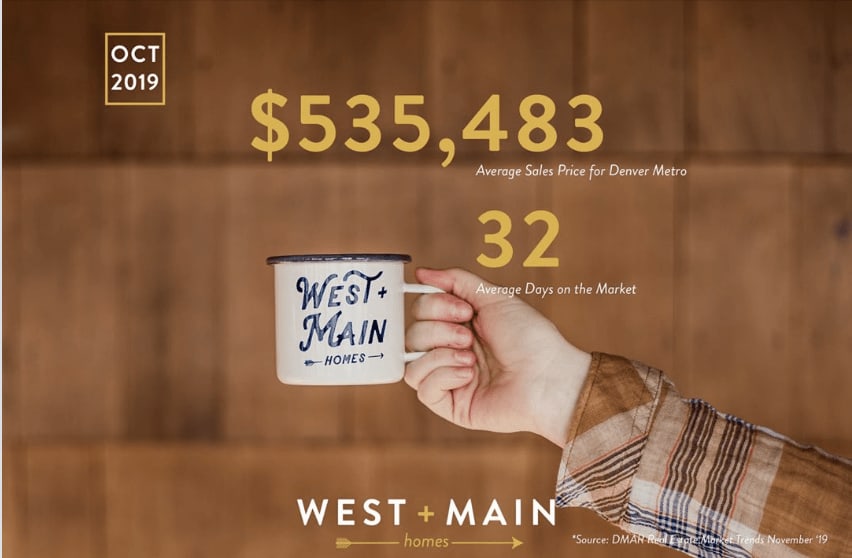 Cooler weather in Denver brings with it a seasonal slide in the real estate market with a decrease in both new listings and the number of homes sold in October
The number of new listings added to the Denver-area housing inventory in October was down 10.14 percent month over month, but still up 4.37 percent year to date. The 5,425 homes added to the market was the lowest number of new listings in a given month since February. The average days on market year to date was at 30, up 25 percent compared to last year which was at 24 days.
"We continue to see price reductions and longer days on market," said Jill Schafer, Chair of the DMAR Market Trends Committee and Metro Denver REALTOR®. "Of the closed transactions in October, 40 percent had to make a price reduction. That impacted home sellers in a big way. When sellers had to drop their price, their homes were on the market for an average of 59 days. When a home hit the market at the right price it was only on the market for 14 days."
According to Schafer, the fewer new listings added to the market may have contributed to the decline in home sales in October, down 6.40 percent compared to September, but still 1.85 percent more year to date compared to last year.
Search for Homes
The housing price range that saw the biggest reductions prior to an accepted contract were homes priced over $1 million where the average price reduction was $149,742. In the entire residential market, homes priced under $500,000 had average price reductions between $10,750 to $21,362. Notably, in October, the average sold price of a single-family home was $533,483, up 1.96 percent year over year, and the average sold price of a condo was $365,665, up 6.95 percent year over year.
"Overall, the numbers show there is continued demand for homes in the Denver area," adds Schafer. "Furthermore, interest rates remained low, job numbers were still strong, foreclosures and short sales were rare and mortgage delinquency rates were some of the lowest in the country."
Our monthly report also includes statistics and analyses in its supplemental "Luxury Market Report" (properties sold for $1 million or greater), "Signature Market Report" (properties sold between $750,000 and $999,999), "Premier Market Report" (properties sold between $500,000 and $749,999) and "Classic Market" (properties sold between $300,000 and $499,999). In October 2019, 184 homes sold and closed for $1 million or greater – down 0.54 percent from September and up 6.36 percent year over year. The closed dollar volume in the luxury segment year to date was $3.17 billion, up 9.88 percent from last year.
The highest-priced single-family home that sold in October was $9,000,000, representing 8,373 above ground square feet in Cherry Hills Village. The highest-priced condo sale was $4,275,000 representing three bedrooms, four bathrooms and 3,466 above ground square feet in Denver. The REALTORS® representing the buyers and sellers in both transactions are DMAR members.
"It is clear the market has been slowly transitioning and the seasonal shift has begun," stated Bryan Facendini, DMAR Market Trends Committee member and Metro Denver REALTOR®. "The market trend statistics signal it remains a good time period for buying and selling of luxury homes. In fact, year to date, 2019 is well-ahead of last year's pace in the luxury market."
There was a total of 2,051 luxury homes that sold year to date in October 2019 compared to 1,896 luxury homes that sold this same time last year, an increase of 8.18 percent. Luxury condo sales continued to perform well in 2019 too. The 237 condos sold year to date was an increase of 55.92 percent over last year. Year to date, single-family home sales have increased from 1,744 in 2018 to 1,814 in 2019, an increase of 4.01 percent.
Unlike the entire residential market as a whole, the Luxury Market's days on market improved. Month over month, median days on market in the luxury segment went from 38 days in September to 28 days in October. Breaking down the numbers further, luxury condo median days on market decreased month over month by 30.77 percent from 26 days in September to 18 days in October. Median days on market for single-family homes improved by 17.5 percent year over year, from 40 days in October 2018 to 33 day in October 2019.
"Days on market in the luxury segment is a sign that homebuyers have moved quicker to make a purchase, and possibly to lock-in the low mortgage rates we've seen the second half of this year," comments Facendini. "Furthermore, months of inventory for luxury single-family homes is 6.13 months, which is the equal balance point between buyers and sellers. Sellers continue to maintain an edge with condos in the Luxury Market with 4.35 months of inventory. While price reductions have become common, the year-to-date close-to-list price ratio has remained steady at 97.42 percent in 2019 in the entire luxury residential market compared to 97.35 percent in 2018."
Further supporting this point, year to date, the single-family average sold price of $1,544,450 in 2019 was an increase of 1.35 percent over the 2018 average sold price of $1,523,883. Same holds true with luxury condos which have realized an appreciation in average sales price of 4.02 percent year to date. This time last year, price per square foot in the entire Luxury Market was $306 year to date, and has increased 9.80 percent in 2019 to $336. Year to date, single-family luxury homes bumped up from $290 per square foot in 2018 to $303 per square foot in 2019. Condo year-to-date price per square foot jumped from $487 in October 2018 to $585 in October 2019.