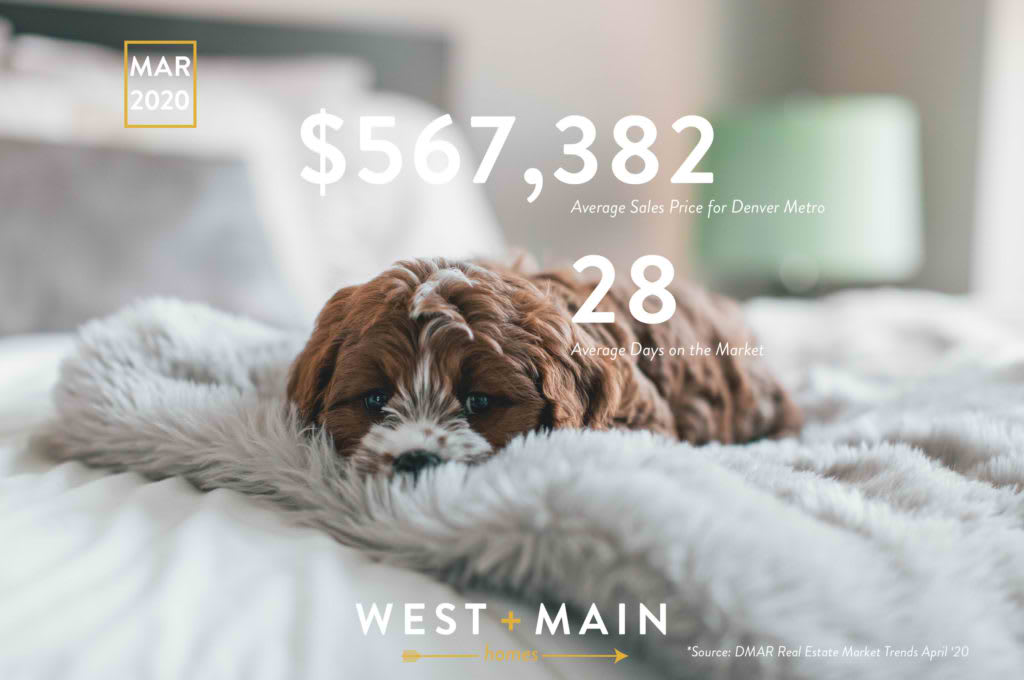 Metro Denver's real estate market started as one of the strongest on record in March but ended with a stark shift stemming from the coronavirus pandemic and ensuing stay-at-home order.
There were an unprecedented 761 home sellers that withdrew their homes from the metro-Denver real estate market in March. The largest number of homes, 625, were removed in the last two weeks of March amid fears stemming from the coronavirus pandemic.
For comparison, 284 homes were withdrawn in January 2020. For historic perspective, March 2003 had 477 homes withdrawn and this was at a time when there were 23,967 active listings. March 2020 ended with 5,776 active listings.
According to Jill Schafer, Chair of the DMAR Market Trends Committee and Metro Denver REALTOR®, home sellers withdrew homes possibly from fears of contaminated homebuyers walking through their homes, or concerns about their jobs and the economy.
"How quickly our world has changed," said Schafer. "At the start of March, the Denver Metro real estate spring market was showing signs of being one of our best on record. By the end of the month, we were all wondering what was ahead for us, our industry and our country."
Following the "Stay-at-Home" executive order by Colorado Governor Jared Polis, on March 26 'real estate' was classified as a 'critical business.'
"There are people out there who need to buy a home and others who need to sell, so we continue to work. But the way we do our jobs has changed," stated Schafer. "We are no longer holding open houses, driving with our clients or even riding in the same elevator. We are completing transactions at no-contact, curbside closings with closers wearing gloves and masks. We have a new contract, called the COVID-19 Addendum, that allows a transaction to be extended in the case a homebuyer or seller is exposed or quarantined, as well as new CDC regulations to follow when listing and showing homes. Virtual tours, videos and FaceTime walk-throughs have become the preferred form of marketing so buyers don't have to enter properties unless they truly think it might be the one they want to buy."
While transacting real estate is different, it is still being transacted. In March, 30.24 percent more new listings came on the market, which pushed the number of active listings at month's end up 19.46 percent to 5,776. "While more inventory is what we've been needing, it may also spark anxiety that we are on our way back to the huge excess inventory days of the last recession," Schafer shares. Notably, that is 8.20 percent fewer active listings than the same month last year and all price ranges are still in a seller's market.
The number of pending contracts increased 8.03 percent month over month, and there were 12.02 percent more homes sold. Houses were selling 23.68 percent faster, in an average of 29 days, compared to 38 in the prior month.
The average close price for all single-family homes and condos was $513,526 – setting a new record high and the first time the average close price for both segments topped the half-million-dollar mark.
"On the surface, it seems like a big jump as it represents the first time we've been over the $500,000 threshold for single-family homes and condos," stated Steve Danyliw, member of the DMAR Market Trends Committee and Metro Denver REALTOR®. "Last March we closed the most single-family homes in the $300,000 to $399,000 range. This March, the highest number of sales were in the $500,000 to $749,000 range. This could demonstrate that this spring's market was shaping up to be a scorcher."
Luxury Market Report
DMAR's monthly report also includes statistics and analyses in its supplemental "Luxury Market Report" (properties sold for $1 million or greater), "Signature Market Report" (properties sold between $750,000 and $999,999), "Premier Market Report" (properties sold between $500,000 and $749,999), and "Classic Market" (properties sold between $300,000 and $499,999). In March 2020, 202 homes sold and closed for $1 million or greater, up 30.32 percent from February and 13.48 percent year over year. The closed dollar volume in the luxury segment in March was $318.6 billion, up 34.36 percent from February and 15.17 percent year over year.
The highest-priced single-family home that sold in March was $4,297,000, representing six bedrooms, 11 bathrooms and 10,614 above ground square feet in Cherry Hills Village. The highest-priced condo sale was $2,775,000 representing three bedrooms, four bathrooms and 3,120 above ground square feet in Denver. The REALTORS® representing the buyers and sellers in both transactions are DMAR members.
Single-family homes in the luxury segment were on the market for a median of 29 days year to date; this is significantly down from 61 days compared to 2017 and 68 days in 2016. The year-to-date median price was $1.3 million, with the average at $1,562,227. Notably and potentially an upcoming trend, the close-price-to-list price ratio dropped 0.61 percent year to date.
Luxury condos saw the reverse shift with median days on market increasing to 73 days year to date, up from 63 days last year, 45 days from 2017, and 14 days from 2016. Interestingly, the year-to-date median price point for luxury condos is exactly the same as luxury single-family homes at $1.3 million, with the average at $1,476,724. The close-price-to-list-price ratio also dropped 0.35 percent year to date.
"Due to the stock market volatility, it is presumed that the Luxury Market will see the largest impact as confidence wavers," states Libby Levinson, member of the DMAR Market Trends Committee and Metro Denver REALTOR®. "The number of withdrawn and back-on-market properties has been staggering. However, with the roll out of an economic rescue package, the stock market has reacted well. Additionally, with the Paycheck Protection Program, this will help small business owners get back on their feet, which may just provide more movement in the Luxury Market."
More insights from the Special COVID-19 Edition of the DMAR Denver Metro Real Estate Market Trends Report:
In the Signature Market (homes between $750,000 and $999,999), there were more homes that sold from the start of the year through March than any of the previous five years. With 637 closing in this price segment, there was an increase of 19 percent or 102 more home sales. These stats reflect the environment pre-COVID-19 where homebuyer demand was incredibly high.
In the Premier Market (homes between $500,000 and $749,999) in March, the number of homes sold increased by 22.37 percent year over year. The average and median days on market dropped 15.38 percent year over year to 33 days and 42.86 percent to eight days, respectively. However, 226 listings were withdrawn, of which 82 percent were withdrawn the second half of the month.
In the Classic Market (homes between $300,000 and $499,999), March ended with less than a month's supply of homes. With such tight inventory, this price segment, and anything priced below $300,000, will likely be the least impacted by COVID-19.
There was a big difference in foot traffic from the beginning of the month to the end. According to ShowingTime data from the seven-county metro area, gathered by Megan Aller with First American Title, the number of March showings peaked between the 4th and the 10th of March. Following the "Stay-at-Home" order, showings fell 50.4 percent from that peak week to the last week of the month. The good news for home sellers is that the buyers who were looking, were serious as it took 30.7 percent fewer showings to produce a contract in the last week of March than it did the week prior.
REcolorado has temporarily disabled the ability to enter open houses. DMAR's Chairman of the Board, Euan Graham, has asked agents to suspend open houses at this time.
The National Association of REALTORS® sent a letter to Congress urging lawmakers to include policy in coronavirus response legislation that would pave the way for remote notarizations nationally and make it easier to complete transactions virtually. The Securing and Enabling Commerce Using Remote and Electronic Notarization Act of 2020, also known as the SECURE Notarization Act, was introduced March 24, 2020 and has already garnered broad support across the real estate industry.
Many states have already enabled the use of "RON" Remote Online Notarization. On March 30, 2020, Colorado temporarily adopted Rule 5 and is now allowing for remote online notarizing per the amended rule 8 CCR 1505-11.
Interest rates continue to stay volatile as mortgage lenders struggle with demand and servicers struggle with requirements to pay investors, property taxes, homeowners' insurance and mortgage insurance without receiving mortgage payments from homeowners.
The Director of the Federal Housing Finance Agency estimates there will be two million loans in forbearance by the end of May.
Forbearance is not forgiveness. The COVID Stimulus Package allows up to a 180-day forbearance with a 180-day extension. Most servicers are offering 90 days to start. Forbearance requires repayment at the end of the forbearance period.
GDP for 2020 Q1 is estimated to come in at -2.5 percent. GDP for 2020 Q2 is currently estimated to be -18.3 percent year over year.
Several iBuyers have suspended their services in light of the coronavirus outbreak. Opendoor, the largest iBuyer in the U.S., as well as brokerages with iBuying arms, announced they are holding off on instant offers while the nation responds to the pandemic.
Thank you to our partners at the Denver Metro Association of Realtors for compiling + distributing this information.