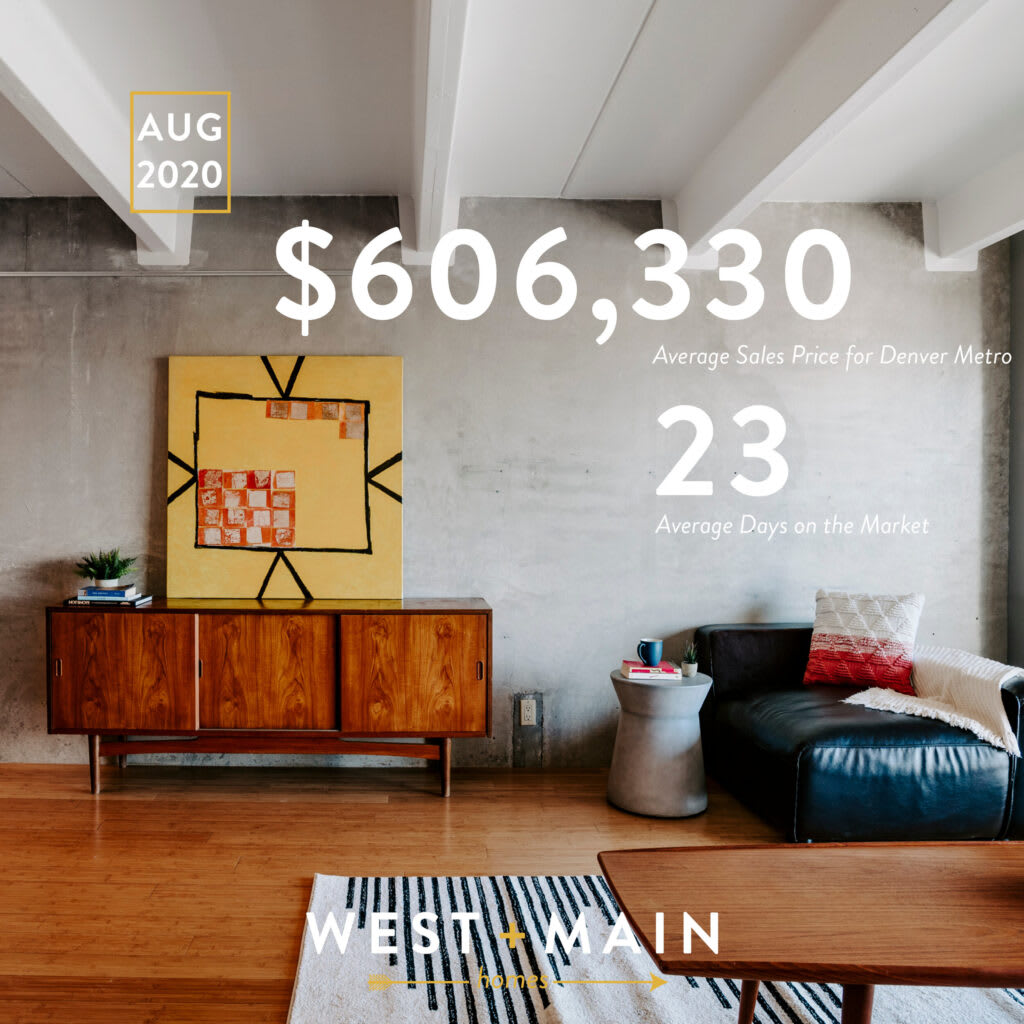 Denver Metro Real Estate Market Trends Report
August 2020 saw the most home sales of any month of August on record, yet housing inventory hit the lowest point for any month of August on record with 40% less homes on the market than last year. Single-family homes are scarce as inventory can't keep up with buyer demand; which drove up the average single-family home price to a new record high reaching $606,330.
Amid the COVID-19 global pandemic, the 2020 metro-Denver housing market is on pace to outperform last year's record-breaking real estate market.
July 2020 hit a record high number of home sales in any given month in metro Denver; while home sales dropped in August compared to July by 18.73 percent, the 5,959 total homes that did sell signified the most sales for any month of August on record. Year to date through August, sales volume was up 3 percent compared to 2019 at over $20 billion.
"If there were more, we would have sold more," said Jill Schafer, Chair of the DMAR Market Trends Committee and Metro Denver REALTOR®. "Unfortunately, there weren't a lot more homes put up for sale in August. The active listings at month-end showed how desperate things looked."
At month end in August, there were 5,496 active listings, down 41.22 percent year to date compared to last year. Furthermore, there were 11.13 percent fewer homes added to the market in August compared to July. "Homebuyers looking to purchase a single-family home really struggled because there were 50.26 percent fewer homes for sale compared to August 2019," said Schafer, "And we thought inventory was low in 2019
She adds, "Many homeowners say they'd like to move but the inventory is so low they don't see anything they'd like to buy. When they don't put their house on the market there is less to choose from for buyers. Do you see the vicious circle?"
Single-family homes priced between $500,000 and $749,999 had only 0.66 months of inventory. That's an extreme seller's market where demand outpaces supply. "Based on that number, we could be out of homes for buyers to purchase in two to three weeks if no other inventory hits the market," according to Drew Morris, member of the DMAR Market Trends Committee and Metro Denver REALTOR®. Despite the tight inventory, pending contracts for all property types was up 7.79 percent month over month and 32.64 percent year over year.
As buyer demand continues to outpace supply, prices continue to go up. The average price for a single-family home hit another breaking record at $606,330 in August, an increase of 5.56 percent year to date. Condo sales weren't doing quite as well as average August prices were down month over month but still up 2.58 percent year to date.
"If you were looking for a deal, you were out of luck," comments Schafer. "On average, homebuyers paid more than full asking price for single-family homes and nearly full price for condos. There was not a lot of room for negotiations when multiple buyers were competing for the same home."
Our monthly report also includes statistics and analyses in its supplemental "Luxury Market Report" (properties sold for $1 million or greater), "Signature Market Report" (properties sold between $750,000 and $999,999), "Premier Market Report" (properties sold between $500,000 and $749,999), and "Classic Market Report" (properties sold between $300,000 and $499,999). In August 2020, 354 homes sold and closed for $1 million or greater, down 14.7 percent month over month and up 52.59 percent year over year. The closed dollar volume in the luxury segment in August was nearly $560 million, down 13.69 percent month over month and up 58.25 percent year over year. Year to date, the Luxury Market has 7.35 percent more sales volume than 2019.
The Denver market is a seller's market across the board except for condos priced over $1 million where the market is more balanced between buyers and sellers.
This increase in sales volume is mostly due to the single-family home segment, which accounts for 91.53 percent of the Luxury Market, and has closed 11.38 percent more volume than last year. That increase indicates healthy growth and it doesn't stop there. New listings in the entire Luxury Market were up 11.7 percent year to date from 2019. Pending contracts were up by 20.17 percent, and the number of home sales was up 8.09 percent.
The month of August played a large role in these strong year-to-date figures. Compared to August of 2019, this August had 62.75 percent more new listings up to 485 from 298. Pending contracts was up a staggering 107.48 percent from last year and the number of homes sold increased 52.59 percent. "Historically, we see active inventory peak in August and September," stated Taylor Wilson, member of the DMAR Market Trends Committee and Metro Denver REALTOR®. "This late surge of inventory may represent sellers that held off from listing their homes earlier in the year, and we may see inventory peak later in the year as a result."
"The only segment of the Luxury Market showing signs of slowing are condos where we have the highest months of inventory of any market segment that we track, at 5.3 months," adds Wilson. "By comparison, single-family luxury homes were at 2.7 months of inventory. Although still a seller's market until we eclipse six months of inventory, this increase is being driven by two factors: closed units and active inventory. Year to date, the number of condo sales was down 18.09 percent year over year, and inventory was up by 10.6 percent."
Wilson adds, "If our current trends continue, COVID-19 may have just been a blemish on our year-end figures, as the Denver-area market is insulated by strong population growth, a variety of industries and quality of life that isn't going anywhere."
The highest-priced single-family home sold in August was $9 million in Cherry Hills Village. The REALTOR® representing the seller is a DMAR member. The highest-priced condo sale was $3,300,000 in Denver. The REALTORS® representing the buyer and seller are DMAR members.