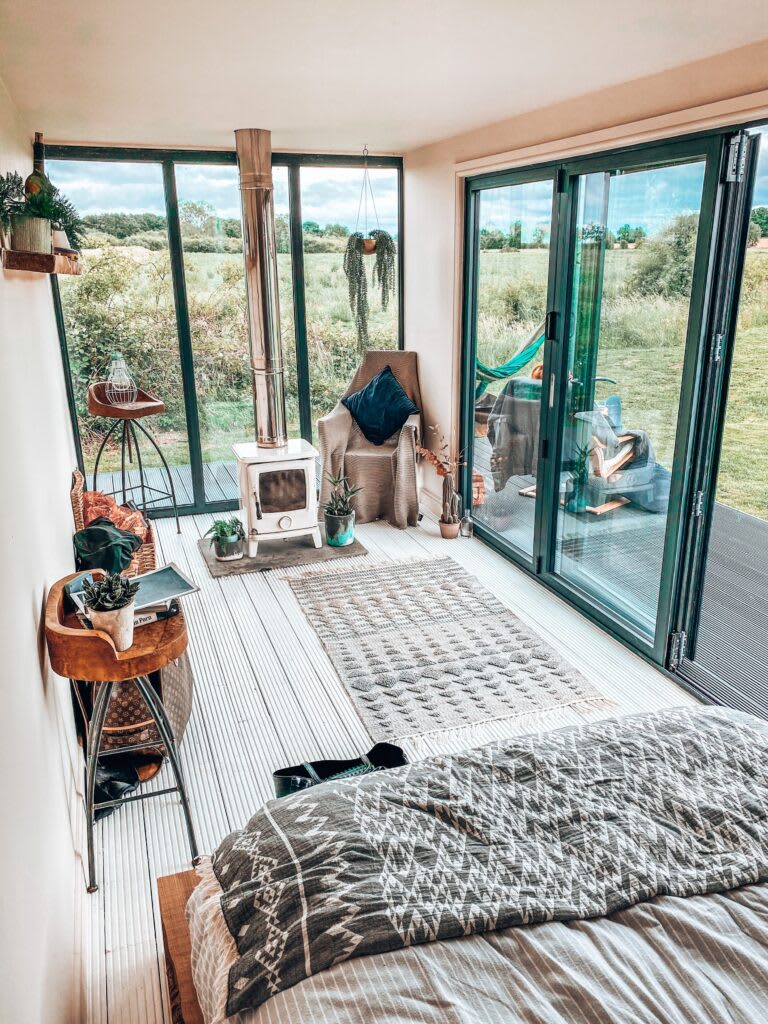 Am I the only one? As long as I have an internet connection, I can work remotely. I would feel safe because I wouldn't have to interact with a ton of other people. My dog would definitely approve.
The only real question is: where would all my stuff go?
I've been
binge-watching "Get Organized with The Home Edit
" with the rest of the world, and while it's entertaining, I can't say I have a whole lot in common with Khloe Kardashian and her merch garage (complete with a parking garage for her daughter's cars and an art corner for her newfound love of painting).
You know who does have great organization ideas for tiny spots? TikTokers who live in tiny homes and vans. Here are nine organization hacks to keep you organized if you're downsizing, according to people who've done it.
Turn crates into low-cost wall shelving
Crates
and baskets are obviously great for keeping things organized, but if you really want to maximize their functionality then it's time to think outside the, ahem, box. Instead, flip a crate on its side and secure it to the wall with brackets and drywall anchors to make room for books, dishes, clothes, or anything else you'd like to keep within reach.
Hack a magazine file to store everything but magazines
Once you have your shelving up, you'll still need to organize within that. There are many office supplies that can double as organization tools, and a
standing magazine file folder
is one of them. In a pantry, set a few side by side to help separate cans, potatoes, or fruit; in a bedroom, use them to hold socks, tights, and other small accessories.
DIY a full pull-out dresser under your bed
You probably already use the space under your bed as storage—and if not, you should—but there's a way to make it even more practical. TikTok user @alaskanguru really optimized his under-bed storage by
DIY-ing an entire dresser underneath his bed
, complete with different drawer compartments to stow different categories of cothing.
Consider rolling or sliding drawers a must-do if you're moving into an apartment that's low on closet space.
Add LED lighting for those hard-to-see places
Remember that storage is only useful if you can actually see what you're storing. Installing LED lighting underneath your bed is a simple way to make use of the space so that you can access your belongings with ease.
Put IKEA mesh bags to work in every room
These
IKEA mesh bags
are in so many tiny homes and #vanlife TikToks. They're not only great for holding fruit, but stick a command hook on the back of your bathroom door, and they're great for holding dirty clothes. Hang them on a hanger or nail in your closet area for ways to keep socks and underwear separated.
What's great about mesh bags is that, unlike boxes, they can fit irregularly shaped objects without wasting any storage space. And when not in use, they take up practically no room.
DIY your own high-end bins
It's no secret that bins are key to keeping things categorized and organized, but the most practical and wallet-friendly picks aren't always the prettiest.
Create moveable shelves inside your cabinets
So you've got your cabinets installed, but you want to be able to use every inch of them. An easy way to double your storage? Add extra shelving. Drill holes in the side, add pegs, cut a board to the width of your cabinet, and voila—extra shelving space. Add bins to maximize space even further.
Invest in some IKEA spice racks for every room
Another IKEA hack staple: the
BEKVAM spice rack
. It can hold spices in the kitchen, bathroom products in the bathroom, books near your reading nook, but turn it upside down and it can be a mini-hanging rack for kids' clothes, a space to hold your tea towels, or even a nail polish rack.
DIY a skinny rolling pantry cart
So whether you're DIYing an entire dresser underneath your bed or just hanging IKEA mesh bags on command hooks all around your tiny home, the key to staying organized in small spaces remains the same: have a spot for everything.