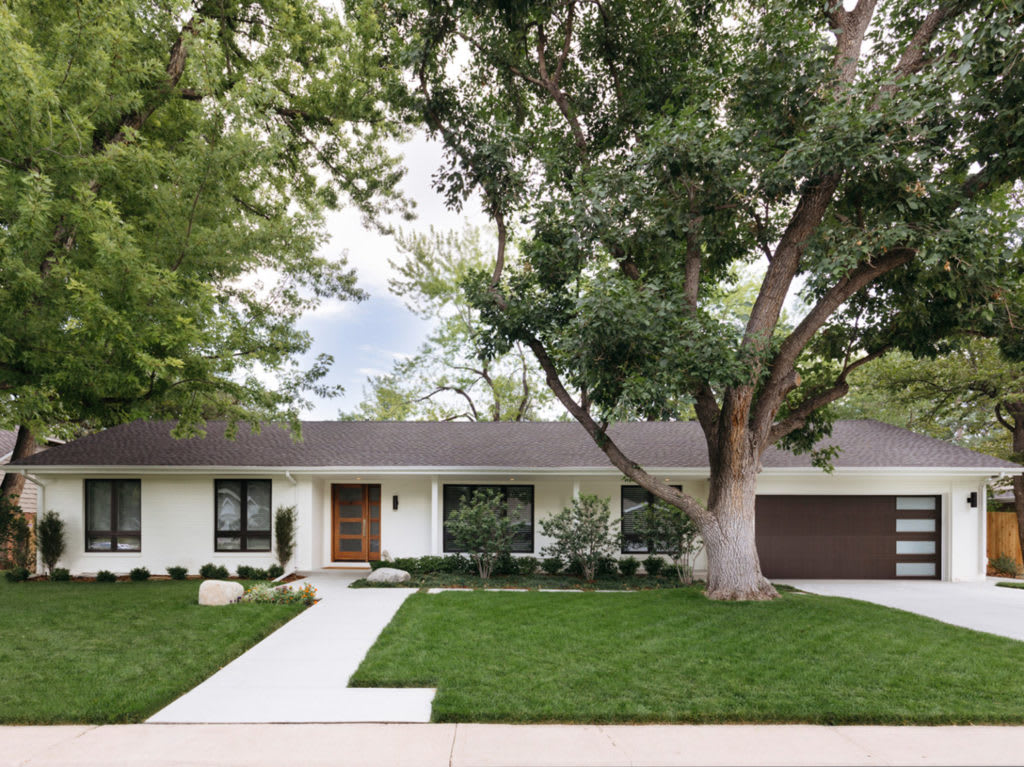 After: A crisp white coat of paint, new charcoal-gray roof shingles, modern metal windows, and a tidy landscape give this 1960s ranch a simple yet striking new look.
Photo by Brittni Bell
The key to freshening up an older home's curb appeal? "Make it unique, but keep it simple," says Austin Horne of Denver-based
Kaleidoscope Design
, who did just that—with help from the firm's owner, Cassy Kicklighter Poole—for an empty-nester couple's dated 1960s ranch. Here, she explains how they pulled it off—and how to make it work for your home.
Invest in windows. Swapping out this home's small old windows for much taller, modern versions with dark-bronze frames instantly transformed the look of the house—inside and out. "The window locations didn't change, but just by making the openings taller, we allowed so much more light into the home," Horne says.
Set the tone with a door. The front door is a natural spot to make a statement about your home's new style. This four-panel, walnut-and-glass door with sidelight "is contemporary for sure," Horne says. A custom garage door repeats the four-panel design for continuity, but introduces a darker shade of brown to the palette. "So long as you stick to the same undertone, it's fine to bump up to the next shade," Horne explains.
Pick a new paint. "Paint is the No. 1 way to refresh a home's exterior," Horne says, "but it's all about simplifying the palette and letting the architecture speak for itself." Here, Benjamin Moore's White Dove paint creates a crisp contrast with the dark window frames and new charcoal-gray roof shingles.
Accent with hardware. Contemporary house numbers and simple, cylindrical exterior lights at the front entry and garage door complement the windows' dark metal frames—and sleek modern styling—but for the front door hardware, the designers chose a satin-nickel finish, "to give the main entry a little bit of shine," Horne says.
Give landscaping a refresh. Adding a simple jog to this home's walkway and removing an overgrown hedge were all it took to update the front yard's aesthetic. "We simplified it so you can appreciate the architecture and those gorgeous old trees," Horne says, while the new boulders "bring a little bit of Colorado into this fresh design."